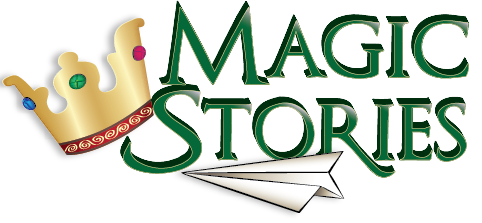 I had never heard of The Magic Stories by Allsaid & Dunn, LLC, publishers of The Reading Game and authors of the Wordly Wise series until this review, so I really didn't know what to expect when the email arrived with our PDF download in it. The Magic Stories is a set of six cute stories that are on a reading level of about 3rd grade, give or take a bit. Each story teaches a lesson, and they are just flat out fun to read. Along with each story you'll find a list of the "Naughty 40 words" which are 40 more complicated words in the story, and reading comprehension and writing exercise worksheets.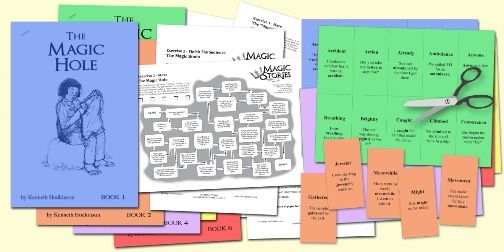 Stories include:
Book 1: The Magic Hole

Book 2: The Magic Ax
Book 3: The Magic Joke
Book 4: The Magic Hot Dog
Book 5: The Magic Boots
Book 6: The Magic Box
How did we use this?
This download is great for the iPad and computer. Mr. B does VERY well with computer work, so we mainly read the stories on the computer. I printed off a couple of the worksheets, but I mainly had him write out his answers on paper for me. Some things we discussed, too.





We started with Book 1: The Magic Hole.






This story features Ping Ho and his family. They are very poor and a hole with a mind of its own causes chaos! It causes a rice to fall from a sack, money to be lost, and finally a lake to vanish! But good prevails in the end, and the Ho family takes a bad situation and turns it into a much better one than they could have imagined.

Next came Book 2: The Magic Ax
This is the story of a young boy who goes to work chopping wood with his dad. His dad is frustrated because Tom only wants to play in the forest chasing butterflies, and wandering around instead of working. On day, his dad breaks his leg. Tom has no choice but to chop wood for the family, but his first day is spent dawdling around and not working, so he doesn't even cover the bottom of the cart. He's met with a magic ax that does all of the work for him, and as guilty as he feels for taking all the credit, he allows the ax to do all the work for months while keeping it a secret. One day, the magic fails him, and he knows he has to do the work himself to provide. Soon after, the work becomes easier, and his burden lifted because he's no longer hiding this secret.
One of my favorites is Book 3: The Magic Joke
This story is about a princess who uses a secret weapon-a Magic Joke-to end a war. Her father, the king, is not happy because he wanted to win the war and take over the enemy kingdom. He inadvertently reads the magic joke, and he's overcome with laughter so his daughter takes over ruling the country, and unites the two kingdoms with love instead of violence.
Book 4: The Magic Hot Dog is Mr. B's Favorite.
This story is about a boy who only wants to eat hot dogs. He loves them, and refuses to eat anything else. It is so much like Mr. B and how he will only eat certain foods, that I think that's why he loves this one. Alfred, the hot dog eating boy, spends all of his money on 10 hot dogs at the fair. He then spots a man who is eating a hot dog that never gets any smaller. Alfred takes the hot dog, and eats so much he ends up floating away!
Book 5 is The Magic Boots
This story is about 6 year old Patty who only wanted a pair of Pixy Boots like she saw in her book. What she ends up with are not the boots she wanted, but GOBLIN BOOTS! Oh the trouble these boots cause her! She kicks her dog, runs, falls....it's just not good. In the end, she does get her boots and all is well, once more.
The last book is Book 6: The Magic Box.
This is a Rum-pel-stilt-skin story where he turns gold to straw, and the masses love it! They are more than willing to hand over their gold for a few wisps of "magic" straw from a "magic" box, until a rumor causes them to go in to a panic. In the end, they discover the magic box isn't so magic after all, and Rum-pel-stilt-skin's magic days are over.
I had Mr. B read these in order because each Naughty 40 set builds on the previous one, so I wanted to make sure he got those. Mr. B is above the age level for these books, but his writing skills are critical thinking are still very much on par with this level, so I wanted to use the whole thing. But since he is older, the reading went by very quickly and we were able to work through them all much faster than we would have had he been younger. So keep that in mind if you have an older student. These stories are baby'ish in any way, so they are suitable for an older student who needs a little more help.
I really liked the worksheets with each story. I liked the flow chart one especially as that is a great visual for Mr. B. He liked the shorter writing assignments since they were short, and he could do them a little easier as a result. He also liked coloring the pictures on the pages I printed off for him.
The Naughty 40 is a great list of more complicated words. We used this as a spelling refresher during the review. I would call off each word and mark whether or not he could spell it easily. The words he had more difficulty with became his spelling words.
The flash cards were just used for fun here, but they are a nice resource to have.
This is the flow chart style I was talking about.
The short answer worksheets are a great way to build on comprehension and critical thinking. He didn't get so fatigued by the reading that it made this part of the assignment more difficult, so he was easily able to work through these while still being challenged.
Overall, I would recommend these to others!
Be sure to check out The Homeschool Review Crew and see what others had to say!