Not long ago, I brought you a review for Let the Little Children Come. We were reviewing Is There Anything Better Than Candy? tract boxes which were little pumpkins with a Christian message that you could put little treats in. This time around, we are reviewing their Gospel Tracts and Evangelism Tools Sampler Pack. This pack has an assortment of goodies and treats that reflect some of the products they offer for kids!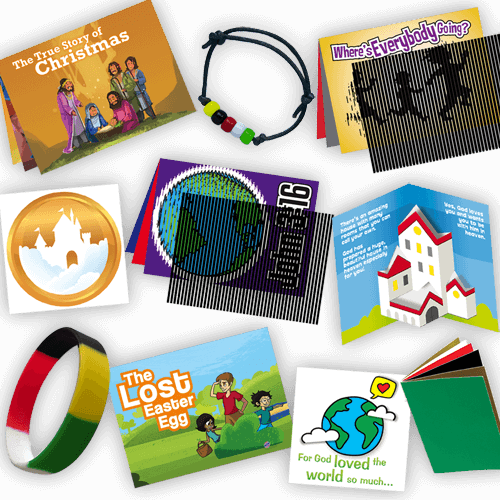 Each Pack Contains:
John 3:16 FlipAbout
John 3:16 Animated Tract
Gospel Buttons FlipAbout
Wordless Bracelet Kit
The Lost Easter Egg Pop-up Tract
The Most Amazing House Pop-up Tract
The True Story of Christmas Animated Tract
Silicone Salvation Bracelet
Wordless Book
Where's Everybody Going? Animated Tract
As you can see, you get a lot of little goodies in this pack! Included are 10 of their most popular tools to be exact, and they are sure to be a hit with your kids.
These sampler packs are great if you are unsure what will work for you, or what you may like more. It's also a good way to just get an assortment of treats that are varied and different. I could see the sampler packs being used alone as filler for treasure boxes, reward prizes, and more.
My son's favorite items are The True Story of Christmas Animated Tract and the John 3:16 FlipAbout. The John 3:16 FlipAbout is folded in such a way that you can flip through it and reveal the verse, page by page. This not a KJV verse, but it still holds the same meaning. We are strict KJV'ers here, but I have no problem with this.
The
True Story of Christmas Animated Tract
is really cute, and would be perfect for a Sunday School class, especially at Christmas time. It tells the true story of the birth of Jesus. Your child can take the little slide, and move it over the page to give the pages the look of animation.
If you believe in salvation via water baptism, please note that these treats do not preach that. We DO believe in water baptism, so we did not use those items. The True Story of Christmas Animated Tract DOES have this on the back, but I talked to my son about why we do not believe this way, and this gave us an opportunity to study the Bible together where I showed him the verses that make us believe the way we do.
Another application for these is Christian day care and Pre-K. These would be cute to include in the reward box, treat packs, or baskets for the kiddos.
Overall
Each full set of any item includes 10-20 of that item. I could see these items being used in sunday school classes, especially as rewards or party favors. We do not believe in salvation through prayer-believing in only a water baptism, so some of these simply do not work for us. The John 3:16 FlipAbout is super cute, and a favorite of mine and Mr. B. I like the message included, and it's easy for kids to understand. My son likes the look of the animated tracts. He likes to move the slide across the pages to make it look like the characters are moving. Overall, these are cute products that I think you should check out to see if they would work for you.