We really love Progeny Press literature guides. These guides cover fantastic Christian literature and living books, such as Charlotte's Web. We have used Progeny Press before, and I've always been impressed. So, when the download for the Charlotte's Web E-Guide came, I downloaded it as quickly as I could!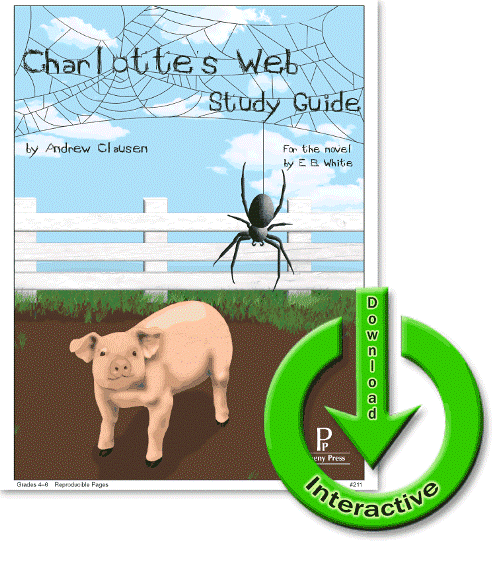 What is it?
For this review, we received a digital download of an interactive PDF study guide. This guide is really great! And what's even better is that it is interactive. What does that mean? Well, it's a PDF that Mr. B can actually type right in! When he's finished, I can print it all out and save it in his end of the year portfolio, or I can print it all out and he can write in it like a traditional worksheet style guide.

This is great for those, like Mr. B, who have weaker fine motor skills. It's great to work on fine motor skills, such as handwriting, but sometimes the focus on the skill takes away from the ability to put answers on the page. With these interactive guides, Mr. B can type directly on to the page. There's no frontal lobe coding issues to contend with, since the question and answer space are so close together, and there's no breakdown of skills to worry about since he can simply type his answers in the space provided.
Admit it, you got as much of a chuckle out his "Bacon" answer as I did! HAHA!
While I can't take the trusty red ink pen to the computer screen to correct his grammar errors, I can print the page and correct that way. Or, we can talk about it and he can change it on the screen before I even print it for his portfolio.
I've elected to wait to print until he's completed the entire guide, that way I can print everything at once and stick it all in his binder. Thus, reducing the imminent threat of lost papers!
Overall
Overall, we really enjoy Progeny Press and their literature guides. We plan to continue using this one until we've finished, and I may look into guides to cover some of his required reading for the year. They are so very well planned, and cover the book nicely. I like how they provide him with both concrete, and abstract questions. I love how he can easily type his answers into the interactive guide, which makes life so much easier for the both of us, but if I need to I can still print it out and use it that way. I also appreciate how easy it is to obtain the books. These are easily found at your local library, used book store, and even online. I happened to already have a copy here that I picked up at a free book swap a long time ago.
I truly don't pay much attention to the "recommended grade levels," instead I go with what catches our interest at the time. If he wants to a read a book they have deemed as appropriate for 3rd-6th grade, and he's 7th-well, that's fine with me. If he wants to tackle a 9th grade book, and I judge the content to be appropriate, again I'm fine with that. If grade level matters a great deal to you, then you should know this particular guide is intended for grades 4-6, but I can see grades 3 to even 7 being ok with this.
I am very thankful for the chance to review the Charlotte's Web E-Guide as it has been another hit for our family!
1.) Customization: Is it easily adaptable? Can we customize it to fit "us?" Can we modify or set our own schedule? Can we take breaks, jump ahead, or flat out skip?
This is a physical product, even if it is a download. You download it to your computer with no membership or anything like that to rush things along. You are free to take your time as you need, but I would work through the guide cover to cover. We take our time with reading so that Mr. B gets a good grip on what's going on. We have worked at this with a 3 chapter a week pace, and as a result we've nearly finished the guide in the review period. Some weeks I would split the chapters up over the course of the entire week.
2.) Value: Is it long lasting? Will it cover multiple grade ranges? Are you locked in to one specific grade level? Are there hidden fees?
There are NO hidden fees, but you will need to obtain the books as these E-Guides are not standalone products. The books feature a grade range, and you can easily go up or down a grade level with them.
3.) Attention span: Is it boring? Is it engaging? Is it varied enough for ADHD? Does it last too long?
Each guide is going to have it's own flair, but they all have the same great planning and questions. We have reviewed Progeny Press in the past, and they have never let us down. Mr. B always enjoys the book choices, and he will eagerly do the requested work since the time spent is minimal.
4.) Does it tie into other things we already have.
Progeny Press offers a variety of study guides so you are sure to find something that fits in with your current studies. I love how they integrate vocabulary and reading comprehension into their products, and in years past we have used those vocabulary words as our weekly spelling words. I would use these as part of an overall unit study, as well.
If you read the Indian in the Cupboard review, you'll notice I was having issues with my computer and Mr. B couldn't type in the interactive guide. The great thing about it was that I could still print it, and he could use it that way. So you don't HAVE to type in it, if you don't want to.
Don't forget to click the banner below to read more Progeny Press Reviews. They were very gracious to offer the crew a variety of E-Guides to choose from, and Charlotte's Web was only one of several!