Mr. B LOVES geography, and always has. I saw Let's Go Geography, and I knew he'd go crazy for it! Boy, was I right! He doesn't even see this as schoolwork, but as something fun to do during his breaks. I call that a MAJOR win!


Let's Go Geography is a weekly geography lesson that covers a country a week, the US taking 2 weeks at the very beginning. Lessons are divided across two semesters, and you receive an email once a week telling you what country you'll be studying. There are lessons for 3 years of study, so this is a long lasting geography curriculum!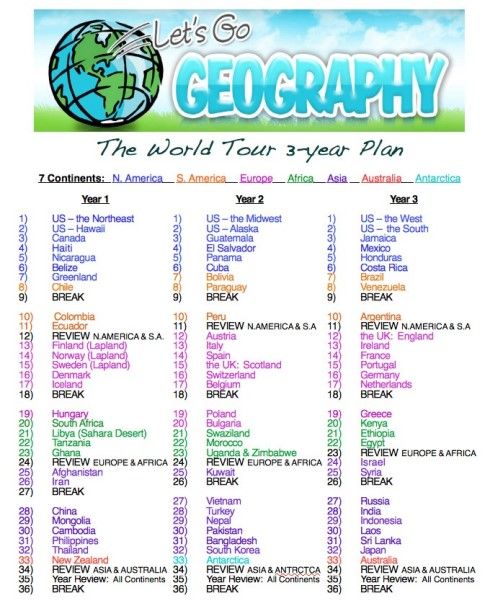 Our Thoughts and How We Used This:


I've been printing out the front page, the check list, and any pages that are consumable, and placing them into a 3 ring binder.
THIS!!!! This is my favorite part! It's a graphic "To-Do" chart! This is FANTASTIC for autism and ADHD. Mr. B is a very visual child, and his school schedule is comprised of both pictures, and colorful words. He checks off what he has accomplished, and he can see what is left to do. To have the same system integrated into the geography curriculum is fantastic! It's what he's already used to, and he's able to zip right through it on his own.
I like how there's a list of what you may need or want, including the call number for optional books for more learning.
I like how the activity action is sort of highlighted. From a special needs perspective, this helps to differentiate the action from the rest of the words, so he can see he has to PRINT something, then COLOR something, and then EXPLORE. As you can see, this is asking you to print a North America map. We did this from the beginning, and keep it in the front of our binder. He adds to it each week as he colors in the countries.
You can attach printed maps to a single page, or there's a printable "Passport" you can attach to. Mr. B wanted to do both, so both is what we do.
Each page is colorful, and you can choose to print it all, or just the pages that will be written or colored on. I choose the later to save on color toner, but I splurge toner on the cover sheets and the photo sheets.
Each lesson is interactive, and I LOVE that. There are links to click on, audio clips to listen to, and video clips to watch. This makes it a lot of fun, and varies up the content to keep his interest and attention.
I love the included photos! These photos have sparked further research, and we've enjoyed looking up more photos of each country as we learn about it.



You have access to the entire weekly lesson, and you can choose to do it all in one day, or spread it out through the week. We did both. Some weeks, Mr. B would be so into the lesson that he'd just keep on going. And some weeks, I'd have him only do a chapter a day, or maybe 2 chapters a day. The lessons are full, and I don't feel they are lacking at all. There's ample opportunity to delve deeper if you wish, especially with the book suggestions. I love the links, and how we can do as much or as little as we want.

Overall: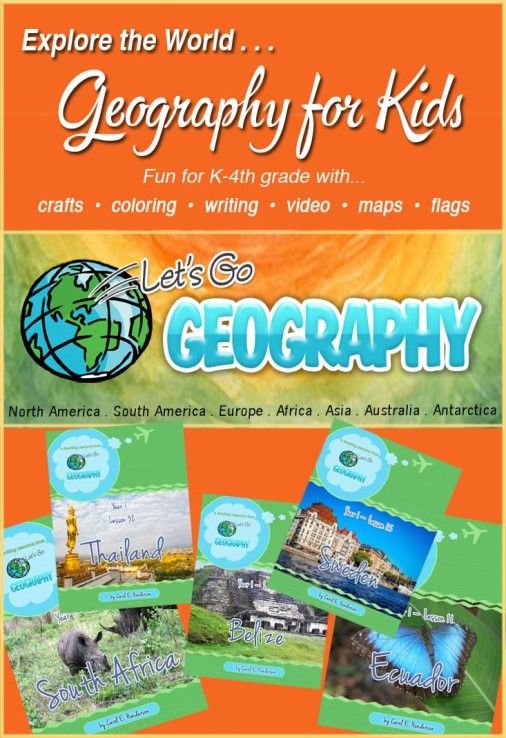 Let's Go Geography is intended for grades K-4, but Mr. B is a 6th/7th grader who loves it. I think his favorite part is the Create section. In this section there is a crafty activity, such as coloring a frog and lily pad. He loves doing that kind of stuff still. I'll be able to edit this post with photos of his completed work once I get my new phone. Sadly, mine is pretty much on life support and the camera isn't sending my pics correctly. I appreciate the inclusion of lesson reviews periodically, and the included break weeks. We've not taken a break week yet, but I'm sure we may when they hit around a Holiday time. I really like how well planned and organized the overall program is, as that is so convenient and needed in my life. We both really love this geography curriculum. He WANTS to do it, and I like following along with him. It's a total win for us!
Does Let's Go Geography Pass My 4 Ingredient Test?
1.) Customization: Is it easily adaptable? Can we customize it to fit "us?" Can we modify or set our own schedule? Can we take breaks, jump ahead, or flat out skip?

There are break weeks included. We have customized to the point of doing a lesson all in one day, or over the course of a week. You have access to the lessons in advance, so you can print ahead, and work ahead, if you want. You can skip if you want, but I don't think anyone would want to do so. You are confined to your membership time limitations.
2.) Value: Is it long lasting? Will it cover multiple grade ranges? Are you locked in to one specific grade level? Are there hidden fees?
There are three year's worth of lessons. It does cover multiple grades, and I can see higher grades benefiting and enjoying this program, as my son does currently. There are no hidden fees.
3.) Attention span: Is it boring? Is it engaging? Is it varied enough for ADHD? Does it last too long?
Each lesson is broken into chapters. Each chapter is pretty quick. There are multiple activities that are varied, such as arts and crafts, video clips, and audio clips. I feel it is very varied, and not boring at all.
4.) Does it tie into other things we already have.
This is only geography, though there are bits of history and science relevant to the study included. This is not an overall unit study, but a topical study.

Please click the banner below to read more Let's Go Geography reviews by the Homeschool Review Crew!