Let the Little Children Come
has come up with a really cute evangelical product aimed at children this Halloween. Often times, I see posts from my friends around Halloween time where they are condemning the holiday for one reason or another, with most calling it a pagan festival. Well folks, Christmas was once a Pagan Winter festival, but Christians overcame that and made it into a celebration of the birth of Christ, and I've often said we can do the same for Halloween. Take away the demonic nature, and make it something good!
These little Is There Anything Better Than Candy? Box Tract
treat boxes do just that!
Assembled, these little boxes are about 3" across and 2" high. This makes them the perfect size for small treats such as halloween candy, tiny little toy prizes, stickers, etc. These would be great to use for halloween treating, church or kids' parties, and family gift giving.
Another idea for these would be nursing homes and hospitals. All too often, residents of nursing homes are our forgotten members. We need to do better about visiting those folks, hearing the stories, and sharing love with them. These Box Tracts are a great start!

As for us, we spend a great deal of time traveling to doctor's offices, and other things. We also live in an area ravaged by drug addiction and homelessness. It's nothing to see someone passed out from an overdose, or panhandling on the street. So we took a few with us and handed them out as we saw fit. It's great to just brighten someone's day with a totally unexpected treat! And you never know what that small gesture could mean to a troubled heart.
Inside each petal you'll find Christian messages. We personally believe in baptism by full water submersion only, and this product does not teach that. That's my only fault to this, and a fault I wish we could remedy. We do not believe in simply saying a prayer, so I do not agree with that message. I'd like to see one that does teach water baptism, but these are still cute treat boxes you can share with others. And, if you believe as we do, you can take the time to tell others about your belief and why!
Easy to Use!
These are easy to put together, requiring little effort or time. Mr. B is easily able to put these together himself.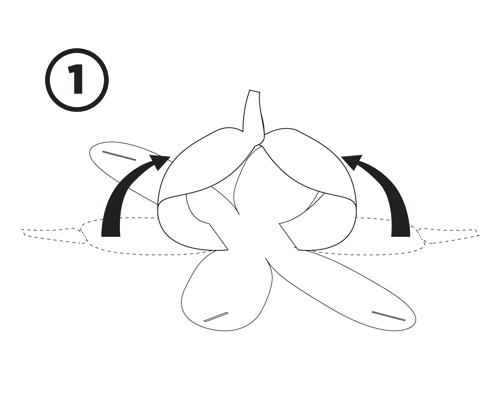 All in all, I think these are fun little treat boxes!
If you'd like to read more reviews, please visit the Homeschool Review Crew! Just click the banner below!