I'm not sure what we love more, science in general or Apologia Educational Ministries. But combine them both into one great product, and it's true love for sure! For the last several weeks, we have had the privilege to review the Marine Biology 2nd Edition Advantage Set that includes the student textbook, tests and solutions manual, and the student notebook. We also were blessed with the Marine Biology 2nd Edition Audio CD with this review.

Sherry Seligson, the amazing woman behind the scenes of Marine Biology, is a true Marine Biologist, having earned her degree in Biology/Pre-Med with an emphasis on marine biology, and working as a marine biologist for Disney. Dr. Robert Carter is the technical editor for this edition and featured in Is Genesis History? holds a Ph.D. in Marine Biology.
The Student Textbook
First off, the book is beautiful. It's hardback, and the coloring is just so pleasing. I have loved flipping through it on my own, and looking at all of the included images. Mr. B is only 12, but he has a very advanced understanding of science. It is highly suggested to complete Biology first, but I have a very good background in Biology from college, so I've been able to easily fill in the gaps. I wouldn't suggest this higher level course for most younger students, nor without the required biology first. But for us, this has been a very good fit.
The Student Notebook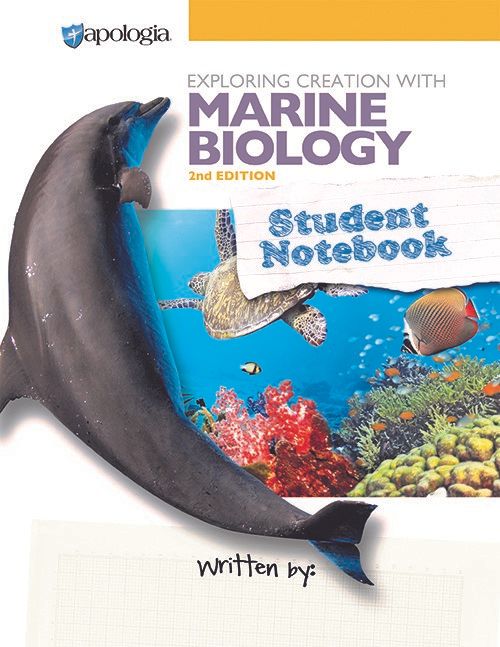 The student notebook is like the others from Apologia, and it's colorful and easy to use. There's ample room for most students to write long answer style answers of a few sentences, fill in the blanks, etc. For Mr. B, I have had to have him write on notebook paper some because his handwriting is still larger than average.
The Marine Biology 2nd Edition Audio CD
This little audio CD packs a punch! It's the book in audio book format, and this was GREAT for long car rides! I just popped in it, and he was listening and learning as we go. He really does well this way, then when we go to the book, he can read a bit and it's just a refresher for him at that point.



Tests and Solutions



These are no frills, just test pages and a solutions manual for easy grading. Black and white.



How we used this:


Since it's summer, I didn't want to do the program the way it's intended-which is 45mins or so a day, 5 days a week. So we worked on it 3 days a week, with a week off for vacation thrown in for good measure. As a result, we've been able to get partly through Module 2 so far.

First, we used the audio CD mainly in the car. We like to listen to audio books and audio dramas on long car rides to the Dr, or on trips. So we took this with us to see the Eclipse. I was worried we'd find an audio textbook dry, and boring, but it wasn't at all. We all found ourselves engaged and listening, frequently pausing it to discuss what we were listening to. Mr. B loves to be read to, so this works out very well for us.

Next, we have used the textbook together. Since Mr. B is so young, I have used this program with him, and it's been a great refresher course for me. I sit with him, and we go over the textbook, and I fill in any learning gaps he has or I explain more complicated material. Like I said, I wouldn't recommend this for your average 6th-7th grade 12 yr old student. Mr. B is one of those kids who can still get a lot out of a product geared for 3rd or 4th graders, and also do well with something geared for high school students, too. It all depends on the subject, and how it is presented. I've seen this in Marine Biology, a lot. He can easily understand some concepts, and he can mostly complete the tasks in the student notebook.

His favorite activity so far has been defining terms in Module one, such as Mid-ocean Ridge and Plate tectonics. He's been able to answer straightforward questions with ease, such as a question asking what type of plate tectonics is occurring in the Pacific Ocean to lead to the deep ocean trenches. He has had some difficulty with the notebook pages where he's just to write what he has learned. He can tell me orally, but he has a hard time putting it on paper. So for that, I have him narrate to me and I write it out. Or I have him make notes.

Overall, we have really enjoyed using this. I think I want him to do a little in Swimming Creatures of the 5th Day first, that way he can develop a better understanding, and then come back to this next year. Until then, I plan to finish the text myself as a refresher so I can better answer his questions now, rather than taking the time to look up the answers to double check myself.