We love history in our homeschool, and over the years we've really focused a lot on the Middle Ages and early American history. The 20th century, and more recent history, hasn't been a topic we've delved into much, so we were really excited to receive An Overview of the 20th Century for grades 2-7 by A Journey Through Learning Lapbooks.
An Overview of the 20th Century is a standalone history product that features a great study guide and directions to complete a lapbook that is a whopping 3 folders in size! The main components of the lapbook are mini books.
Topics included are:



Henry Ford
Panama Canal
Suffrage
Wright Brothers
World War 1
Charles Lindbergh
Roaring 20s
Great De
pression
Hoover Dam
World War 2
Propaganda
Life in the 50s
The Cold War
Civil Rights
First Man on the Moon
John F. Kennedy
Vietnam War
Persian Gulf War
Y2K
20th Century Technology
And if you are interested, you can also purchase coordinating copy work in both cursive and print.
For this review, we received one digital download of Learning Lapbook with Study Guide.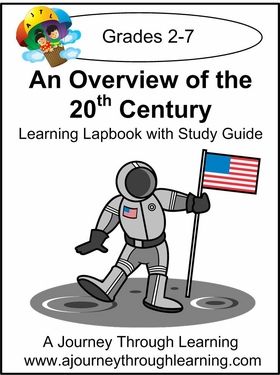 How we used this:
I didn't have a set plan in place of how many lessons we were going to do weekly. I decided to play it by ear, and let him explore interested topics more if he wanted. We started at the beginning with the Wright Brothers. Mr. B loves airplanes, so he loved reading about the first people to fly. He was also thrilled to know his father and I traveled to the Kitty Hawk area, years ago, and he was highly impressed with the fact they were born in Ohio-since we go to Ohio frequently. He went to the included link in the text, and labeled the airplane. Then we spent a few days looking at how planes have changed over the years, watching the planes land at the nearby airport, and making paper planes with a variety of paper plane kits he has.
Next, we moved on to Henry Ford. You know me, and I like to go in depth with things when the notion hits, so we spent a good deal of time with Mr. Ford. The included text tells us that Henry Ford was born in Greenfield, MI so Mr. B wanted to find Greenfield on a printed map, and include that in his lesson. So we did. We also looked to see how much $86,000 was in 1899 compared today. We found out that with an inflation rate of 2.87% per year, $100 in 1899 would be about 2814.05 in 2017, for a grand total of
$2,420,082.40! So Henry Ford blew through the equivalent of 2.4 million dollars!
We were to find a 1900 "Delivery Wagon" photo, and glue it to the page. We had some difficulty figuring out what was the right thing, but ultimately Mr. B decided on this photo:
On to Week 3 we started in with the Panama Canal. Again, we located the Panama Canal on the map, and he wanted to include that with his lessons. I was shocked to know they had to spend two years to rid the area of disease before they could even begin construction! Think about it, before the canal, a ship had to sail ALL the way around South America just to go from Virginia to California! Isn't that mindblowing?! Well, it is to me, at least!




We didn't spend a great deal of time with the Panama Canal, since I plan to revisit it more at a later time. And I want to focus on WWI in a LOT of detail later, so we skipped on over to "Women Gain the Right to Vote." Women won the right to vote in 1920, and my grandmother was born in 1919. Brayden was amazed to learn she was born before the ratification of Women's Suffrage. Along with this, we skipped over to The Great Depression, so we could talk about how our own family lived and survived through such horrible times. You see, that same grandmother was married around 1934-right in the middle of The Great Depression. So these two worked hand in hand for us.


One could easily focus on one point in the Table of Contents each week, or even 2 or 3 per week. We chose to take a slower route, to really get a lot of out it. We are set to being The Roaring Twenties and Charles Lindbergh this week, and I know Mr. B is really looking forward to that.
Overall:
Overall, this is a good stand alone product for a quick run down of history parts. I wouldn't use it as a main source of curriculum, but it's a good supplement that would go nicely in an end of the year portfolio. I wish there were more activities for each topic, but you can easily add your own to go deeper into the topics of your choice. We plan to keep coming back to this, and adding to our lapbook as our year progresses!
Does Journey Through Learning Lapbooks Pass My 4 Ingredient Test?
1.) Customization: Is it easily adaptable? Can we customize it to fit "us?" Can we modify or set our own schedule? Can we take breaks, jump ahead, or flat out skip?

This is a physical product, so you can use it as you need. There is no time constraint, and no worries on memberships or anything like that. Each lesson is standalone, so you can move around as you want.
2.) Value: Is it long lasting? Will it cover multiple grade ranges? Are you locked in to one specific grade level? Are there hidden fees?
There are NO hidden fees. This is a physical product. This is geared to grades 2-7. For older grades, I would probably add a little more oomph into each lesson.
3.) Attention span: Is it boring? Is it engaging? Is it varied enough for ADHD? Does it last too long?
Each lesson is really short, as are the included activities. There's a lot of variety, and you can really jazz it up for autism and ADHD. I preferred to add more activities on our own, but Mr. B would have enjoyed just doing the shorter activities with each lesson, too.
4.) Does it tie into other things we already have.
I added things to include other subjects, like figuring out how much 1899's $86,000 would be today, finding locations on a map, etc. This does cover a wide range of historical events.
Please check out what others from The Homeschool Review Crew have to say!