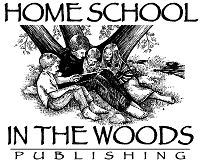 *******************************************************************************
By now everyone knows how much we LOVE
Homeschool in the Woods
. Their products offer students an amazing way to learn history that is hands on, and the lessons really stick with you because of that. We have had the great fortune to review for them several times. We also have used several Time Traveler American series before becoming a review member. So you can probably imagine the girly squeal I unleashed when I found out we were chosen to review the
Make-a-State Activity-Pak
they now offer. And I will fully admit to having a VERY difficult time choosing my top picks for this review. The Review Crew was given an amazing selection to choose from, and I really had to think and pray hard! I'm really thinking we need the
Old Testament Activity Pak
and the
New Testament Activity Pak
, as well! Maybe even the
Composers
or
Artists
paks! And about 8-10 other options haha!
The Make-a-State Pak is one of several from the Activity-Paks series they offer. These Activity-Paks include projects and a couple of activities for a targeted topic, such as the states or Old Testament. These do not include the same text pages and such that you may be familiar with from the Time Travelers series or the Project Passport series. The Make-a-State set does include a brief page for each state, but text and supplies are not included with the Activity-Paks.

The Make-a-State pak includes a "Name that State!" file folder game as well as recipes, state facts, and all the printables you need to create an amazing state themed lapbook! There's also a suggested reading list, in the event you want to stretch this out and read more about each state.
Our Experience:
I initially wanted to do the states in alphabetical order, but Mr. B wanted to do all of the states he has visited, first. So we started with Ohio. Now I like to use Homeschool in the Woods as a great backbone to branch off of for our social studies. We may do a lesson or two, then branch off and do our own research for a while, then come back and do another lesson-rinse and repeat. We elected to do more in the way of actual activities first, and explore here and there as desired this time. So, we were off on an adventure to Ohio!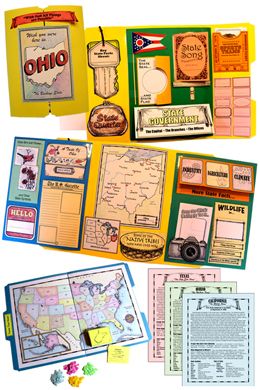 I first printed out the everything we would need for the study as a whole, and for the state of Ohio itself. I like the included directions for printing, and I personally changed some of the paper choices since we've done so many things from Homeschool in the Woods I've figured out what works best for us. Keep in mind, you will need to print a lot, and use a lot of paper-both regular paper, colored paper, and cardstock. You'll also need basic arts and crafts supplies such as colored pencils, glue/glue sticks, tape, scissors, exacto knife, and of course file folders. We have a laser printer, so ink really isn't too much of a concern for us. I can print roughly 3500 pages for $13.00. If ink is a concern for you, you may wish to have this printed else where. I have suggested in the past that they offer printed packages. I know even though ink isn't a worry for me, I would still purchase a print package that had everything already printed for me! I would love to see this as an option, especially for those traveling homeschoolers or those who may not have adequate access to print services.

After printing, I set down to organize. The same pages are included for the states. So you don't have a folder for each state or anything like that. Your student will be tasked to finding the information on their own for the most part, so they will also be learning a lot in the way of research. So each state becomes its own hands-on research project.

I printed out multiples of each page so that I could spread them among the states we would be doing first. Then I organized everything into separate file folders, so each state would have it's own folder, and all the print outs for each state were held within. This made life so much easier! Mr. B had everything he needed in each folder, and there was no waiting for anything. I highly recommend having everything ready to go so you don't have to stop mid lesson to find glue sticks or to print a needed page.

Mr. B has been so excited over this. He said he could spend all day long coloring the states haha. He colored the state post card pages to show the kind of landscape they have in different areas. So he has them various shades of green to distinguish the types of forest and trees, there are red splotches to indicate more urban areas or areas with higher population, etc. He has put a lot of effort and time into a task that should have been relatively quick and simple. It's really great!
There are more pages to color, but these pages are just what I grabbed. We've worked through these 3 states thus far, and he's really enjoying it! The graphics are rich, like you'd expect from Homeschool in the Woods. They are lovely, and make for a true work of art.


I love the "Key Facts" are on key graphics! How cool is that?
Mr. B uses these in a variety of ways. I've printed on multiple copies of the regional pages. He uses these to color in graphical representations of population, climate, poverty, education, water, etc.
See what I mean about the graphics? I love them.


Homeschool in the Woods is now offering an A-La-Carte option, too! How cool is that?! This is where you can get just a few projects for a specific topic, but not the entire study. If you go now to the a-la-carte page, and enter in promo code

alacarte

, you can receive a FREE Eerie Canal project to celebrate the 200th anniversary!
Previous Reviews:
U.S. Elections Lap-Pak
Project Passport Ancient Greece
Project Passport Middle Ages

As I mentioned before, the Homeschool Review Crew was given a plethora of goodies to review. PLEASE click the banner below so you can read about more great products!