Mr. B LOVES all things U.S.A related. I knew he would be thrilled to receive the
USA Activity Bundle by The Crafty Classroom
. This bundle set contains three books full of state learning awesomeness!
U.S.A. State Birds
features matching cards, realistic drawings to color, and fact sheets about the state birds for each state. There are 27 birds in this book to learn about!
U.S.A. State-By State 50 States Mazes
is a lot of fun! Here, each state is represented in a fun and challenging maze!
U.S.A. State-By-State Activity Notebook
is a great tool to have if you are studying the 50 states. Your child will learn the location of each state on the map, the capital, and a few other facts such as the state flower, abbreviation, and the flag.

For this review, we received all three of these in the USA Activity Bundle.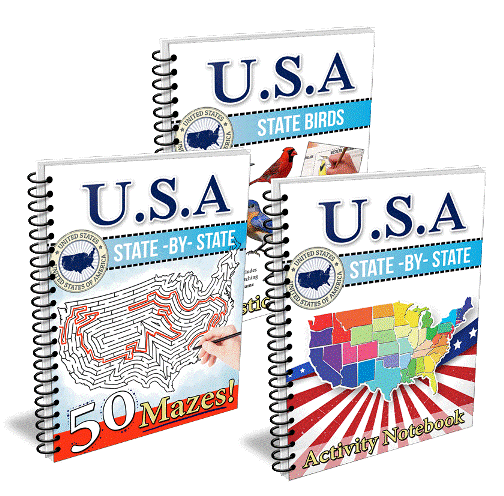 How did we use this?
Normally with something like this, I would print it off one page at a time so that Mr. B could work on specifics when I wanted him to do so. Since he's an older student, I printed off the whole bundle, and separated out the books so he could work on them as he wanted with no set plan in mind. He loves geography, especially United States geography, so I knew he'd really do well with this.
His favorite part has to be the Mazes and the Activity Notebook. He likes the State Birds too, but his preservative thinking is on the state facts right now, and not the birds.
These were great to print off and stick in a binder, separated using dividers. I actually separated them by state. So I printed off everything, and then each state had it's activity page, maze, and bird right there. Then we arranged in alphabetical order because it was driving me crazy having them arranged by order of when they were admitted to the union haha!
Mr. B was able to take these with him to his mamaw's house to keep him occupied, and he also took them while on out of state doctor's visits. We also worked out of these books when the weather outside was too hot or rainy-which has been several days during this review period.
I have REALLY liked the State Birds pages! I love learning about the birds, and their names, the watching around the house to see if I can identify them myself. It's also been quite therapeutic for me to curl up with a page printed off, on a clip board, with my handy colored pencils!
Overall, these have been a real hit! I would recommend them for any study on the United States or U.S. Geography. They are colorful, but not distracting. They cover enough material to spark interest for independent study, and the lessons are short, hands on, and fun.
Does The Crafty Classroom Pass My 4 Ingredient Test?

1.) Customization: Is it easily adaptable? Can we customize it to fit "us?" Can we modify or set our own schedule? Can we take breaks, jump ahead, or flat out skip?
These are physical downloaded PDF eBooks. You can use them as you like. For us, I arranged in ABC order. You could choose to do them in whatever order you wish. At first, we were going to go in chronological order, but decided against that. It is perfectly fine to jump ahead, and skip around.
2.) Value: Is it long lasting? Will it cover multiple grade ranges? Are you locked in to one specific grade level? Are there hidden fees?
I would personally say this is best suited for the younger student-around 2-3rd grades. Mr. B just enjoys doing this kind of thing, so he liked it. You could use it for an older student as a supplemental thing.
3.) Attention span: Is it boring? Is it engaging? Is it varied enough for ADHD? Does it last too long?
We did not find this boring at all. The mazes are quite challenging, and fun. And Mr. B enjoyed looking to the state flags and facts. Each page is pretty short.
4.) Does it tie into other things we already have.
YES! This is great to supplement with any sort of United States history or geography.
The Crafty Classroom sent The Homeschool Review Crew a variety of products to review. In addition to The USA Activity Bundle, you'll find products such as the Pre-K 26-week curriculum program called Alphabet Curriculum Notebook, or the Kindergarten Learn to R.E.A.D. Curriculum Notebook, and more! Click the banner below to check them out!