I do not have a biological daughter, but I've never thought that mattered. My niece was born when I was 14. From day one, I was there to pick her up, help her, take care of her, and teach her. Her dad worked out of town, and her mom worked round the clock 4 nights and 3 days every week. So I stayed with her. I took her to school, I did all of the school functions. I was even homeroom mom! We did play dates, and homework. And I was there to sit up, watching her all night long when she would have asthma attacks in the middle of the night. She didn't have to be born from me, to still be mine. Now that she's grown, she's like my daughter mixed with a younger sister mixed with a best friend. She considers Mr. B her little brother, and they certainly treat each other as siblings. We share clothes and make up like sisters, secrets like best friends, and advice like mother/daughter. I was very excited to share Trust Fund by Mapelle Films with her. If you're interested, there's also a book titled, "Love Was Near" that can accompany the movie, for girls ages 12+ to read following the film. There's also a downloadable Study Guide that I found to be a wonderful addition! We did not receive this book, but other members of The Homeschool Review Crew did. So be sure to check out their reviews.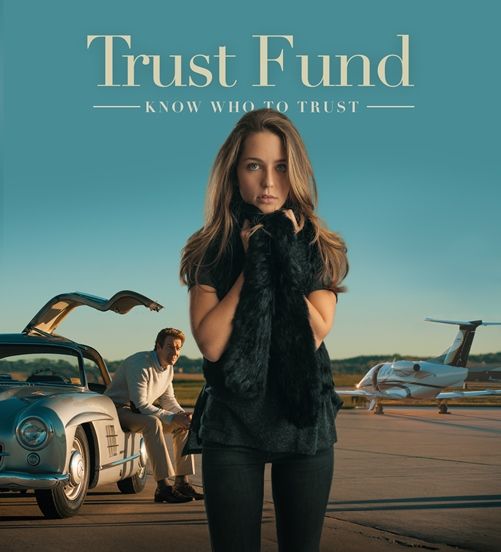 This movie is about a dad and his daughters. It's a sterotypical "Prodigal Son" style movie, but with a female "son." Audrey and Reese have a good life, but their mother is dead. Their father, Mr. Donahue has a very successful business, so the girls certainly aren't doing with out. Reese, the younger sister, has a shocking discovery when she finds out her mother left her and her sister Ten MILLION dollars in inheritance and their dad never told them. She manages to hack into his company's systems, transfers her half to her own account, and jets off to Italy. Why Italy? Well, she was on a trip there before for a writer's workshop, and fell for a man by the name of Milo. When she returns home, she can't stop thinking about him. Once in Italy, Milo talks about financial problems, and Reese hands over her money to him. You can imagine what road this leads her down...

Reese is impatient. She feels as if she's meant for something greater than her comfortable life she lives. She no longer trusts her father, and doesn't want to wait on him to give her the money. Her sister ridicules her in front of co-workers, and that's really the straw that broke the camel's back. She feels like she has to live up to the same image as her sister, and to her it's just too tall of an order to fulfill.
Overall:
I really like the message this movie sent. It allowed me to open up a discussion with my niece about God's time. God's time in perfect time. She may get impatient to find love, marriage, wealth, etc. But she shouldn't rush it. She doesn't know what God has in store for her, and she needs to focus on His time, and trust in Him. But, should she falter, she can find forgiveness.

The acting was very good, and the characters were believable. Yes, I know that it's pretty rare to have a 10,000,000 inheritance, but with that aside-it's a very believable story line and character base. Jessica Rothe is an excellent Reese. She truly captures that "I'm meant for more than this" attitude. Louise Dylan's Audrey is exceptional. She's the older sister who longs for the attention and love she perceives her father giving to her younger sister. She's jealous, but she doesn't show it in the same way. She more or less wants her sister dealt with in a way she sees as being fit, and she wants to be seen as the winner, the best, the "good daughter."

The interpersonal dynamics were really good, and we were both drawn into the film. The background sounds and music were well done, without being overly distracting or anything of that nature. The suspenseful moments had us! Is Reese going to get caught up in her Boyfriend's illegal actions?! It's very well shot, well executed film!
The bank called from Mapelle Films on Vimeo.




The Study Guide was a great way for us to pause, and talk about what was going on in both the movie AND in our lives currently. I think we focused more on Reese's story than Aubrey, because there is much to be learned from Aubrey, as well. She too has sinned against her father, but in a different way. And she lets her jealousy get the better of her.

Trust Fund allowed me to instill the lesson that I will always be here for my niece, no matter what. No matter what she may feel, think, or be told-She ALWAYS has me, and she will always have a home here. Nothing is Greater than God.

Click the banner below to be whisked away to the Homeschool Review Crew blog where you can read more reviews!