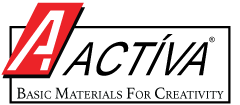 ACTÍVA Products recently sent us their Rigid Wrap and CelluClay Quik-Sculpting Kit and the
ACTÍVA Products' Favorite Sculpture KIDS CRAFTS eBook for review.
This is a box full of crafting fun! Inside you'll find rolls of plaster coated gauze and a powder that is very plaster'y like-that's the CelluClay. These are used together with forms made from cardboard, foam, etc. to create various projects and pieces. There's also the handy dandy free eBook that gives you some inspiration for projects, and a great how to on them!
How we used this:
I wanted to make a bowl, and Mr. B wanted to make a totem pole. I wasn't really sure about how much product was included, so I was pleasantly surprised when I found there was ample quantities of rolled gauze and clay powder to use. There's more than enough for both of those projects, and then some!
The free digital book gives great directions. It called for a paper towel roll to use for the totem pole. Of course, I didn't have any haha! So I taped together 2 toilet paper tubes instead. We cut out "wings" from cardboard, and I taped those on, too. Then I cut strips of the gauze. I cut them short, and thin, so we could better use them. After that, I covered the whole thing paper mache style-paying special attention to the wings to make sure they were well attached. Then we let it dry. I set it on non-stick Reynolds wrap. It was easily lifted from the non stick side, with no sticking at all. The directions call for plastic wrap. I couldn't reach the plastic wrap as it is on the second shelf, and I'm short haha!
I checked on it after an hour, and it was nearly completely dry! I truly thought we'd have to wait a while, but nope...we didn't. After it was dry, it was time to paint it! We used craft paints mostly to paint with.
For the bowl, I found a bowl the size I wanted to make. I covered it so that the plaster gauze wouldn't stick. Then I cut the strips of gauze, and placed them over the bowl. I made sure to do a lot of crossing over so it would be good and strong. I used a lot more on the bowl than we did on the totem pole. Once it was dried, I trimmed the edges, then I took some small strips of the plaster gauze and I covered the rim to make a lip. Once that was done, I mixed the CelluClay according to the directions in a plastic baggie, I then formed the little peppermint shapes and placed those on. I allowed everything to dry, then I painted it. Isn't it just the cutest?! Ok, ok, I know. It's horrible LOL! But I tried! I'm just not that good lol. I should have added a few more layers. And I didn't want it jazzed up, I just wanted it play to hold paperclips and rubber bands. So in their eBook they make a peppermint bowl. I followed the same directions, but just painted it a solid color.
After making the totem pole, Mr. B said it looked like a great cross. So we ran with that inspiration! As you can see, we made it a totem pole of sorts. On the bottom is the serpent, symbolizing the fall of man. Then we have the Great flood. And at the top is a crown of thorns, with blood to symbolize the blood Christ shed for our sins. This is something I will preserve and keep for years to come.
Overall, we've really enjoyed this. I have several projects lined up for a few different subjects he has coming up. I plan to purchase another kit so we can do even more things like building planets, a pirate ship, and more. This is easy to use, kinda messy-but that's ok haha, and a lot sturdier than I initially thought it would. I'm pretty impressed by it. All materials are non-toxic and gluten free, and I know that is always a major factor for several of my readers. I really do recommend this product to others!
Does ACTÍVA Pass My 4 Ingredient Test?
1.) Customization: Is it easily adaptable? Can we customize it to fit "us?" Can we modify or set our own schedule? Can we take breaks, jump ahead, or flat out skip?
This is a physical arts and crafts project. You do have to work within the limitations of the product, such as drying time.
2.) Value: Is it long lasting? Will it cover multiple grade ranges? Are you locked in to one specific grade level? Are there hidden fees?
This would be good for smaller children all the way through adult. Smaller kids will be adult help.
3.) Attention span: Is it boring? Is it engaging? Is it varied enough for ADHD? Does it last too long?
It's not boring at all! It's ART! But, some kids who have problems with patience may not like waiting on it to dry. It takes an hour or two to dry-more depending on the layers. I really should have allowed my bowl to dry completely, then added more layers. But I was impatient!
4.) Does it tie into other things we already have.
YES! This is great for all sorts of hands on projects!
See what the rest of the Homeschool Review Crew made! Click the banner below to read their reviews!