We've recently been reviewing the
Gr. 7 Lightning Lit Set
by
Hewitt Homeschooling
, and I gotta say I am thoroughly impressed! This course goes over classic literary choices as well as poetry. For this review, we received the Student Workbook, Student Study Guide, Teacher's Key, and Stories and Poems for Extremely Intelligent Children of All Ages.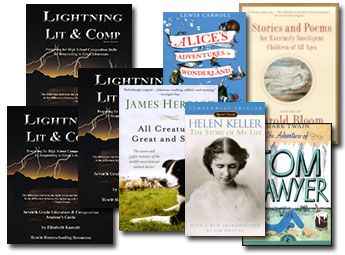 I have always wanted to try Lightning Lit, but I could never decide on a level. When I first heard of them, we were into Mr. B's 5th grade year, and there wasn't an option for him. So I was VERY excited to get the Gr. 7 set.

The course starts off with a study on Tom Sawyer. I couldn't wait! I LOVE Tom Sawyer. BUT....sadly, Mr. B wasn't as enthused with it as I was. I think it is just his age right now, because if you remember, he's at that age where he could be going into grade 6 or grade 7. We are doing a mix of the two grades to accommodate, and I think he's just not mentally ready for Tom Sawyer. So instead of working from Chapter one, we skipped over to Chapter three since we've not done anything with poetry in a while.

When we last studied poetry, we did so from a memorization point of view rather than really learning the ins and outs of poetry-such as rhyming words and stanzas, and such. I was very eager to find out if Mr. B would take a liking to it. He LOVED IT! We started off by learning who Edward Lear was. Mr. B was quite intrigued when he found out Mr. Edward Lear was also taught at home, and by his older sisters. We actually ended up taking a mini break during our first poetry lesson while we researched Edward Lear.



We found out Lear was also an artist, illustrator, and a musician. He had been born to an affluent family, but money ran out and he was forced to move out with his sister when he was only four years old. He sister was more than twenty years older than he, so she raised him as her own.


His poetry consisted of Non-sense poetry, and for an 11-almost 12 year old boy, this was great! The Owl and The Pussy Cat is a cute poem that details the relationship between an owl and a cat. The owl and cat are in love, and they feel as if they have waited too long to be married. But they have one big problem, they have no ring! Lucky for them, they run across a pig with a ring in its nose, and they buy it from him so that they can get married.

This lesson was on rhyming words in poetry. Other lessons in Chapter 3 cover Writing limericks and Haiku, and it gives a break down of poetry "guts" and Mr. B calls it-Stanzas, Lines, and introduces the importance of syllables for the beat. I like how the Student's Guide also asks Comprehension questions about the poems your child reads. Note: You cover more than just Edward Lear in Chapter 3, but this was Mr. B's favorite part, so I have focused more on it than the others.


After finishing up Chapter 3, we went on to Chapter four, Alice in Wonderland. Mr. B LOVES this book. This chapter discusses Creative writing. Again, it starts off by introducing the author, Lewis Carroll, and this led to a couple of days of research for Mr. B who had to learn all there was to learn about Lewis Carroll. We were both fascinated to learn that Alice in Wonderland started out as a story told on a boat ride! He later expanded the story when he wrote it all down. Like the poems in chapter three, each chapter in Alice in Wonderland is broken down in the Student Guide and Workbook. I like how there's a list of all the vocabulary words, and their meanings. We used these as "bonus" words in spelling, and we used it as copywork by having him copy the word and the definition.

The comprehension questions for Alice in Wonderland are really good. It's a good mix of critical thinking style questions and straight up fact style questions. I also like the ones that make him put in order how events occurred. All of these tasks work different areas of his brain that he needs to strengthen from a special needs perspective.

All of the comprehension questions are presented in the beginning of the chapter, with additional activities after that. I wish there was a mix of them, arranged by chapter. This would be better for kids like Mr. B who need things organized in that way. I like the activities in the Student's Guide, and Mr. B really likes the crossword puzzles. It's a bit confusing for him to go between the Student's Guide and the Workbook. I'd like to see an option where these two books are combined. I became confused at one point because I couldn't figure out which book I needed, and they both look the same. When we first started, I thought a mistake had been made and we had received two of the same book HAHA!

Overall, I really like Lightning Lit. the Grade 7 set is a good blend of what is on his level now, and what he will grow into over the coming year. I would like to see the workbook and student's guide be consolidated in some fashion, as that would be easier for our situation. It's been a little confusing for Mr. B to switch back and forth between the two student books. That wouldn't be a deal breaker for me, just pointing it out for others so that you know you may need to take measures to distinguish them for your special kiddos. I appreciate the included suggested schedule in the Teacher's Guide, but I'd love to see a checklist of sorts in the Student's Guide and/or Workbook as well.
Does Hewitt Homeschooling Lightning Lit Pass My 4 Ingredient Test?
1.) Customization: Is it easily adaptable? Can we customize it to fit "us?" Can we modify or set our own schedule? Can we take breaks, jump ahead, or flat out skip?
These are physical books, so there's no time constraints that you'd find with an online program. I would say it is best to go in order, but we skipped Chapter 1 and went to chapter 3 with no issues at all. Then we went on over to Alice in Wonderland with no problems. You can set the schedule as you need, and there is a suggested lesson plan in the Teacher's Guide.
2.) Value: Is it long lasting? Will it cover multiple grade ranges? Are you locked in to one specific grade level? Are there hidden fees?
This is on par with Grade 7 material. Hewitt Homeschooling also offers other grade levels, and I noticed the same poetry book is used for their Grade 8 set, as well.
3.) Attention span: Is it boring? Is it engaging? Is it varied enough for ADHD? Does it last too long?
This would depend on your child's likes and dislikes. Mr. B likes poetry, and he loves Alice in Wonderland, so it was great for him. He wasn't thrilled with Tom Sawyer, so we elected to wait a little and go back to that. Each daily lesson is pretty short.
4.) Does it tie into other things we already have.
Other than Language Arts, that you can pull out of this, no other subjects are in here by default. We did couple some history and research by researching the authors. This is a literature program, and no a unit studies based program.
The Homeschool Review Crew reviewed a few different Lightning Lit choices this review period. Be sure to check them all out by clicking the banner below!