Adventures of Rush Revere #1 New York Times Bestselling Book Series by Rush and Kathryn Adams Limbaugh
is a ton of fun!
We recently received all 5 book in the Adventures of Rush Revere Book Series.
And let me just say, the packaging on these is exquisite! The books are hardbound with gorgeous pages, and they come stacked and wrapped in a beautiful blue ribbon with gold embossing. I almost didn't want to untie them!
I love the premise of these books. Rush Revere is a teacher, and he travels through time with his students teaching them American History in action!
The books in the series include:
Rush Revere and the Brave Pilgrims
Rush Revere and the First Patriots
Rush Revere and the American Revolution
Rush Revere and the Star Spangled Banner
Rush Revere and the Presidency
Mr. B opted to start at the beginning with Rush Revere and the Brave Pilgrims. Mr. B had never even heard of the series before, so he was pretty intrigued by a time-traveling substitute history teacher with a talking horse named Liberty! Honestly we NEED a Liberty in our lives. No...not the talking horse exactly, but a stuffed Liberty. I've seen them floating around, and Mr. B would LOVE to have one. So if anyone knows where I get one, that'd be dandy! Anyway, Mr. B was intrigued by the overall idea of this time traveling substitute teacher and his talking horse, so he set in to reading The Brave Pilgrims because that is the beginning. Rush Revere and the Brave Pilgrims takes place during the Pilgrim's first winter.
I was first hit by the overall quality. The books are hardback with a printed dust jacket over a solid book surface. The spine is embossed behind the dust jacket. The pages are very thick. They aren't your typical book pages at all. They are glossy, and full of color. They are made to look like old, yellowed paper. There are illustrated photos scattered throughout, as well as real historical photos. I will fully admit, I was kinda thrown off by the image of Rush Limbaugh's head cut and paste style on the cartooned body of the character lol. But the more I saw it, the more comical it became. Here's this big head, this little body, and it's all the same size as the horse...I began to see it for the comic relief it was intended to be.
I really like how these books present learning tidbits in a fun way. For example, at the beginning of Chapter 2 in
Rush Revere and the Brave Pilgrims
, Liberty starts talking about all of the nutritional facts of an apple. It's pretty funny that the horse is off on a tangent about apples having dietary fiber and essential minerals when they are on a quest to learn about history! These little factoids also caused Mr. B to do side research. He stopped here and looked up the nutritional content of every fruit we had in the fridge, then finished off the chapter LOL!
One thing I did note was the deception in the book. They can't let the Pilgrims know they are time travelers, nor can they tell present-day people they are going back in time. So they make up stories. Some may have a problem with that. For example, Rush Revere goes over to William Bradford and they are talking. He's relieved when William Bradford automattically assumes he's been exploring when he and Tommy aren't around. And then he tells Bradford that he has a horse, then realizes they've never seen the horse before. So he tells them a native girl gave him Liberty while they were exploring.
The use of imagery is great in these books. Here's an excerpt from the Prologue of Rush Revere and the Brave Pilgrims:
"
The sea was wide, cold, and blustery. The large wooden ship rocked hard against the rolling waves."
This is as much of a lesson in writing as it is in history and reading. I had a professor in college tell me that we tend to write like what we we read. If we read books with a great deal of imagery, then our writing will feature more detailed images such as this. Mr. B needs a lot of work in this area, so reading books like this will ultimately, I hope, help him to be more creative with his writing!
Overall, Mr. B has really enjoyed these books. He's finished Rush Revere and the Brave Pilgrims, and we are starting in on Rush Revere and the First Patriots. This is more in tune to our history lessons currently. This book teaches about the colonial period of George Washington and Ben Frankin leading up to the Revolutionary War. I really like how these books make you feel like you are really there, too. It's like we are catching a behind the stage glimpse of history.

I'm excited to get to
Rush Revere and the American Revolution
. Looking through the book, there's a photo of where Paul Revere was captured! This time period fascinates me! I like how this book also includes the fighting we are facing today in Afghanistan.
Rush Revere and the Star-Spangled Banner
follows the American Revolution. This is great if you are studying The Constitution and that time period. They are visiting in the middle of the Constitutional Convention so that they can see all of the action. It doesn't feel like there are as many photos in this one, compared the previous 3, but I didn't actually count them. I think they are just more dispersed.
The series ends with
Rush Revere and the Presidency
. I thought this book would be about electing the president, and feature a lot of current day stuff, too. But instead it is focused on the early Presidents of Washington, Adams, and Jefferson. It's a great foundation for kids. We can see how hard it was the lead an infant nation into greatness!
All of the books have the same "aged look" pages that are glossy and not like most books, they are all the same hardback with embossed spines and colorful dust jackets-they vary in color. They all have a good mix of illustrations and historical photos. I've flipped through the remaining books and noted the same kind of educational tidbits mixed throughout. I like how Rush Revere kind of quizzes his students, which leads to a repetition of facts for your child, but they don't realize they're reading a repetition like that. It makes them remember the details easily, and in a fun way. Of course the books are fiction, but they are historical fiction that is based on true events. These would be a great addition to any Early American History program!
Does The Adventures of Rush Revere Pass My 4 Ingredient Test?
1.) Customization: Is it easily adaptable? Can we customize it to fit "us?" Can we modify or set our own schedule? Can we take breaks, jump ahead, or flat out skip?

These are physical books so you can read them as you like. You can go in order, or skip if you want.

2.) Value: Is it long lasting? Will it cover multiple grade ranges? Are you locked in to one specific grade level? Are there hidden fees?

These books are written in such a way that you can read them to younger kids, and early readers can help read along, too. Even older kids would like these! I'm an adult, and I liked them!

3.) Attention span: Is it boring? Is it engaging? Is it varied enough for ADHD? Does it last too long?

Definitely not boring. The pages are colorful and there are a lot of pictures included.

4.) Does it tie into other things we already have.

This series would be a GREAT addition to an early American History course!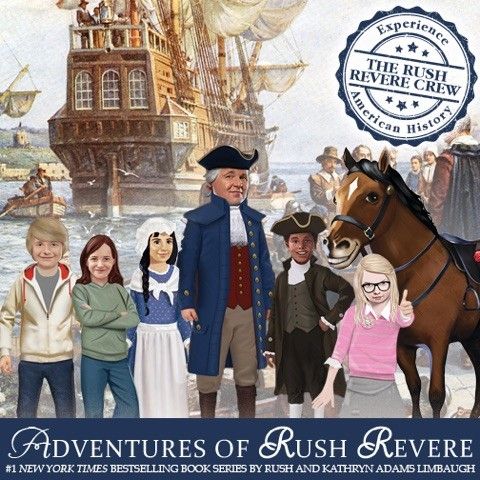 Several members of The Homeschool Review Crew also reviewed this series. Please click the banner below to check them out!