Apologia How to HOMESCHOOL with Stunning Confidence, Contagious Joy, and Amazing Focus (DVD & Coursebook) REVIEW
We love Apologia Educational Ministries in this house. They have so much to offer that I never even knew about before joining the Review Crew. Recently I was sent How to HOMESCHOOL with Stunning Confidence, Contagious Joy, and Amazing Focus (DVD & Coursebook). This "how-to" program is great for new homeschoolers, and also veterans like myself. This has helpful tools for those who are new to homeschooling, and even though we are headed into our 8th year (WHAT?!) I still found this to be useful.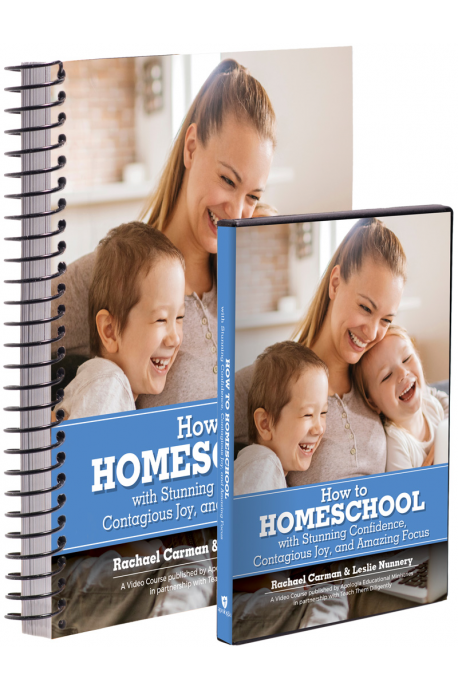 The workbook looks larger than it is in this photo. The one I received is not wire bound, and isn't very thick. It is made up of 15 short chapters that start off with telling you how to get the most of out the course. Here's a run down of the chapters:
Introduction

1.) How to Get the Most Out of This Course

Designing Your Road Map
2.) Setting Goals for the Journey
3.) Finding Support
4.) Choosing Curriculum



Finding Your Way
5.) Practical How-To's (Nuts and Bolts)
6.) Organizing Your Homeschool Stuff
7.) Organizing Your Homeschool Day
8.) Tips from Veterans
Navigating the Detours
9.) Family Matters-Marriage
10.) Family Matters- The Rest
11.) Dealing with Opposition
Arriving at Your Destination
12.) High school Graduation and College
13.) If college Is Not the End Game
14.) You Can Make It!
Beginning Your Journey
15.) Continuing Education and Encouragement Opportunities

The DVD component works well with the coursebook. I like that they are short enough for me to squeeze into a busy day. I love how the workbook has a place designated in each chapter for notes and "homework" so I'm not trying to keep up with extra papers or anything like that.

In Chapter TwoOne we are tasked with writing our Family's story. This is a lesson on learning where you are coming from and where you want to go. I really liked this assignment because it helped me to set forth goals in a more meaningful way. I can see what goals we are easily meeting,and what we need to work on a little more. By writing out our story, I was refreshed with my overall decision to homeschool in the first place.

Chapter Three is about support. I'm blessed to to have the support of my family and friends. So much so, that many have began to homeschool due to our story! I live in an area with several homeschooling families, so the support network is large here.
Chapter Four is on Choosing a Curriculum. This used to be so hard for me since there are so many companies, methods, subjects, and approaches. What if I spend a lot of money, and he hates it? What if I spend a lot of money, and it's not very good? This chapter includes assessment tools in an online appendix to help you narrow down what may work best for your homeschool. And I want to point out that Apologia is a curriculum company, yet they do not promote their own products in this chapter so you are truly getting unbiased advice and guidance to choose what works best for your family. (And for the record, Apologia offers some FANTASTIC curriculum choices!)

Chapter Five is a basic How-To. It tells us that Homeschooling is a walk of faith, and that a child's success or failure isn't a reflection of me as a mom or teacher. This was huge for me. Mr. B has struggled for months with Order of Operations. I was feeling like such a failure, and this chapter really helped me see that I'm not a failure, he's not a failure. He's just having a difficult time understanding this concept right now.

I also like how Chapter Five talks about "detoxing" from the traditional school mindset. So many think homecshooling is "school at home," and that's not the case. Recently, my best friend began homeschooling her high school daughter and middle school son. They had to spend about 4 months breaking the school thoughts/attitude.

I am still working my way through Chapter Six, Organizing Your Homeschool. The assignment is to brainstorm how you want to set up your home school and organize everything. I am a work in progress, that's all I can say haha! I'm trying to declutter and filter out only what we NEED, and not everything flashy that catches my eye. THAT is the hard part for me!

The DVDs segments are fairly short, as I mentioned above. I found I was able to watch the segment on the DVD, taking notes while I watched, and do a lot of the assignments in 30mins or less. This is great for a busy mom like me who rarely has time to think for myself, much less anything else! It was really nice to hear Leslie and Rachel speak open and honestly, and the video segments pair wonderfully with the workbook.

All in all, I think this program is great for new homeschoolers, and even old veterans like myself can find useful tidbits in here! I do wish this had been around back when I first started 7 years ago.
In addition to How to HOMESCHOOL with Stunning Confidence, Contagious Joy, and Amazing Focus (DVD & Coursebook), members of the Homeschool Review Crew were also given Internship for High School Credit to review. Please check out the Homeschool Review Crew to read those reviews, and more!