Ok, I know you aren't supposed to judge a book by its cover, but seriously... The Secret Bridge by Lamplighter Publishing is absolutely beautiful. This book was written by Amy Le Feuvre, and it features a stunning leather (leather like? I have no idea. It's nice. Very nice.) embossed cover with gold accents. Lamplighter's mission is to develop "Christlike character one story at a time."
Lamplighter makes sure that Christ is the forefront of all their editing. They believe the character traits a child emulates in childhood will be what carries them through the rest of their life. Found within each Lamplighter book are footnotes and Bible references you won't find elsewhere.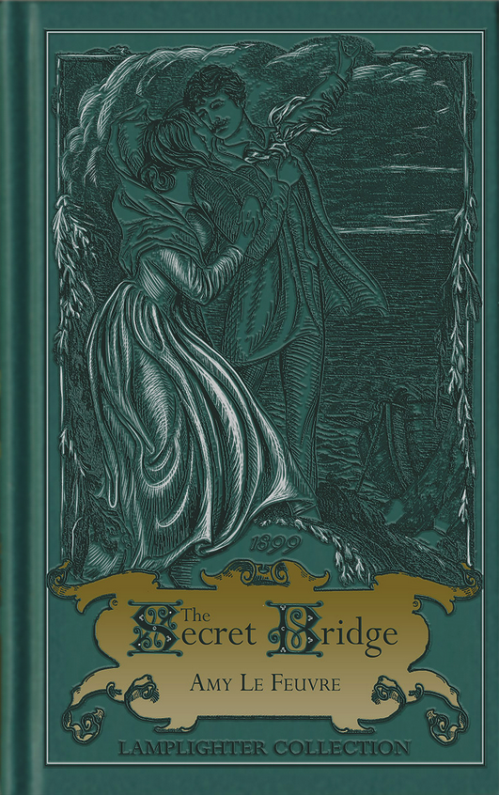 The Secret Bridge is a story of Bridget, who is a very smart and intelligent female character. She's strong, yet shy, humble, and well educated. Godfrey, her male counterpart, is also well liked. He isn't as humble as Bridget, and he's quite used to getting what he wants. She finds her living situation not at all what she desires or expected. Her uncle, with whom she was to live following the death of her father, as too died. A sneaky woman convinced him to change his will, and this leaves Bridget with nothing. Even though she has no money for herself, she still refuses to accept the assistance of others. Their lives are full of strife, twists and turns. Godfrey has fallen in love with Bridget, and he uses her newly found poor situation to his advantage and takes Bridget as his bride so that she is not left to the streets of London. He does not have time to spend with his new bride, because he is once again called to his Royal Navy duty. So he leaves her in the care of his estate care takers, and in the middle of a feud and lies that Bridget does not know about. Once married, Bridget finds herself in the middle of a long standing family feud where she is being forced to choose a side. But her character will not allow her to make this choice.

You can watch her character slowly evolve as she works to fully embrace this mission-to strengthen her devotion and dedication to the Lord. I found this book to be full of faith and love, and thought provoking. It is timeless in that it transcends the years. The story, and moral found within, are as relevant today and they were when the book was originally written.


The story line is well developed, and the plot moves at just the right pace for me. It is an easy read, but one that is very interesting and thought provoking. I knew I'd like this book, but I wasn't prepared to enjoy it as much as I did. I ended up reading it all in just a couple of days, often thinking back to it throughout the day. It is definitely one of those stories I easily "got into" and I had a hard time putting the book down. Overall, I highly recommend this to others!


Please, check out what the other Homeschool Review Crew members had to say!