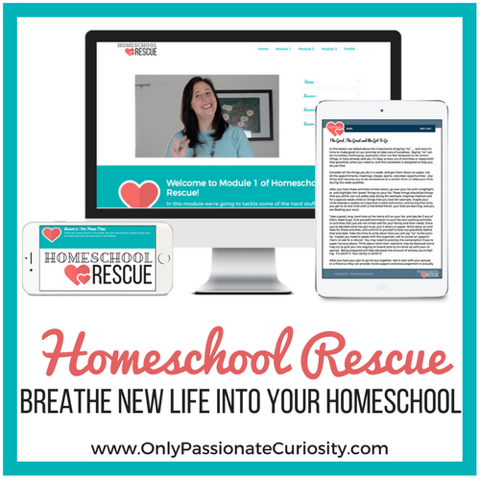 Every once in a while a product comes up for review where I think, "Ehh...I'm not sure if that's a need for us." Or I may think of a 100 different reasons why I may not get use out of it. I saw Homeschool Rescue and thought that I wasn't really sure if it was for me. Did our homeschool need new life breathed into it? I mean, we'd been chugging along nicely, or so I thought. So I really got to researching it, and thought, "what they hey diddle, lets give a whirl!" And people, let me tell you I am so glad I did! MERCY! I didn't even know I needed it as badly as I did! Only Passionate Curiosity has a home run with this dandy course!




Homeschool Rescue is streamed online through short videos and "homework." The lessons vary depending on where you are in the course. You start of with "Triage Your Homeschool." I will admit to spending a bit longer here. This is the first step where you really take a step back and assess your homeschool, and really your life.
Of course I paid special attention to Lesson 4 in Module 1, which is all about homeschooling under special circumstance such as chronic illness and special needs. There is mention of something called a "Grace Year." Oh my Heavens! MIND=BLOWN! We never had a full year where I had to take a break, but we have certainly had months, or even a span of multiple months, where things were so hectic, or Mr. B's health was so poor, that we didn't get anything structured accomplished. I had been beating myself up for it. Especially now with multiple trips every month to the children's hospital located 3 hours away (one way!) It has been HARD to stick to a schedule of anything at times. This lesson in particular helped to see that it is OK. We have circumstances that necessitate a change in direction at times. And you know what, I may not do everything the way others may deem fit and proper 100% of the time, but I do my very best! We may not do school work Mondays because I'm traveling, but he is still learning-and it's the very best I can do at this very moment with the hands life has dealt us. She also says to approach everything with Grace, and asking for help is a good thing. That's Lesson 4. It's a true, real life, in your face-"You ARE good enough" talk.

Module 2 on schedules is also highlighted for us. This is what we are working on currently in our behavior program, so the tools shared are very useful for us!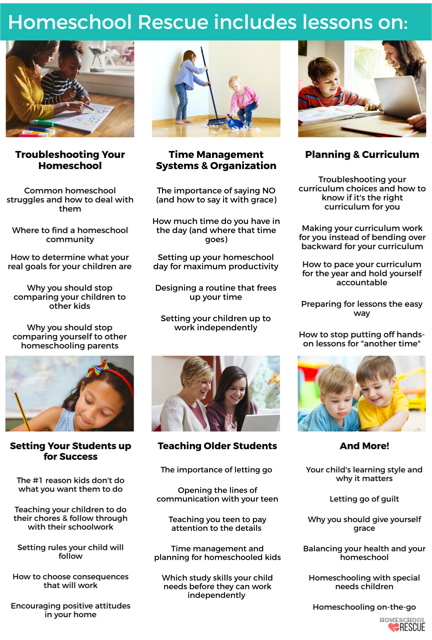 Heather is a sweetheart, and it shows. Going back to Lesson 4, Module 1 as my example, you can see her true, raw passion and emotion in what she is doing. And it's that personable connection that makes these lessons hit home, and work. She makes you feel like you're sitting in her kitchen with her, sharing a cup of tea, just chatting about life, home, and homeschooling. She gives great tips, the homework really puts things into perspective. They are so worth the time in doing them, and have really helped me a lot. One "homework" activity is to declutter your homeschool space. Well folks, we school all over the house I guess because I just took off with that whole declutter thing. I'm still working on that one! HAHA! I'm going all over the house evaluating what we use, how, why, etc.




Did I mention there's a member's only facebook group? YEP! There's a special little gem of a place just for members on Facebook where we can talk about things together, with Heather, and answer questions, seek support, etc. It's a great support network!

Overall, whether you are new to homeschooling or a veteran like myself, you need this course. Try it, learn from it, embrace it, and love it the way I do!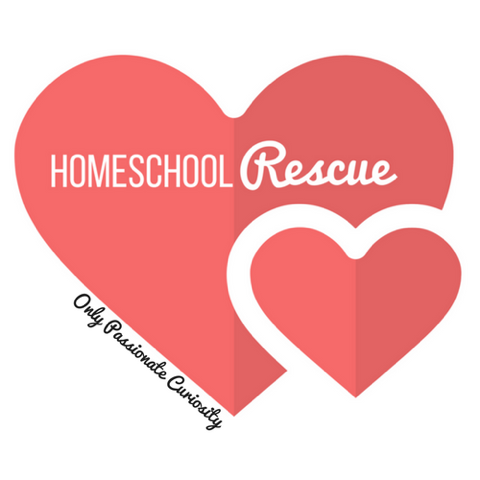 Please check out the rest of The Homeschool Review Crew to see what others have to say!