My love for Memoria Press is well known by now, so when we had the chance to review the First Form Greek Complete Set, well you can imagine how excited Mr. B and I both were! Mr. B has taken it upon himself to learn Greek, so this set came at the perfect time !
What is First Form Greek? First Form Greek is a program that is designed for students of parents or teachers who have no background in Greek, like myself! It is intended for students in 7th grade and up, but the material is written and laid out in such a way that Mr. B, 6th grade, was able to work his way through this with a little effort. It has taken him longer than it would other students, but he's been able to catch on.
Our Experience
Our experience will not be the norm. As I mentioned above. Mr. B is only 11, and this program is really intended for students who are older-from 7th. Actually, according to the website, 7th grade is intended to be the time your student will learn the Greek Alphabet. First Form Greek covers the Greek Alphabet in lesson 1, and it says if you haven't learned the alphabet yet, that you can spend longer in lesson 1 or you can use the Greek Alphabet Set. It also recommends you have at least 2 years of previous Latin, such as First and Second Form Latin. We have not had 2 years of Latin.
Brayden got to work immediately, as soon as I opened the box. He grabbed the student text, and began reading. He wants to learn so badly! He wanted to move ahead much too quickly, and found he was having a very difficult time understanding everything (or anything.) 5 days a week was too much for him, so I adapted the lesson plans to 3 days a week to move slower, instead. We went back and spent a few weeks just learning the Greek Alphabet. The hard part is learning which symbols go with with symbol name, and learning what sound they make. For us, this has been more difficult than our previous study with Latina Christiana due to having to learn an entirely new set of symbols/alphabet. As a result, I would highly recommend spending the first year just learning the Greek Alphabet fully, and being completely comfortable with it, before moving on. AND I'd recommend the 2 years of Latin experience, exactly as Memoria Press as recommended. I recommend this so much, I plan to purchase the Greek Alphabet Book so that Mr. B can work on it, THEN have him redo everything he did for this review because he still hasn't truly mastered the alphabet portion.

With all of that said, the set is fantastic. Here is a graphic that shows you everything that is in this set: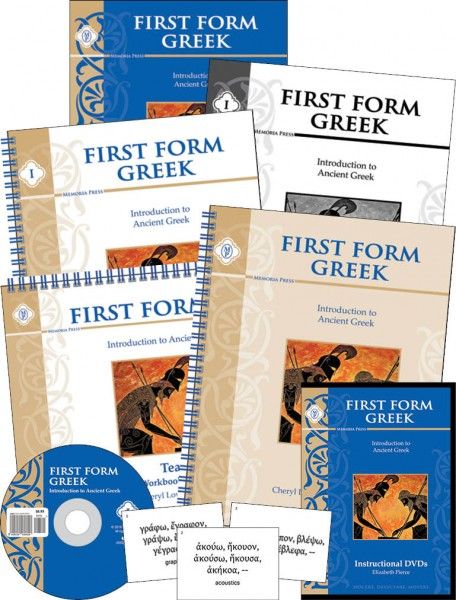 The Instructional DVDs are great! And I couldn't have helped Mr. B get as far as he has without them! This goes a long way in helping you with pronunciation. The Teacher Manual is great. It lays out the program exactly as it is to be implemented. Each Lesson is broken up by check boxes with instructions of what is to be done, and when. That is great for people like me who get lost in the process of trying to plan. I also like the fact that the student book isn't overly large. It's rather small and thin. It's easy to stick in my purse for trips out, so that Mr. B can study in the car, or in waiting rooms.

Over the last 6(ish) weeks, we have managed to get to Lesson 4. I like the cumulative reviews, and the overall flow of the program. I also really like how the student is to read the text on one day. And then another day they are to reread the text. Mr. B has had some difficulty with the oral drills, but that could be due to his special needs or immature age. I expect that to fall into place as he grows a bit.

Overall
Overall, this is a great set. I wish the Greek Alphabet Book was an included feature in this set, as that would make it 100% complete in my opinion. I plan to revisit this in the near future, after Mr. B has had adequate time to learn, and master, the alphabet first. I think he will get more out of the lessons we have done so far. This is a great study to go with any classical education, or any study on Ancient Greece.


Previous Memoria Press Reviews:
Latina Christiana
6th Grade Literature Set
Does Memoria Press First Form Greek Complete Set Pass My 4 Ingredient Test?
1.) Customization: Is it easily adaptable? Can we customize it to fit "us?" Can we modify or set our own schedule? Can we take breaks, jump ahead, or flat out skip?
You can set your own schedule because these are physical products. I would NOT skip or jump around.
2.) Value: Is it long lasting? Will it cover multiple grade ranges? Are you locked in to one specific grade level? Are there hidden fees?
This is long lasting, and I would put on a 7th grade and higher scale. There are no hidden fees.
3.) Attention span: Is it boring? Is it engaging? Is it varied enough for ADHD? Does it last too long?
The lessons aren't long at all. As far as being good for special needs, I think it depends on the student. We have had to move much, much slower than I anticipated. I thought Mr. B would get and just take off with it, but he's had a little difficult catching on and moving on. I think if we come back to this in even just 4 or 5 months, that he will have an easier time and learn more.
4.) Does it tie into other things we already have.
This would go with any type of classical learning, and any study on Ancient History.

Please check out the Homeschool Review Crew for more reviews!