Apologia Educational Ministries never ceases to live up to my expectations. We have loved every product we have reviewed for them, and Readers in Residence Volume 1 (Sleuth) is no exception. For this review, we received the full set which includes a Teacher's Guide and a Student test/workbook. This set is very similar to Writers in Residence set that we reviewed last year, with a similar look, layout, and overall feel.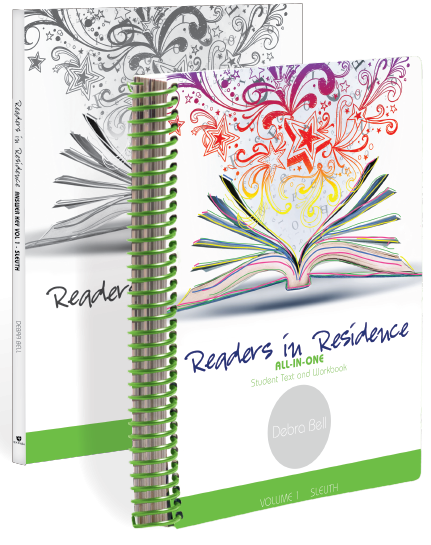 The above product image is a little deceiving because it doesn't show the full scale size of the student workbook. If you are familiar with Writers in Residence, Readers in Residence is the same size. This book is very large.

Readers in Residence is a really great reading curriculum that uses easy to find books you may already own. It starts off with Sarah, Plain and Tall and historical fiction novels. Your child will complete short lesson activities in each module that build upon one another to fully cover a given topic. As mentioned above, the book is very large. You may wish to unbind it and rebind into sections to make it a little easier to transport or write in. My son doesn't have a problem with writing in it the way it is. Some children with Autism may not like the size of the book since some with autism feel as if they have to complete the entire book in one sitting. So if your child is like that, you may wish to unbind, and rebind in your own way.



How we used this:
We started off with Module 1. This course is pretty wordy, but it is written in an easy to read conversation tone that Mr. B seems to really enjoy. He would often ask to work ahead a module or 3, just because he was enjoying the reading. He really liked the idea of a book club in the beginning of the book, and immediately started planning all future book clubs. We would work a day or two of modules 3-4 days a week. The first book is Sarah, Plain and Tall. With this Unit, your child will learn about historical fiction, and the basics of a book. He learned about cover pages, drawing conclusions from the front and back cover and images, characterization, and reading like a detective. Some activities had him scouring the house making lists of various books of different genres and types. He was quite upset because we apparently do not have any autobiographies in the house!

I really liked the progression of the lessons as they just made sense. It started with the cover and moved inward. Mr. B had a difficult time using clues from the cover to draw conclusions as to what he thought the book would be about, so this was a great lesson for him. His favorite activity thus far has been making his own book cover. He really enjoyed drawing his own picture, and writing his own biography for the back.

Most often, we read the selections from each module together, and we would discuss all of the critical thinking questions so that I could make sure Mr. B was fully grasping everything. He really enjoyed watching me assign numbers to his grading rubric, and taking part in that as well.

When we moved on to Module 2, he got hung up on main and minor characters. It wasn't that he couldn't understand the concept, but because he wanted to apply that lesson to EVERYTHING! He would make lists of his favorite books and list all of the characters in each book for a few days. We had to spend a bit more time on Module 2.4 Making Inferences because this is a very hard concept for the autistic brain to "get." We spent about a week working on inferences before I felt comfortable moving ahead. That's the great part about this program, you can stop where you are in the book to work more on a topic that may give your child a little trouble.

I need to point out that we used an eBook we borrowed from the library for Sarah, Plain and Tall. If you have the ability to have the physical book, that is a lot better because you have to reference the back cover for certain activities, and we couldn't get the back cover to show on the iPad, so we had to use a different book instead.

At the end of each book, your child can choose a book in the same genre, and there is a unit for each OYO (On Your Own) book. There are similar questions asked, so your child must apply what they learned from the required book to the book of their choice. He hasn't yet chosen his OYO books for Historical Fiction or Animal Fantasy, but he did jump ahead and choose a Disaster Strikes book for Realistic Fiction.


Overall:
I much prefer curriculum sets that include pre-planned lesson plans, and Readers in Residence has this. I do wish the reading portion was included in the full lesson plan. At the beginning of the modules that require reading it will instruct the student what to read, but that is not included in the daily schedule, unless it is your chosen OYO (On Your Own) book. This is a really great reading program, and probably our favorite of those we have tried. I wish the Teacher's Guide had the suggested daily schedule in the front, like the student book. Instead, it starts on page 177. I also wish the teacher edition rubrics were included as the occur in the modules, instead of all together at the end of the answer key book. Those are very minor tweaks that do not affect the overall program at all. I do like the changing colors of the included daily schedule, as the break in colors makes it easy to see different sections, and when they start/end.

We haven't yet finished with Sarah, Plain and Tall, but the course also includes "Animal Fantasy" with Charlotte's Web, and "Realistic Fiction" with Because of Winn Dixie. Debra Ball has hit another home run with Readers in Residence. The module lessons are short enough that Mr. B doesn't lose interested, but the contain everything he needs to learn at this stage. Plot, setting, parts of a book, genres, characterization, inferences, and more are fully covered in this excellent reading curriculum. The layout and progression is easy to follow and logical. The pages are colorful, but not distracting. The activities are a mix of "get up and move" style where your child has to hunt around the house for certain types of books, to writing activities where they have to answer specific questions. There are even art and hands on style activities, such as creating your own book cover or drawing in the 3rd module. Overall, we really like this reading program and plan to finish using it!
For more information, please check out the Readers in Residence landing page with free samples, and the FAQ page.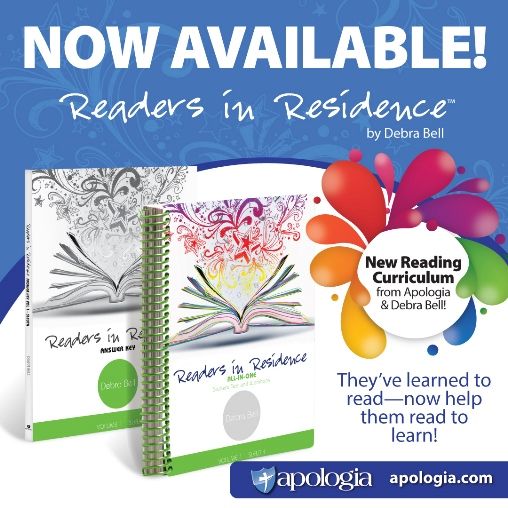 Does Readers in Residence Pass My 4 Ingredient Test?
1.) Customization: Is it easily adaptable? Can we customize it to fit "us?" Can we modify or set our own schedule? Can we take breaks, jump ahead, or flat out skip?
This is a PHYSICAL product. You can tailor it to fit your schedule as you see fit. I would Not skip around because the modules tend to build on the previously covered content.
2.) Value: Is it long lasting? Will it cover multiple grade ranges? Are you locked in to one specific grade level? Are there hidden fees?
The intended ages are 4th grade and up. The book suggests 4-6th grade, but for unique needs students, slightly older than that would benefit from this course if they need to sharpen their comprehension skills, or skills that are covered in this book. This would cover multiple grades, and there are no hidden fees other than the fact you must either purchase or borrow the necessary books.
3.) Attention span: Is it boring? Is it engaging? Is it varied enough for ADHD? Does it last too long?
The lessons are relatively short and quick. Mr. B has not had an issue at all with the duration, and has even asked to work ahead a little. The size of the book make be daunting for some with autism, but that could easily be engineered in such a manner as to reduce that type of anxiety.
4.) Does it tie into other things we already have.
You could incorporate what you are reading in Readers in Residence into a unit study, etc. Mr. B is really into all things American Revolution, so his historical fiction choice leans that way.
Several other Homeschool Review Crew members reviewed this product. Please check out their reviews, too!