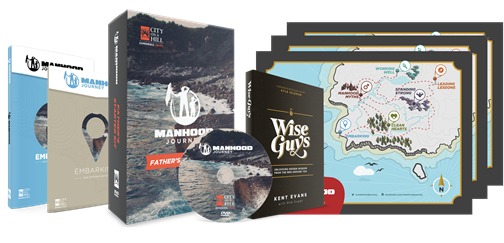 Manhood Journey & City on a Hill Studio sent the crew a Manhood Journey Father's Starter Kit to review. This kit is very interesting, and has all sorts of tools for a father/step father/father-like figure to use with a coming of age son to help him enter the world of manhood.
What is it all about?
Society, and especially mainstream media and peers, put so much pressure on young boys today in terms of showing them how they should act, think, and feel. Everything from how they should dress to how they treat others can be attributed to the greater society surrounding them. In sociology, we are taught about peer reinforcement groups. And one of the most influential peer reinforcement groups remains the family unit. Harnessing the power of positive peer reinforcement from a strong group, Manhood Journey presents a unique kit that helps assemble strong male role models to guide their sons in the transition from boyhood to manhood.

What is included?
The box is filled with goodies. There's an activity book that is sort of like the text book of the program, this is a 1 on 1 discussion guide. Then there is a group discussion guide, also, to help facilitate the group meetings. There's a copy of the book Wise Guys. There is a DVD with short sessions for each module, and lastly, a set of "maprochures" These were my favorites because I personally found them to be so interesting!
How does it Work?
The idea behind this is that a dad, or a father figure like a close family friend, uncle, whatever would implement this program with their son/sons. For the group part, there is a group leader, and that leader invites 6-8 other dads and their sons to join in on the program. Each week is a different topic, and groups operate in 6 week "terms" kind of. Meetings can be held at church in a home, or at a mutually agreed upon location. Topics covered include the likes of "Manhood Myths" and purity, leadership, career, etc. The program suggests an age range of 8-17, though I'd suggest boys close in age to be a good fit for a group session. On the other hand, older boys could help guild younger boys.
What about Single Moms, Step dads, No dads?
Well, the program specifically calls out dads/fathers and their sons. If that doesn't bother you, then a step mom could implement the program, BUT I can see it working better with a male figure. As a single mom for a lot of years, I don't think I would have wanted to head up a group program designed for fathers and sons. Step fathers, or father figures, could work quite well. I'm not saying single moms can't at all, I'm just saying it wouldn't have been for me. It is possible, but just not for me. If I was still a full single mom, I would have enlisted a male role model figure for my son to do the program with him, instead of me because I'm sure my thoughts, attitudes, and experiences are vastly different coming from a female perspective.
Overall, How did it work for us?
This is hard for me because we have a very unique situation. When I requested to be on this review, I had all of these ideas of dads I could contact to ask about doing this program. I missed the part where the dads would be doing the program in the group session with their sons! For some reason, when I saw the words dads and their sons, I didn't think about the need for dads with young sons. I found out in short order that I do not know many dads who have sons! Most of them have daughters. So that was problem #1. Problem #2 is that I had hoped Mr. B's biological father would want to take part in this with him, too. And he declined. Problem #3 is that Mr. B just isn't to this stage of his life maturity wise, so that made things more difficult. It was hard for M to get him to actually pay attention and take part in the one on one discussions, and anything group related was a total bust for us. This was soooo disheartening for me because this is a really great program with so many good attributes and possibilities. You don't need to use the group portion of the program at all, as the one on one guide is fantastic as a stand alone, but I really had my heart set on some serious male bonding time for Mr. B, his dad and step dad, and other key male figures. I could see this being GREAT for a church group, youth group, etc. But I couldn't find enough dads who had the time, on the same day, to get together with sons to do it properly for it to reach the full potential. Week by week there was call after call of someone cancelling. This one is sick, that one is tired from work, the other has an early practice the next morning, someone else had to work over. Etc. etc. etc. I am really hoping we can come back to this program in a year or so, when Mr. B has grown more, and implement the group portion of the program to it's fullest capacity. And perhaps with a more consistent commitment from the others involved so that the group portion can be implemented better. M and Mr. B have enjoyed the one on one discussions, and the activities are a lot of fun. There is a page that says each person taking part needs to have a Manhood Journey Notebook. There is no notebook/journal included in the kit. One could use any type of journal to get the job done of course, but I think a "special" journal available in the kit, or as an add one, would be a GREAT addition. This was a great experience for M and Mr. B to have together, even though Mr. B couldn't quite grasp everything yet. It was a good experience for M to take part in this program himself, to see himself as the father figure and role model he is. I am excited to use this program again at a later time, to see what changes occur, and what Mr. B could get out of it when he's at a better age mentally. Overall, I really REALLY like this program. M liked it, and Mr. B's special needs just have him on a level that is too immature to really appreciate or gain a lot from it at this stage in his life. But once he gets to that stage, I think it will be fantastic. I fully, and highly, recommend this to others.
Please check out The Homeschool Review Crew to see more reviews on this product. It truly is a really great program.