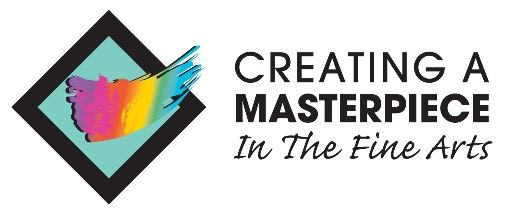 Every once in a while, a product comes up for review that I get so excited over, that I will flat out beg to get on the review. That's exactly the case with Creating a Masterpiece. When I saw they had a Monthly Plan up for review, and we'd be receiving 6 months of that . . . Oh the excitement! You see, I have always loved art. It was sort of a hidden gem talent I've always kept to myself because I never had time or money to pursue it. I wanted so badly to major in art in college, but my scholarship adviser would not approve it. She claimed it was not a means to gainful employment or enrichment, so therefore I had to choose another major. I was heartbroken, and that ended my quest for art. Once I had Mr. B, that pretty much sealed the deal on the end of my art days. His therapies and treatments took all the time, energy, and funds I had at the time. But, there remained a tiny ember still aflame in my heart for my beloved art.

Creating a Masterpiece is an online program full of art lessons that break down the steps so that even beginners can successfully create beautiful works of art. Mrs. Hofer wanted to create a program online that children or adults could follow with ease, and she wanted that program to instill a sense of pride and accomplishment in her students. I can tell you from first hand experience, she hit the nail on the head with Creating a Masterpiece.

How I Used This:

So, I was chosen for the review and I honestly screamed in delight. I couldn't wait. I would be FORCED to do the artwork since I had to use it for the review. That was my in! HAHA! I had purchased a discounted art kit for Matt as a gift, but I hesitated to use it myself since it was his. I didn't want to use it being I had gifted it to him. That's like buying someone a cake for their birthday, then scarfing it all down yourself. But now I had a reason why I NEEDED to use it. Justification can be a beautiful thing.

Before I was even chosen, I started with the free lesson. Yes, there is a FREE LESSON! I didn't really plan for this lesson, so I was at the mercy of what I had on hand. With no pastel paper, or anything like that, I used construction paper and chalks.

Here is a photo of her artwork.
And here is a photo of my piece.
And if you're wondering, yes..it is hanging on my refrigerator!
I did this one while watching the video. I'd pause the video and catch up as needed. That's what is so wonderful about this program! You can watch first, or work along with it, and pause, replay as necessary. I found I paused and/or replayed frequently just so I could make sure I was doing it right. I'd say, all in all, I have about an hour art time in this project, not counting watching the lessons. Mrs. Hofer's sweet and kind voice is so very relaxing and encouraging. She always has a smile to give, and you can tell she genuinely loves what she is doing.
Here is another project I tried. This is a Level 1 project. Here's Mrs. Hofer's version first:
I loved the soft purples and pinks of this project. Unfortunately, I didn't have those colors when I purchased my pastel set. Silly me, I didn't check the supply list before heading off to the art supply store. I plan to make sure I have the right colors the next time I go because I very much want this same color scheme so I can frame it and hang it in my bedroom. Regardless, I was still able to do one on my own, in "my own way." Mrs. Hofer is very clear that the student is to make their own unique work of art, and not worry so much if it's exactly like hers or not.
As you can tell, my colors are bold and bright. I still like this one, but I like the softer colors of hers more. I also didn't cover my page as much as I should have, and I didn't realize that until I took this photo haha! Oh well, I still like it!
Both of these projects were chalk and pastel based. But with a membership, you have full access to every level and ever project. You will find projects that use:
Pencil
Watercolor
Charcoal
Oil Pastel
Ink
Acrylic
Oil Paint
Sculpture
Silk Painting
Glass Mosaic
Gouache
Mixed Media
Wood Burning
And soooooo much more!!!
After finishing up the pastel projects, I wanted to try my hand at painting. I was a bit nervous to break out the canvas and brushes again. I hadn't painted anything other than my house in more than a decade. I know it was well before Mr. B was born, and I can't even really remember what it was I painted. I am pretty sure I was just fooling around mixing colors, and I never got to the actual work. So really, it'd been since high school! That's a long time folks...a very long time.
Here's Mr. Hofer's example:


She calls this Spring Blossoms. It is painted using Acrylics which dry faster than oils, clean up with just plain water, and don't hit the bank account quite as hard. They are easier to use than oils, in my opinion, but you blend and mix just the same. So, for example, colors such as green and yellow use brown to darken and white the lighten, blues you'd use a black to darken. I used the acrylics I had previously purchased for a different project that Mr. B did a year ago or so, but we'd never opened them. They didn't have the exact colors she uses, but it was ok and I made it work for me anyway.
Here's my version:
My mom loved this so much, I gifted it to her for her birthday! You find this project in Level 2. There are a few more from this lesson I hope to complete before my subscription runs out. I'm a huge fan of the pastel projects, and there are several I want to attempt soon.
As much fun as acrylics are, I was really itching to do an oil painting. I planned a special trip to the art store just for oil paints. With my 50% off one product coupon in hand, I searched for the largest set of paints so I'd make sure I had all of the colors I need. Of course when I get there, I realize I left the color list at home so I was at the mercy of hoping I picked the right one. I didn't haha! I needed sap green, and the best I could do when I got home was to mix viridian green with a little lemon yellow and raw umber. It at least wasn't as teal as the viridian green was to begin with, so there's that. But, true to the other projects, a little deviation in color is just fine! You won't have the exact same results as Mrs. Hofer, but that's totally ok! It makes the painting truly your own, and makes it 100% unique to you. I also realized when I got home that Mr. B had taken my good round brushes and pretty much ruined them. Without those, I was really hurting when it came to the branches.

Here is her version. I soooo love this painting! You will find this in the Art History section.


I love the starkness of the darks mixed with the boldness of the light. I love the hint of purple, the soft and buttery yellow like a prize behind the bold and dark greens.
Here is my humble attempt, given I did not have the correct color green. This is still drying, and I did this 100% wet the whole time. This one took a little longer because I was just learning how to use oils. Actual paint time is probably 90 mins to two hours, but I watched and re-watched the lessons over and over again. So I really can't say how much time I have. I did the painting all in one setting, painting wet the entire time. With the proper brushes and the right color green, I think I could have done a better job. I may go back and do a bit of highlighting once it dries some that way the colors don't bleed into one another.
Overall:
Overall, this has been the best review for me. I have truly loved working with
Creating a Masterpiece
. It has become my "me time" activity. It has been such a blessing to bring my love of art back out, and to truly do something for myself. In the midst of stress, heartache, etc. I always have art as a means to recompose myself. It is an outlet for me to recharge, regroup, and combat anxiety and stress in a meaningful way. Mr. B has been sick for this entire review period, but I have found a few projects that he likes. It is very good for kids, and adults, and even special needs/ADHD kiddos like Mr. B. The lessons are very short, and broken down in such a way that your child can take a break and come back as needed. I will truly miss this subscription when it runs out, and I plan to ask for a renewal as a late birthday gift, or as a Christmas gift. I really enjoy this THAT much. I just want to say Thank you so much to the people behind
Creating a Masterpiece
for allowing the crew the chance to do this review. It has been such a huge blessing!