I do a lot of book reviews, but not many have hit me the way Bessie's Pillow has. Written by Linda Bress Silbert, one of the founders of Strong Learning, Inc., Bessie's Pillow is based on the true account of her grandmother's amazing and courageous journey to America in 1906.
Boshka, (later called Bessie) is just a kid, just 18 years old (which is still a kid to me,) when she is sent by her parents to America in 1906 to escape from Russian persecution since she was Jewish. Imagine that for a moment. Imagine you are just 18, and you live in oppression due to your religion in Lithuania. You are forced to leave the only home you know, and your family, to travel across the planet alone to a new city, new country, new culture...a new life!
The sites and sounds that are described in this book rang out like an internal movie for me. She goes first class aboard a ship, and her first time on American soil is Ellis Island. The book is written in first person voice, so it's like Bessie (Boshka changes to Bessie in America) is telling us her own tale. Once again, I'm transported back in time and I can imagine the excitement and energy of such times. Can you imagine?! How many lives have started fresh on the soil of Ellis Island? Bessie's life is one, and this book takes us on a remarkable journey as she builds her new life in America.

The pillow in question isn't exactly hers. She's about to board the train when a woman comes to her with a pillow embroidered with the words, "May this pillow bring you peace." The woman, Mrs. Dreizen, wishes for Boshka to give this to her son Nathan who is already in America. The pillow is a source of comfort and inspiration for Bessie, who does find Nathan Dreizen. Bessie made good on her promise, and delivers the precious pillow to Nathan, and the two fall in love. They go on to marry, have a family, and eventually have a granddaughter who writes her grandmother's story for all of us to enjoy.

Bessie's story doesn't end with wedding bells and baby blankets. She and Nathan must endure unimaginable heart ache, and soon Bessie is on her own when Nathan suddenly dies, leaving her a widow with 4 children. Bessie starts to believe perhaps the photos and camera she and Nathan had were cursed. Such technology was a new thing back then, so she had them burned. As a photographer, this really hit me. I can't imagine burning my camera and photos, but times were so much different back then. Bessie is an unbelievably strong, and charitable woman. One thing I really took away from this book is that Bessie realizes how fortunate she is. She looks around her, and she understands and is aware that she's blessed and more privileged than many surrounding her. She goes out of her way to try and build up those around her. From providing goodies to orphans, to mortgages for people who couldn't secure financing through a bank, Bessie was a truly remarkable woman, and her legacy will continue.

Linda Bress Silbert does an amazing job retelling her grandmother's story. To be honest, I got so caught up in the story I forgot I wasn't reading the story from a first hand account. It is so unbelievable touching, moving, emotional, and so many adjectives I can't even think of right now. This book is great for a study on American History as the details about early New York City are fascinating. It'd be great to add to a study in immigration, and countless other topics.

There is also a webpage dedicated to introducing you to the America Bessie found when she arrived. Bessie's America is real treat. This page links you to radio stations the family listened to, as well as theater productions they enjoyed. There's music, recipes, the life and times of the era, and you can even look into your own family history.

If you click on the tab at the top of the page for teachers, you will find a really great Study Guide. And I mean a REALLY GREAT study guide. In it you'll find a myriad of study and discussion questions, a timeline of U.S. History from 1900 to 1936, suggested studies and research projects, glossary, and a very extensive reading list. You could really use this book, the study guide, and reading list to build an entire semester or more of social studies! I find a lot of the material in the study guide portion to be geared to higher grade levels than where we are right now, but I have been able to use the guide as a starting point for discussion and reflection with Mr. B. We have also been able to engage in some beginning research with the suggested research projects, but most of that is well above his level at this time.

Since his step mom immigrated to the U.S. recently, we have been using Bessie's Pillow as a jumping point to talk about immigration, and how that is impacted our own family. Bessie traveled alone, and back then that was virtually unheard of. His step mom also traveled alone when she came to America after marrying his dad, but times have changed so much that it wasn't that unusual. The study guide has provided us with plenty of discussion and research prompts to use while we begin our own journey of sorts learning about immigration.
All in all, I found this to be truly fascinating to read. I was emotionally moved, and completely enthralled by this story of perseverance, love, loss, and determination. Please note: I personally feel this book is best suited for high school level due to some subject material. There's nothing perverted or anything like that, it's just raw, gritty real life, and real life can be hard. I don't want to give away the book but just know there's child death, and emotionally upsetting subject matter at times that I personally skip over with Mr. B who is 11. It's great for a read aloud for younger kids, but you may wish to read ahead a bit to avoid some content with the littles.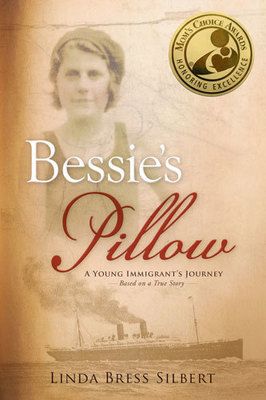 Does Bessie's Pillow Pass My 4 Ingredient Test?
1.) Customization: Is it easily adaptable? Can we customize it to fit "us?" Can we modify or set our own schedule? Can we take breaks, jump ahead, or flat out skip?
I received a physical book. This is appropriate for teens/young adults/adults to read on their own, or for you to read to a younger child. You can read at your own pace, of course.
2.) Value: Is it long lasting? Will it cover multiple grade ranges? Are you locked in to one specific grade level? Are there hidden fees?
This a book that is well written and appropriate for a wide age range.
But I will advise that some subject material might be a bit too much for younger audiences. This is a real life story, and real life isn't all sunshine and rainbows. There's child death, etc. The study guide is great for discussion, and for younger kids you may get inspiration from it for more appropriate activities if they can't handle some of the suggested research.
Here is a sample to show you the research topics, and part of the study guide so you can get an idea of what I mean.
3.) Attention span: Is it boring? Is it engaging? Is it varied enough for ADHD? Does it last too long?
It's not boring at all. The chapters are pretty short, and I find that to be great for ADHD and autism. The webpage is really great. Mr. B really likes the films and music.
4.) Does it tie into other things we already have.
Thi
s can and will certainly tie into any study on American History, Jewish persecution
, immigration, etc. This is especially great for those who go with a more Charlotte Mason approach.
Check out the rest of the Homeschool Review Crew to see what they have to say!