Times Tables can be tough for any kid to learn. I remember being in 3rd grade and dreading that walk to the teacher's desk to recite them level by level each week. 9's and 12's were the hardest for me! Times Tables the Fun Way takes away that dread with their fun Times Alive program! Times Alive features online

lessons with animated songs and stories to learn times tables the fun way, making it easier for your child to remember their times tables!
For this review, we received a 3-Month Subscription to Times Alive.
The program is easy to run and install. Once you do that, you simply click login. Here's a catch though: You MUST use the exact same spelling, etc. on the login name each time or else your progress isn't saved. So, lets say you sign your child in as Johnny, and the next day they sign in as johnny. Well, there's no individual log in for each child, so Johnny and johnny would be seen as two different students, and the progress would not be the same. We found this out the hard way when Mr. B used a lowercase B by mistake! He had completed nearly 1/3 of the program, and we lost it until I realized his error. If the developers could maybe incorporate different login names with passwords, I think that'd be fantastic. Otherwise, be sure to write down your login name that you choose so you can be sure to get it right each time.
This is where you need to type in your name. So be sure you get it right each time.
Once you are logged in, you come to a screen where you can choose your level. I've included screen snips to show all of the levels. This program goes through the 9's, which covers nearly all of the basic times tables.
You do not need to go in order. You can start anywhere you like, or move around as you see fit. That makes this a really nice way to fill in gaps on some of those pesky numbers that are tripping up your child. For this review, I took screen shots of the 0's level, since that is where we chose to start just to see the fun videos!
As you can see here, the videos are colorful and animated. They are short in duration. Following the videos there are various activities that take you through each level of the times tables. This could be a handful of equations to work, a timed exercise to test what they know, or even a fun coloring sheet that represents the number they are learning.
The lessons are designed in such a way that they cover each level of the times tables, and offer review, too. Lesson 6 covers 7x7, but it also goes back to 3x4, 8x8, and 3x3.
Progress is noted by the yellow symbols. There is a key that shows you what to expect for the lesson, and to track progress. A full yellow circle indicates completion. A half circle indicates your child viewed the lesson.
Our Thoughts:
Mr. B really had
a lot of fun
with this. A typical student will spend about a month to learn all of their times tables. He already knew some of his very well, actually better than I thought he did. So we only spent a couple of weeks until he had completed the 18 lessons. He actually did lessons 1-4 in the first day, then after that he did 2 lessons a day. We would go over the ones he had trouble with, and I would have him redo those until he mastered them. He is still a little slow on recall at times, but it varies between the numbers. So he may stumble over 9x4 right now and hit 5x4 with ease only to stumble over 5x4 a few minutes later, but get 9x4 with ease. So I don't think it has anything to do with his lack of understanding or lack of knowledge with his times tables any longer, but more of a memory thing, maybe attributed to his special needs.
He really had fun with the shortened equations, and the timed drills. The coloring sheets were of course a hit with him! Ok Ok, I admit it, I liked them, too! The duration of the lessons is great for autism and ADHD. They are colorful, but not distracting. And they are not long in time, so your child's attention doesn't have time to wander off. The amount of practice work that is featured in the program is a good amount for the program, but if you child is just learning you may find you want or need more. But for the program, it's a good fit. Mr. B never argued or acted as if he didn't enjoy doing the practice work, and he would have had there been a large amount. Overall, this worked very well for us, and I have already recommended it to others.
Does Times Tables the Fun Way Pass My 4 Ingredient Test?
1.) Customization: Is it easily adaptable? Can we customize it to fit "us?" Can we modify or set our own schedule? Can we take breaks, jump ahead, or flat out skip?
Since this is an online subscription, you are limited to the duration of the subscription. Other than that, you can jump ahead, take breaks, and skip as needed. It is very easy to use, and fits our hectic schedule nicely.
2.) Value: Is it long lasting? Will it cover multiple grade ranges? Are you locked in to one specific grade level? Are there hidden fees?
There are NO hidden fees. There really isn't a grade level. It's times tables through the 9's. You have access to all 18 levels, which will cover you all the way through 9x9.
3.) Attention span: Is it boring? Is it engaging? Is it varied enough for ADHD? Does it last too long?
It's not boring at all, and quite varied. I really like how the repeated numbers are spread out the way they are. This gives your child more time to absorb new material, and really tests whether or not they have retained the material. The lessons are short, and do not last long at all. It is colorful, and fun, but not overly distracting.
4.) Does it tie into other things we already have.
This is only multiplication tables. Nothing more than that.
Please check out The Homeschool Review Crew and see what others had to say!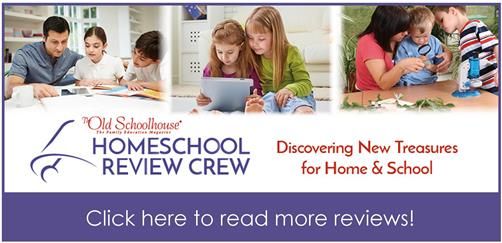 Connect with Times Tales the Fun Way on Social Media
Facebook
YouTube