A while back I was asked to do a review for By the Way Book Series titled "Florida's Treasure Coast," for The Old Schoolhouse Magazine. We fell in love with the overall message of the book - To enjoy God's treasures in the world. So, when another By the Way book came up for review, I jumped at the chance-Especially since it was a book from one of our favorite locations! As soon as "Smoky Mountains ~ Here We Come!" arrived, Mr. B grabbed it and ran off to read it!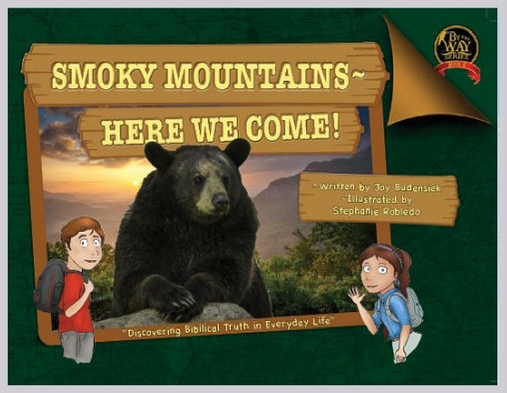 By the Way books are hardback books that target a specific geographical location in the United States, such as The Great Smoky Mountains, or Florida's Treasure Coast. These are durable books that are full of colorful pictures, a load of facts, and a fun and engaging story with characters that seem to come to life.
The Great Smoky Mountains is one of our favorite places. It's perfect for a weekend trip, and the atmosphere is so friendly and inviting. We tend to always rent a cabin, and then spend the next 2 or 3 days exploring. It's so wonderful to read a book that includes all of our favorite places!
In this book, Uncle Ted invites Alex and Lexi down to experience Springtime in the Smoky Mountains. The first stop along the way is Clingman's Dome. As the book will tell you, Clingman's Dome is the highest point in the Appalachian Mountains. The story says the trail is a lot harder than it looks, and it's not kidding! The trail is paved, so you can take stroller or Wheelchair up it. BUT it's quite steep, and the air really thins out, so you get out of breath much faster than you would on a lower trail. The book includes some photos, and an illustration of the observation dome. The dome is an amazing thing to experience in person. On a good, clear day, you can see for miles and miles! As the books states, you can see 5 states!
These photos were taken in the parking lot area.
The book does a really great job of showcasing this beautiful mountain, and the historical facts are really fun to read. The graphics and photos included are lovely, and the inclusion of biblical references are the icing on the cake.
Moving on, we travel back to Newfound Gap. This is the border between TN and NC. I have so many photos of this area, because to me it's like an open castle of sorts. But sadly, I can't find any on my current computer! The look out is beautiful. And on page 8 of the book, there is a photo that shows the lookout area from a distance. It is a must see place when you go to the Smoky Mountains! Also on this page Uncle Ted is saying everyone always wants to see a bear, and when they do they stop and start taking pictures. And while that's great for those in the front of the line, the cars in the back have no idea what's going on. THIS IS SO TRUE! We were on Roaring Fork Motor Nature Trail in March 2009. There was a momma bear and 3 baby cubs. YES THREE! Luckily, we were in the front of the line, and yes, I got out to take photos. Momma Bear was a good distance away, and my son had his window down, too. And then some man behind us decided to taunt the momma bear! Oh it was so scary! She took off like a flash and charged him! She actually bumped against my car just as I got Mr. B's window's rolled up just in time! Another time, I was hiking on the Le. Conte Trailhead just up from Grotto Falls. I was on my way back down from the summit of Brushy Top Mountain, and a baby cub decided he'd follow along for part of the trail. I was more than a little frightened, and I did my best to keep my distance in case his momma was close by!
The book goes on to detail the Appalachian trial, and it talks about staying on the path. The book cleverly ties this in with Proverbs 4:18. As it does on each page, the book uses the story to showcase God's word.
After the Newfound Gap and Appalachian Trail, the book goes on to describe some of the beautiful wildlife in the area. There are really great photos of Bobcats and butterflies. Then the book takes us to the forest, and teaches what an "old growth forest" is. I love the photos of all the trees here, and if you ever get the chance to go be sure to go on the Roaring Fork so you can see these for yourself!
I also love how the book teaches about the rock formations, and some of the names, in a fun, conversational manner. I always wonder how Charlie's Bunion got it's name, and now we know!
Great Smoky Mountains ~ Here We Come! makes sure to include a visit to nearby Cherokee, NC-part of the Cherokee Indian Reservation. There are loads of facts, and great photos on these pages. Cherokee is one of our favorite places to visit, and the drive from Gatlinburg to Cherokee has to be the most beautiful trip! Here are a few photos from the drive there!
The next few pages talk about various animals and a place called Cataloochee, Again, the photos are great, and the inclusion of biblical references are well placed. The overall layout is easy to follow, and keeps everything from feeling like a lecture.
The book finishes up by visiting Cades Cove and talking about the amazing firefly display that happens every year. This is probably my favorite part. I was doing a wedding in Gatlinburg a few years ago, and the bride wanted outdoor photos taken on a different day for her wedding photos. Cades Cove is one of the places I scouted for her to see if that's what she wanted for her photos. I made up my mind right then, that the next time I go back I will be spending a much longer time exploring Cades Cove! It's breathtakingly beautiful! Here are a few of my own photos so you can see. The book does a FANTASTIC job of capturing the look, feel, and tranquility of the area. They showcase the animals and history in amazing detail.
I can't tell you just how much we have enjoyed this book! The photos are great, the information is sound and accurate, the graphics are cute, and the biblical references are wonderful. I highly recommend this to others, whether you have visited the area or not! We will definitely be taking this book with us on our next trip later this year!
1.) Customization: Is it easily adaptable? Can we customize it to fit "us?" Can we modify or set our own schedule? Can we take breaks, jump ahead, or flat out skip?



This is a physical book that you will want to read cover to cover. Your child can easily skip around in it if they choose.



2.) Value: Is it long lasting? Will it cover multiple grade ranges? Are you locked in to one specific grade level? Are there hidden fees?

There is not a set age range for this. And there are no hidden fees. I could see this being used for younger kids-perhaps a section at a time for pre-K and kindergarten, and my 11yr old son really likes it. So the age range is really wide.

3.) Attention span: Is it boring? Is it engaging? Is it varied enough for ADHD? Does it last too long?

I found this to be VERY autism and ADHD friendly. The book is arranged in such a way that you can easily take breaks in the reading. The layout is nice since it breaks things down even more, and there are topics that include facts, history, animals, insects, and even weather!


4.) Does it tie into other things we already have.
This would be great for any study on the Smoky Mountains, life science, history, etc.
Check out what the rest of the Homeschool Review Crew has to say!