Can you believe it is already 2017? Can you believe this is my first review of the new year?? Wow! But what better way to start the year off right than with a review of The Beginner's Bible, brought you by the good folks of Zonderkidz?! Zonderkidz offers a whole host of Christian goodies for kids, and The Beginner's Bible is no exception.
The Beginner's Bible is a very color, durable hardback book for kids that teach them wonderful Bible stories. I hesitate to call this an actual Bible, since to me a Bible is less "story book" like, but for young kids it is a great introduction to the real thing. This is not a tiny little book. It weighs around 2 pounds, and includes over 500 pages.
My thoughts:
This is a good "Bible stories" or "Bible education" book, but I do not like calling it a Bible, due to my own personal beliefs. It does not include everything the Bible includes, among other things, so due to that I do not wish to refer to it as a Bible. With that said, it is a very nice Biblical story book that includes many of the stories from the Bible, all arranged in the same order as they are found in the Bible, and separated by old and new testament divisions. So it is a good learning tool to teach younger children what stories happened in the old verses the new, and to teach the over all stories. I would not hand this off to my child and claim it to be a Bible, since it is not the same at all. But as a nice read aloud, bedtime stories, or reading material for an early reader I find this to be acceptable and lovely.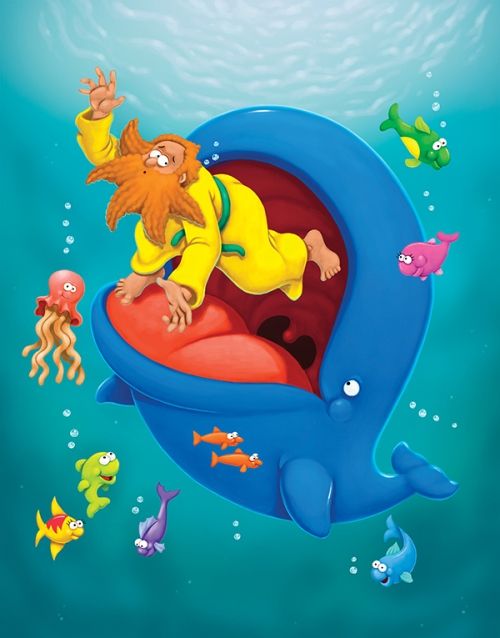 My son is much older than the recommended ages for this book, but I knew it would make for a very nice gift for my cousin's 6 young children once we were finished with our review. They are just now beginning their church journey, so I was hopeful they would appreciate an addition to their children's library with this wonderful collection of Bible stories. I was right, they all love it!
The colors are vibrant and bold, and really go a long way with grabbing, and maintaining, the fleeting attention of a young child. The pictures are whimsical in nature, but very detailed. The images are cartoon like in nature, and very similar to what you'd find in other child based artwork.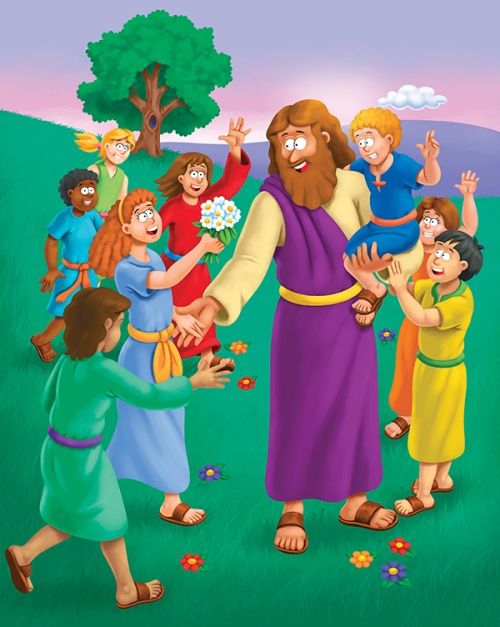 The cover is a nice, durable hardback that, as I found out, is decently resistant to spills if you dry it up quickly. That's what I get for placing this on the kitchen counter right by an open glass of water the first day! HAHA! The pages aren't flimsy, but are thicker. This makes for easier turning, and kids can turn the pages without the added risk of easy tears like you'd find in your Bible with the more delicate paper.

Overall:
Overall, I think this would be a great addition to any child's library. This would be a perfect birthday gift, or even a baby shower/new baby gift! The stories, what I have read so far, are accurate and written in a way that kids will be drawn in and can easily understand them. The illustrations are bold and whimsical, and the book is, as of now, quite durable. The images are cartoon like in nature, so Noah's Ark is presented in that "bathtub" style art and the characters are less than realistic looking. BUT that's what I would imagine for a young children's book. The Picture of Jonah swimming away from the whale makes me chuckle every time because his beard looks like a star fish! It includes more than the regular stories of Noah's Ark, The Creation, or Jonah that we are all familiar with, so that's fantastic, but it does not include ALL of the teachings in the Bible. So keep that in mind. I hesitate to call this a Bible, due to that, but for the intended purpose it works well. The stories are good, and I think it would make for a really nice book to read to your kids early on, and then one for them to read later when they begin reading. The intended ages of 4-8 seem to be on par, but I could definitely see younger kids enjoying this being read to them, as well.
I would recommend this as a nice Children's Bible story book.
Please check out the rest of The Homeschool Review Crew and see what others have to say about The Beginner's Bible by Zonderkidz!