If you have been thinking about signing up for a Yearly Membership at SchoolhouseTeachers.com, now is the PERFECT time to do so! With over 300 courses now being offered, and new added regularly, there is truly something for everyone! You will find online streaming courses, printable worksheets, and even menu plans and daily planners! SchoolhouseTeachers.com has something for everyone, preschool to adult!
For this review, we were graciously given a 1 year membership.
We have had a Yearly Membership for three years now, and find so much use from it! For this review, I decided to explore the 6th grade offerings. Here is a screen shot to show you some of what is offered under this grade level tab.
That's a lot!
First I started with Geography and Every Day Explorers. I didn't pay much attention to the description, but I was pleasantly surprised to find this course spends 1 month per state to let you and your family "explore" the state! How cool is that?! We started with Georgia on day one. Here is a screen shot to show you how neat this is!
It's all planned out for you too, so you don't have to worry about how to pace the program, or anything. Super convenient.
I have noticed one fantastic change on SchoolhouseTeachers.com. In my first review of the site, I noted how I really didn't like have to go to the course description page and click click clicking my way around to get to the guts of the course. Well...Now you can just fast track right to the guts part! I love that, and find I use it much more now as a result. It's really great.
See there? You just click on "Lessons" and BAM! You're there!
One of my personal favorite parts is the Drive Thru History videos they have!
These not only teach Mr. B, but they are entertaining and fun to watch. We both enjoy watching and learning from these videos.
And yet another section I have found particularly useful centers around Family Nutrition. We (M and I) are trying to get healthier in order to lead by better example. This course is truly beneficial for the whole family. It helps to show you what you are eating, and why you should really watch what you put into your body as food.
Like always, the lessons are planned out nicely for you.
Overall, I love the changes that have been taking place over at
SchoolhouseTeachers.com
, and after 3 years I still find this one of my most useful resources. It covers such a wide range of topics and subjects that I have yet been unable to find something great. If this looks like something you would love, and I'm super confident you WILL love it, then go NOW and sign up! If you go now, you will lock in your price! Prices are expected to increase in about a week or so, sooooo HURRY! Right now you can get in on the Christmas Sale still, and get a
FULL YEAR
for only $90! That's just $90 for EVERYTHING You'd need to homeschool your family from pre-K to graduation! They have also discounted their monthly plans!
We really do love SchoolhouseTeachers.com, and plan to continue to use it year after year!
My FIRST SchoolhouseTeachers.com Review
My SECOND SchoolhouseTeachers.com Review
So once again, does SchoolhouseTeachers.com Pass my 4 Ingredient Test?
1.) Customization: Is it easily adaptable? Can we customize it to fit "us?" Can we modify or set our own schedule? Can we take breaks, jump ahead, or flat out skip?
YES! Everything is archived and at your own pace. You can navigate as you need!
2.) Value: Is it long lasting? Will it cover multiple grade ranges? Are you locked in to one specific grade level? Are there hidden fees?
It is one of the best deals out there!
3.) Attention span: Is it boring? Is it engaging? Is it varied enough for ADHD? Does it last too long?
With over 300 offerings, there's enough variety for sure. It's not boring, and the lessons are quick.
4.) Does it tie into other things we already have.
How can it not? There's a variety of different methods, courses, age ranges, etc.
I'm only one of several who have reviewed this site. So please, click the banner below to be whisked away to The Homeschool Review Crew to see what the others have to say!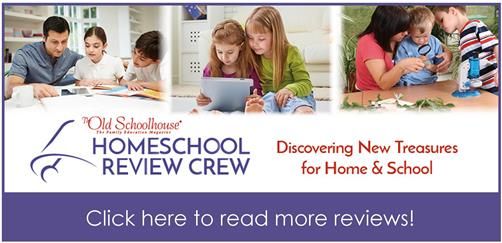 *Post may contain affiliate links*