I found myself looking for a good, well rounded Language Arts program for Mr. B when I realized we didn't really have anything that fit the bill in one workbook. Then I heard about

Language Smarts™ Level E

by

The Critical Thinking Co.™

I couldn't wait to get this in the mail to review!
This is a THICK workbook full of language art goodness! This 400 page paperback workbook includes lessons on:
Capitalization
Critical Thinking
Imply/Infer
Opinion
Parts of Speech
Subject-Verb Agreement
Grammar
Prefixes, Suffixes, Roots
Silent E
Syllables
Usage
Homographs and Homophones
Metaphors and Similes
Sequencing
Writing
Characters
Context Clues
Editing
Idioms
Parts of a Book
Using a Dictionary
And SO much more! That's not even half of what is included in this book! The book is very colorful and includes a lot of fun activities to reinforce each lesson. It is billed as a 4th grade book, but includes 5th grade material as well. Mr. B is 5-6th grade mostly, and I found this to be a really good fit for him. This is intended as a full year curriculum.
For this review, we received 1 physical paperback copy.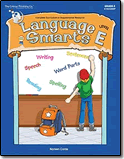 How we used this:
To use as a full curriculum, you need to do about 2 pages per day to work your way through the entire book. That's about what we did, though some days we did 3 pages, and other days we may have only completed one page. I skipped around in the sections, rather than doing one section at a time. So on Monday's I may pull from the first section, then Tuesday a different section, and so on. That way the material stays fresh, and he doesn't get bored with the same topic.
Our thoughts:
This is a REALLY good book! I can definitely see this as a full year curriculum. We have reviewed for The Critical Thinking Co. before, and I have always found their products to be very nice, and well worth the investment. We are still using
Surfing the Net: Science
. When we reviewed
Editor in Chief Level 1
, I had said I thought it would be best as a component of a Language Arts curriculum, rather than as a stand alone. Language Smarts Level E has sections that include Editor in Chief activities, which I find truly great since your child still gets the editing practice, but it's well mixed with all of the other topics that I feel need to be given equal attention. I would love to review something like that that is literature based, too, that would cover concepts such as personification, foreshadowing, and the like.
Overall, I highly recommend this language arts book to others. It is geared for 4th grade, but as I mentioned above, it is appropriate for 5th and 6th, as well. It'd be great practice, too, for those students who may need a little extra boost. It IS a large book. I wish the pages were a little more perforated, for easy tearing, but I was able to remove a few pages to take with us on the go, with no issues.
Does Language Smarts Level E Pass My 4 Ingredient Test?
1.) Customization: Is it easily adaptable? Can we customize it to fit "us?" Can we modify or set our own schedule? Can we take breaks, jump ahead, or flat out skip?
This is a physical book, so there are no time restraints or anything like that. You can definitely move around as you see fit, take breaks, and modify to fit your own unique needs in scheduling. I found it helpful to remove the pages we were going to be needing, when possible.
2.) Value: Is it long lasting? Will it cover multiple grade ranges? Are you locked in to one specific grade level? Are there hidden fees?
.
Lesson work can be finished relatively quickly, if your child gets right to it. This is a physical product (also available as a digital PDF...but still, physical in the sense that it isn't a subscription. It says its for 4th grade, but I could see this easily being used for kids 4-6th grade. There are no hidden fees.
3.) Attention span: Is it boring? Is it engaging? Is it varied enough for ADHD? Does it last too long?
It can be varied if you skip around. If you go section by section, then it could get a little monotonous. But if you move around, like we have, it's varied and challenging, but not to the point that ADHD'ers would lose their focus. It is colorful. so that's something to think about if your kid is easily distracted.
4.) Does it tie into other things we already have.

This is not a unit studies style workbook. It's just a standard, traditional language arts book.