We love unit studies in our homeschool, so I was SUPER excited to review a Once-a-Week Micro-Studies Thanksgiving with the Pilgrims from Homeschool Legacy. Homeschool Legacy offers a wide variety of Unit Studies and Once-a-Week Micro Studies, and Thanksgiving with the Pilgrims is just one of them. In the mood for Christmas? Check out Christmas Comes to America, a Once-a-Week Unit Study.. Pirates? Well they have Pirates or Privateers: You Decide, a Once-a-Week Micro-Study. The Crew also reviewed Victoria and Her World, Cooking up History with the Founding Presidents, and Many Nations.
These unit studies are full of activities that make learning fun for the whole family. For this review, we received one digital copy of Thanksgiving with the Pilgrims. This study is designed for use over a 6 week period, using it 3 times each week. Here is a sample week, for you to check out for yourself!
How We Used This:
I stretched this a little more than 3 times a week. We broke the activities down, choosing to do one component a few times each week, rather than just 3 days each week. This allowed us to move slower, yet at the same pace. You can choose to do these spread out, or even the entire lesson in just one day. The study is broken into weekly lessons, but you could easily change that up as you need to to fit your unique schedule.
We obviously started with Week 1. This is basically setting the stage, and says why the Pilgrims wanted to move to what would become America. The first thing I noticed in the digital version is the included links. It is so handy to just be able to click inside the PDF and go to the suggested link! Now...we got a bit distracted with the first geography lesson. Give a boy an online World Atlas, and hours are spent exploring. Our study day was a bit derailed after that lol! We finished up the week, after a lengthy discussion of what amendments are, and our rights. Of course, this led to more discussion on how amendments are ratified, etc. So Week one actually took us about a week and 3 days or so, to actually finish. It could be done in one day easily, but we chose not to move that quickly.
Moving on to Week 2, The Pilgrims voyage has begun! Again, the included links are fantastic. This is the first one, and it's a graphical and interactive representation of the journey the travelers had to endure. You click on start, and a video plays detailing various aspects of the journey.
This activity also introduces "Primary Documents" and how important they are to history. I had some issues getting this link to load within the digital PDF window a few times, but I was able to copy it and paste it into a Chrome Browser, and it worked just fine then. Week 2 is when a virtual field trip also starts, and your student is instructed to only watch a portion of the videos. Of course Mr. B didn't just stop with that one.
In this week, your student is instructed to read The Mayflower Compact, and answer a series of questions. We did some of these written, and some where he answered orally and we talked about it.
Now, I'm not going to go through week by week, because that would give away all of the fun to be had in this unit study, so I'm going to skip to Week 4 and just tell you that we haven't made the pudding yet, but it's on the menu list for later! It sounds super yummy! The same virtual field trip is continued on, and we also try to "speak like the Pilgrims." Mr. B had a lot of fun with this one. We are still working our way through Lesson 4, but we have skipped ahead and taken a peek at Lessons 5 and 6.
Lesson 5 includes an activity centered on your Christmas tree since we haven't put ours up yet. When we put it up, I plan to revisit week 5 so it makes more sense to Mr. B. We haven't completed week 6 either, becasue it is more Christmas themed as well. We have gone over the basics of it (reading over it all, but not doing the activities yet,) and decided together we wanted to wait and finished week 5 and complete week 6 at the same time, so we plan to finish those up in the coming couple of weeks.
Overall:
We have really enjoyed this study! It is made for grades 1-8, and I can see how this could easily be used for such a wide grade range. The assignments are not large and time consuming, but they do cover just enough and allow plenty of room for expansion should you decide you want to spend additional time on a particular topic-like we did. I love the included links, and the family read alouds are nice, too. The digital PDF is only 22 pages should you wish to print it all out, but I prefer using it straight on the PC so I can utilize the links. I highly recommend Thanksgiving with the Pilgrims, a Homeschool Legacy Once-a-Week Micro-Study!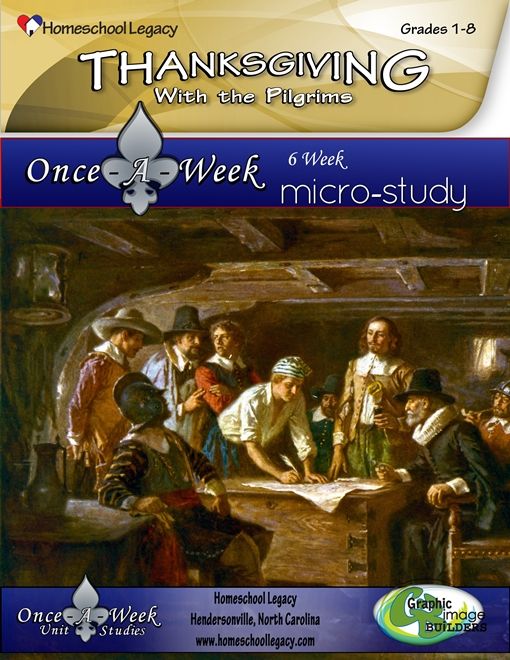 Does Homeschool Legacy Pass My 4 Ingredient Test?
1.) Customization: Is it easily adaptable? Can we customize it to fit "us?" Can we modify or set our own schedule? Can we take breaks, jump ahead, or flat out skip?
It is really easy to customize to fit your schedule and needs. I wouldn't skip anything at all!
2.) Value: Is it long lasting? Will it cover multiple grade ranges? Are you locked in to one specific grade level? Are there hidden fees?
.
It will cover grade 1'ish to grade 8'ish. Since this is like a physical product (digital download) there are no hidden fees.
3.) Attention span: Is it boring? Is it engaging? Is it varied enough for ADHD? Does it last too long?
The lessons are short and varied. Mr. B really likes this, and I feel it is varied enough for ADHD. It doesn't last too long at all. In fact, we often found ourselves exploring and adding to it.
4.) Does it tie into other things we already have.

This is great for any early American History study, Pilgrims, or even a theme study on Thanksgiving.
Please Check out the Homeschool Review Crew to read reviews on the other options we had to choose from!