I'm a busy mom. It seems there's ALWAYS something, every day! From homeschooling and cleaning, to swim class and bowling league...add in out of state medical appointments, and there's just not enough time in the day, or energy in the tank, for me to make healthy, delicious meals for my family the way I would prefer. MyFreezEasy makes it so convenient and easy to create tasty, healthy homecooked meals for now, and for later! For this review, we were blessed with a MyFreezEasy.com Freezer Meal Plan Membership; specifically the Premium Annual Membership.
This is a membership that gives you a wide variety of monthly meals that you can make now, and freeze for later. It includes everything you need! There are labels you can print for the freezer bags or foil pans, exact and easy to follow directions, recipes, and even shopping lists! The meals are arranged by type such as "Gluten Free," "All Chicken Meals," "All Beef Meals," "Slow Cooker Meals," etc. And each month has different meals, so you're never board with the same old thing.
What I chose to cook:
It was really hard to choose what to cook for this review! There are so many options from which to choose! Ultimately, I chose to show off their Bacon Cheeseburger Nachos, but without the bacon because I thought I had bacon at home, and it had been eaten without my knowledge. OOPS!

This recipe was super easy to prepare. I did not choose to freeze this because we want to have the left overs for tomorrow and the next day. The recipe is so easy. You brown ground beef with onion, garlic powder, salt, and pepper. Drain, and return the pan. Stir in crumbled bacon (that I didn't have...sigh..) In a large baking dish, layer tortilla chips on the bottom, put the meat mixture on top of that, top with shredded cheese, and bake! Garnish with sour cream and salsa. The recipe suggests serving fruit as a side dish, but we chose a tomato salad instead.

The meal is quite good. I think adding some scallions, or maybe even something like a steamed rice, or even refried beans, would be really yummy, too. It was filling, without being too much. We will definitely be making it again!
Our Thoughts:
I love how easy this is. MyFreezeEasy has made the process so easy, all you have to do is pick what you want, use the provided lists and labels, and cook. I do wish there was an easier option to view all of the meals at one time, or to search for archived meals with freeze prep instructions a little easier, but it's certainly not a hindrance! I LOVE LOVE LOVE the dairy free options on each recipe, if there is an alternative. Having severe lactose intolerance, this is HUGE! I like how the recipe and directions give you prep instructions so you can serve the meal right then, or freeze it for later. I love being able to spend just an hour or two in the kitchen and have meals for my family for the whole month! Now, when we have been on the road all day, or if I've just had a stressful day in general, I can go to the freezer and pull out a healthy meal I know my family will love. It's so convenient!
I highly recommend this! It's GREAT! You can tweak the recipes as you want, and the freezer option is so handy. I've stocked my freezer with many meals for my family. From Lazy Lasagna to Apple Juice Brined Pork Chops, these meals are sure to please you and your family! We love them! This is great to keep ready to cook meals on hand for those you know who may be having a baby, had a death in the family, or who are sick. All too often when there is a death in the family, people take loads of food over to the family. Well, that food only lasts 4 or 5 days and then the family is left with a bunch of spoiled food to throw out. I like to take a frozen meal, so that when the adrenaline of the immediate wears off, they have a few easy to fix meals they can turn to. When a new mom has a baby, she doesn't feel like cooking. You could have her a MyFreezEasy Party and all of you get together and make her 10+ meals to stock her family's freezer with so they will be well fed while she recuperates. The ideas are endless!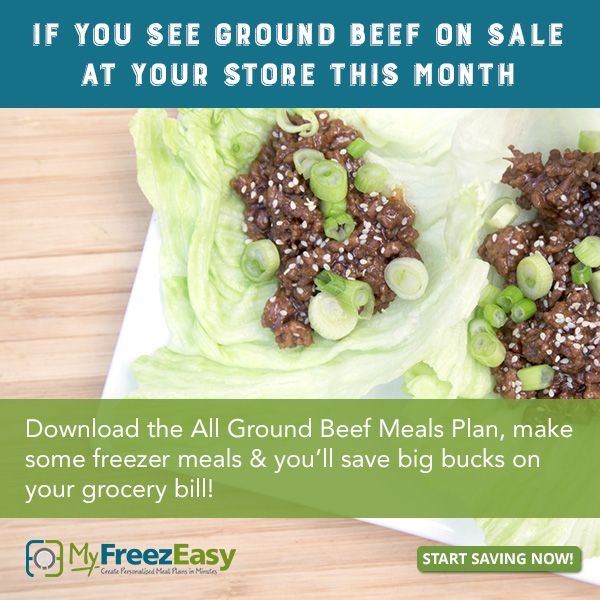 100 reviewers from The Homeschool Review Crew reviewed this product. Show them all some love!