Bonjour! Comment allez-vous? I've always loved the French language. It's beautiful sounding to me. I began taking French Courses as a freshman in High School. When I learned I needed a foreign language to graduate college, French was the natural choice for me. I ended up receiving a minor in French, having never earned less than an A. There were many times I had to take Mr. B to class with me, and he would try to taken an active part in the class. We would leave and he would rattle the whole way home about all he'd learned in French class. He loved it as much as me! When offered the chance to review for Middlebury Interactive Languages again, I almost chose Spanish just to change it up, but Mr. B insisted that he further his French studies. I'm so glad we were picked for Middle School French I! It takes me back to my early French days!
For this review, we received a semester of Middle School French I.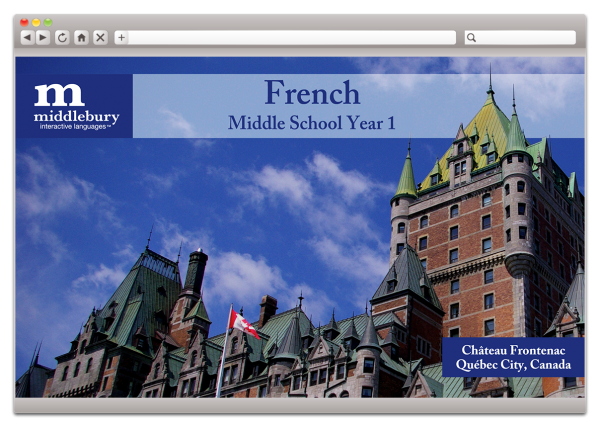 What is it?
This is an online French course that will last 1 semester for your grade 6-8 student, though it is suitable for an older elementary student with more experience, or an older student with less experience. It features an interactive style learning base where your student will learn vocab, then have the ability to recite the words back to the computer and listen to their use compared to the program. You will need a microphone for this. My laptop has one integrated in, and we also used ear buds with a mic on them. This program doesn't just focus on spoken French, but in also incorporates written language as well. That is one key feature I find super important. In all of my French classes, each exam consisted of 2 parts. 1 part written communication and 1 part oral communication. It is very important for your student to listen effectively and understand, speak, read, AND write in the language they are studying. Middlebury Interactive Languages includes all 4 of these components.

Our Experience:

I had a bit of trouble logging on initially, and this frustrated me. I like easy, in your face, login pages. There is a separate link to login from, and I had to search through my email to find this link. I like pages that have "LOGIN" in clear, billboard fashion. So if you are like me, be sure to bookmark the login page ;) Lessons learned the hardway HAHA!

Once login was out of the way, I was very surprised by this program. If you remember, we reviewed for Middlebury last year, and used an Elementary French program. I was really impressed by the program last year, but I don't think Mr. B was quite ready to move as fast as I had him move through the program. This time, I modified our schedule and moved slower. Much slower.
First, I love the layout. It is super easy to follow. On the left you have the various units and lessons that you can easily navigate. Last year I didn't like the blank space I saw upon logging in. That is not the case this time around. There's no blank space. When you choose a lesson, you have a graphic representation of all parts of that lesson. In terms of autism/ADHD learning, it's GREAT to have each part numbered so that your student doesn't have to wonder in what order he/she should do things. He or she will know to start with 1 and proceed to 2, 3, 4, etc.
I also like how your student will know ahead of time what is expected of them thanks to the unit objectives. This is featured on the first lesson of each unit. It also intermixes French with English, so that your student can use context clues to understand the French part. This is great, and it is how both of my French teachers taught. I was fortunate enough to learn French from 2 native speakers, and they would use a combination of both French and English while teaching so that we had an immersive experience, to learn as naturally as possible, as well. That is what this program does while interjecting French with English, at the same time.
Here is a matching exercise. I think it really helps to put a picture with the words, in order to help reinforce the meaning. I would like to say, I was always taught "Bonjour" as "Hello" or "Good day", and "Salut" as a more informal, "Hi."
Ok so, I took 4 years of French in High School, and I earned a minor in college, and I can't recall ever discussing punctuation! I like how this program includes things like that, that one doesn't really think about much. Having proper written communication can be a make or break thing if your student ever wishes to use their French skills in the job sector.
I really like the Vocab Guide. Here you can play an audio of the key phrases of that lesson so you can hear the proper way to pronounce everything. They are also said at the correct speed, so that your student can hear how the words blend together. One very important thing in French is word blending. Some words blend together to sound completely different. Like Je ne sais pas. Instead of saying, "Juh Nuh Say Pah" It sounds more like, "Jzuhnsaypah." Side note: If you notice on the left, each lesson you complete will have a check mark. I started taking screen shots on our first day, so I went back and was able to easily "browse" lessons back to the beginning to maintain the same lesson throughout this review. As you can see, the checks indicate completion.
The speaking lab is where I said you'd need a mic. You can click on the green to hear what is should sound like, then click the red to record yourself, and you can play it back.
This is probably one of my favorite activities. Here not only can your student read independently and match up the correct word to the blank, but they can also hear it being read to them! Also, if you click on the dotted underline words, it will translate them.
I had Mr. B using this a few times a week. I also had him repeat the lessons, so we have moved rather slowly. I want him to really get it, remember it, and learn it. It is also hard for him to pronounce properly sometimes. So we work on it. For example, it took him much longer to do lesson 1 than it would a typical student just because I had him really work on it a lot. So he did the online part, then I had him writing out the vocabulary and pronouncing it all, on his own, off line a lot. So while you could do lesson 1 in a day or two for a typical kid, I had him work on it for more like 8-10 days. 1 section at a time, and really repeating it all so it sticks. I think our method is great for special needs learners, but be warned that you only have 6 months on the subscription, so you may not finish before you run out of time. I'd rather not finish it completely and know what he has learned he has mastered, but that's totally up to you.
Overall:
Overall I really, REALLY like this program. It is very similar to my high school and college courses, but presented in a manner that is easy enough for a 5th/6th grader to grasp. It is thorough and well thought out. The order of things just makes sense. You start by learning greetings, which is completely appropriate, and progresses to a greater difficulty. By the time you reach the end of the program, your student is asked to do use 5 full sentences (simple, but full) to describe the area in which they live. Then they are asked to answer questions (presented in French) using only French sentences. It's a great set up and a great program. I would like to see an easier login, and I wish the subscription lasted longer than 6 months. I think it would be fantastic if it lasted a full year, that would be great. But as it stands, for a typical student, the 6 months is enough to cover the course and learn a great deal. A special learner may need additional time.
Does Middlebury Interactive Languages Middle School French I Pass my 4 Ingredient Test?
1.) Customization: Is it easily adaptable? Can we customize it to fit "us?" Can we modify or set our own schedule? Can we take breaks, jump ahead, or flat out skip?
You can move about as needed, but since this is a foreign language, you will want to move through the course in the order of the lessons. You can take breaks, and repeat as needed. We modified by moving slower. You just need to remember that this is a subscription based program, and you may run out of time.
2.) Value: Is it long lasting? Will it cover multiple grade ranges? Are you locked in to one specific grade level? Are there hidden fees?
This is good for multiple ages, and there are no hidden fees. You are locked into the level you choose.
3.) Attention span: Is it boring? Is it engaging? Is it varied enough for ADHD? Does it last too long?
It is not boring, and lessons are short. They are interactive (hence the name...) so your child is actively engaged in the lesson. As far as autism goes, if your child is verbal they should be able to complete the program. If they are non verbal, you may have an issue since it is an interactive program.
4.) Does it tie into other things we already have?

This is only a French class.