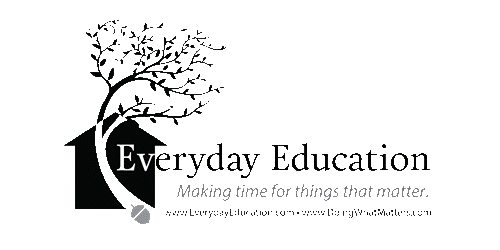 Having a son who is a leftie, handwriting has been a chore at best. I'm right-handed, trying to teach a left-handed boy proper penmanship! Have you any idea the number of times I've wanted to rip out my own hair?! Countless....countless. Perfect Reading, Beautiful Handwriting, brought to you by Everyday Education, LLC, is a great help in the battle for pretty handwriting, as well as a fantastic tool to teach reading. Janice Campbell who authored the new foreword in this book, used this with her first son. He is also a leftie, and out of all of her children, she says he still has the neatest handwriting! She wanted to use the same with her other boys, but the book went out of print. Set on a mission, she not only located the author, but purchased the reproduction rights so that we now have this awesome book to use once more!
Perfect Reading, Beautiful Handwriting pairs phonics based reading with handwriting to teach two birds with one stone. This Charlotte Mason approach has 60 lessons that are all phonics based, and they can be used as a stand alone to teach reading, or as a supplemental aid. The lettering for the handwriting starts out like regular block print, and progresses to a more slant-like italics style joined lettering system.
For this review, we received the e-book version of this product. It is also available in a print, bound version as well. Both are consumables.
Our Experience:
Cursive writing has always been a struggle. Mr. B is 11 now, and he still can't get the hang of it. He can read it, but he lacks the fine motor coordination to form the letters. He has always been drawn to italics, so I knew this would be a great fit for him. I found him struggling less with this style of lettering than he does with regular block print. I think the slant really helps him. He actually likes it so much, he uses the italics style handwriting presented in Perfect Reading, Beautiful Handwriting for almost all of his handwriting.

The reading portion is very nice. Mr. B doesn't need a reading program, but I'm all in favor of reinforcement. His spelling skills can always use some work. He can read with ease, but spelling is a different monster. I like this because he is inadvertently practicing spelling (my least favorite subject) while working on handwriting. The phonics portion is very nice for young students who are just learning to read, or older students who need a little more help. It's great for special needs kids, young or older.
I found the first few pages to be very informative. These pages give great insight into suggested schedules that vary depending on ability and age, when to begin teaching reading, proper posture for handwriting, teaching tips and more. It also talks about phonics vs. sight words, and why phonics are so important.

I like that your student is taught to make nearly every lower case letter with 1 continuous stroke. That's exactly how I write naturally, so it just makes sense to me. It's been a little harder for Mr. B to do one stroke only, so we really practice on this. There's even practice in writing in a smaller size, which we needed so badly! Mr. B has a bad habit of writing way too big!
I took this while working on page 188, a lesson on writing smaller. You can tell the difference between my work, and Mr. B's. I really like this! It's fun to do, and he likes it. Plus, we get to work on phonics a little more.
Overall:
I think this is a great program to use with any student who is learning to read, as well as any student-special or otherwise-who needs more help with reading. The fact it also covers handwriting, and fast italic handwriting at that, just makes it even better for us. We both really like this, and I even like practicing the handwriting part myself! We have used this more for the handwriting aspect that the phonics aspect, but the phonics have been a nice review, especially the silent E.
Does Perfect Reading, Beautiful Handwriting Pass My 4 Ingredient Test?
1.) Customization: Is it easily adaptable? Can we customize it to fit "us?" Can we modify or set our own schedule? Can we take breaks, jump ahead, or flat out skip?
If you want to really use the phonics portion, especially for a new reader, I suggest following the order in the book. If you do not need the phonics as much, but would rather focus on the handwriting then you can move around as you like. the suggested schedule is only 5mins each day.
2.) Value: Is it long lasting? Will it cover multiple grade ranges? Are you locked in to one specific grade level? Are there hidden fees?
This is appropriate for a wide range of ages. It is a physical product or e-book, so there are no hidden fees or anything like that.
3.) Attention span: Is it boring? Is it engaging? Is it varied enough for ADHD? Does it last too long?
I think this is really good for ADHD or ASD. The suggested schedule is only 5mins each day, so very short. The writing style is nice for those who have fine motor issues who may have trouble, like Mr. B, with anything beyond traditional block lettering. The phonics lessons build on each other, and are presented in an easy to understand manner.
4.) Does it tie into other things we already have.
Phonics always ties in! And you can carry over the handwriting, as well.
Please see what the rest of the Homeschool Review Crew has to say. In addition to Perfect Reading, Beautiful Handwriting, the Crew also reviewed

Excellence in Literature Handbook for Writers and
Working it Out: Poetry Analysis with George Herbert
. Just click on the banner below!