I love online subscriptions that provide variety of lessons and resources to help in our homeschool, so I was really excited to learn about Educeri...... Educeri a division of DataWORKS. This is a online based resource that offers more than 1000 Ready-to-Teach lessons using the Educeri Lesson Subscription Service. Y'all, that's a lot of learning!
Educeri is an online based subscription service that offers a variety of subjects and topics from K-12. There are "PowerPoint" style lessons and downloadable student handouts that you can print as worksheets. With the Subscription Service, you have access to all grades and all subjects. This is designed mainly for traditional school teachers to use as pre-designed and arranged lesson plans. With that said, we've been enjoying using this in our homeschool!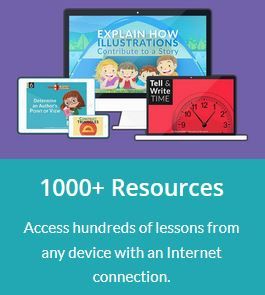 How did we use this?

Academically, Mr. B is all over the place. So I took a few days to browse the various course offerings between grades 3 and 8. There's so much offered here. It can be a bit overwhelming with so many options. I finally decided to stick with 6th grade for the bulk of this review, and I target topics under the language arts umbrella.
This is just a teeny tiny sampling of the offerings.
I was really excited to see so many topics covered, and I couldn't wait to get Mr. B on his laptop and get the learning started. But then I was disappointed to discover that the majority of the lessons have no audio. So they require an active teacher teaching the topics, rather than video like streaming. I was really hoping for a set up that offered video/audio in addition to the text based powerpoint like click through screens. I think that would make this really good "school" product into a really fantastic "homeschool" product!
With all of that said, the program is really great for its intended purpose-as a lesson plan hub for teachers. The lessons are pretty in depth, but they do require a lot of parental involved teaching for your homeschool use. Here's a screen snip of one lesson.
As you can see, the lessons are easy to navigate using the buttons at the bottom, and it also includes page numbers. Along with these lessons are student handout worksheets that you can download and print. Here's a screen snip of one.
I really like the content of what we have seen thus far. It is secular in nature, so that is something to consider if you are looking for more of a religious overtone.
All in all, I like this. While I wish there was more of an independent learning application to it, I'm ok with taking the extra time needed to teach the concept. We tend to spend about a week per lesson, and that seems to be more than enough to master the concept for us. Others may not have the time, but for us it's not that much of a problem on the days we are home. I really like the student worksheets, and I wish there were more of them! From what we have seen so far, there's around 4-5 worksheets per lesson in the downloaded PDF file.
Does Educeri Pass My 4 Ingredient Test?
1.) Customization: Is it easily adaptable? Can we customize it to fit "us?" Can we modify or set our own schedule? Can we take breaks, jump ahead, or flat out skip?
You have access to all grade levels with the
subscription service
. This makes it super easy to modify to your specific needs. It's really easy to work into your existing schedule and change as needed.
2.) Value: Is it long lasting? Will it cover multiple grade ranges? Are you locked in to one specific grade level? Are there hidden fees?
We received a 1 year subscription. There are no hidden fees, and you do have access to all grade levels.
3.) Attention span: Is it boring? Is it engaging? Is it varied enough for ADHD? Does it last too long?
I think this is pretty good for ADHD, and autism, so long as you can take the time for the one on one instruction that is needed with the lack of video/audio with the lessons. I wouldn't suggest this for self teaching unless that is preferred by your child and you. Lessons aren't that long, but they aren't flashy at all.
4.) Does it tie into other things we already have.
Yes. There's a whole host of topics and subjects, so it fits in with a lot. It's not a specific method like Charlotte Mason or Classical. I'd say this is more traditional in style
.