Mr. B loves to read, and he especially loves to read books with colorful pictures and engaging stories. We were so very blessed to receive four books brought to you by Carole P. Roman and Awaywegomedia.com. The books we received are all from the "If You Were Me and Lived in ____________" series of books that are fun living books full of colorful pictures.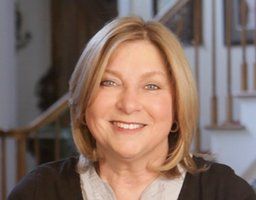 For this review, we received the follow physical books:
If You Were Me and Lived in...Colonial America (An Introduction to Civilizations Throughout Time) (Volume 4)
If You Were Me and Lived in...Renaissance Italy (An Introduction to Civilizations Throughout Time) (Volume 2)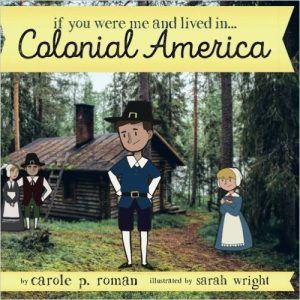 If You Were Me and Lived in...Colonial America (An Introduction to Civilizations Throughout time) (Volume 4) is a 64 page paperback with a glossy cover. It features colorful pages of pictures along side brown pages with white lettering that tells the story of what your child's life might have been like if he or she had grown up during the Colonial days. It focuses a lot on settling and the early days of the Pilgrims. I expected this particular book to be more than just Pilgrims, but it doesn't feature much of what a more "urban" colonial outpost was like. It says at the end of the first winter your dad would have been proud to say they had built 11 homes, and your mother would have cooked on a fireplace. It talks about coming over on the Mayflower, and it also talks about why The Pilgrims wanted to come over in the first place, but it doesn't go much beyond the Pilgrim era. In the back, there is a section that lists a few people who were influential during the colonial days. This list includes: Pocahontas, John Smith, and William Penn. There is also a really nice glossary in the back. Mr. B is 11, but with his special needs, this is still on his level to a degree. I wouldn't recommend it for all 6th graders, as it is written in a more juvenile manner than some would prefer for that age range, but it's a cute book with historically accurate information presented in a fun way. I do wish there were less Pilgrims and more toward the time of George Washington since most would date Colonial America from 1607-1776.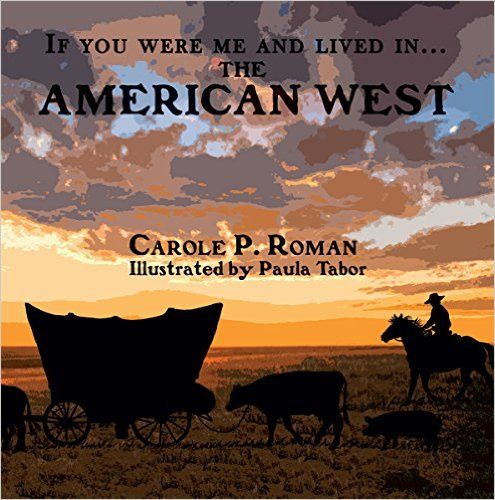 If You Were Me and Lived in...the American West (Volume 7) has been Mr. B's favorite thus far. He read this over...and over...and over. This is a 58 page book that gives the life of a 12 year old boy on the Oregon Train. The story says your family was urged to make sure they completed their travels during the summertime to avoid winter weather that could be harsh. This brought up a lot of discussion of the Donners since we had studied them recently. This was not a cowboys and John Wayne western type book, eventhough I kind of thought there would be at least a town marshall and a gunslinger here or there haha. I like how the book pointed out how hard it was to leave their extended family and friends behind to embark on a journey to a new, and unknown location.
If You were Me and Live in...the Middle Ages (An Introduction to Civilizations Throughout time) (Volume 6)
has a beautiful cover. I love the tone of the colors. It's quite large at 98 pages, including the glossary in the back. It features color pictures that span both adjoining pages, with the text written in black on a white background. This is a very comprehensive story that starts off with a description of the land, and a king's castle. In one section, your dad is a knight in the story, so it talks all about making your home in the Keep attached to the castle.It features a dad and step mom, which is interesting. I like how it gives a concise description of the family home, and the style of clothing worn during the time period. My personal favorite is the page talking about the "garter room" which is the bathroom. The dad in the story designed it in such as way that it goes straight into the moat. Ahh..."indoor" plumbing! HAHA! I also like the explanation of where each dinner party member sat, with the most important sitting near the salt, then why salt was so important. I never thought about that before reading this book. I really like all the different lives your child can live through. It talks about nobles, and knights, and even peasants. The book does a very good job at showing the comparisons between the societal levels in a way children can understand. Mr. B really liked this one, and it was more on his age level.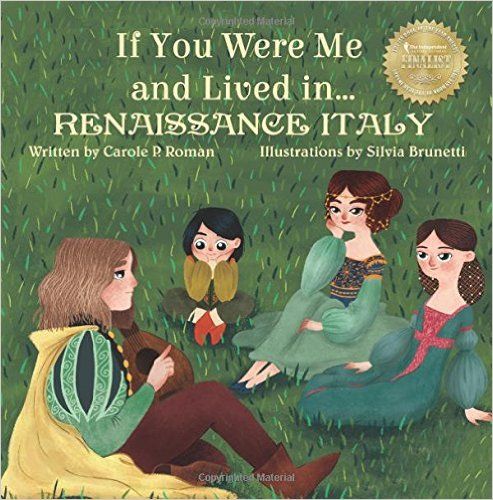 If You Were Me and Lived in...Renaissance Italy (An Introduction to Civilizations Througout Time) (Volume 2) is a lovely book with 56 pages. It has colorful pages interspersed with orange pages and black text. I like the diagram and description of the Palazzo (the family home.) I found it interesting that there was a hole in the floor for the story dad to keep an eye on his shop. I also like how the book points out the gender differences, with boys received an academic education and girls learning how to be a housewife. I wish this book was more like the Middle Ages focused book in terms of lives. This one focuses on a young girl, and while it mentions the lives of her brothers, Mr. B wasn't as interested in reading what his life as a girl in the Middle Ages would have been like.
Overall:
Overall, we really like these. They are a great addition to any library collection! Mr. B likes looking at the pictures just as much as he likes reading them. These would make really good read aloud story time books, also. I like the "famous" people sections, as well as the glossary. You can find printable worksheets on Carole P. Roman's webpage that corresponds to many of these books, so it's great to use with a unit study. Mr. B enjoyed taking these to mamaw's house to read to her and Papaw M. He also took these in the car to read on car rides. He really, really likes them a lot!
Does Carole P. Roman Pass My 4 Ingredient Test?
1.) Customization: Is it easily adaptable? Can we customize it to fit "us?" Can we modify or set our own schedule? Can we take breaks, jump ahead, or flat out skip?
These are fun storybooks that are written in such a way that you can target individual portions with ease. There are no chapter divisions, or anything like that, but it's easy to take it section by section.
2.) Value: Is it long lasting? Will it cover multiple grade ranges? Are you locked in to one specific grade level? Are there hidden fees?
There are NO hidden fees. This is a physical product. It seems to me like it's intended for a younger age group, but Mr. B still enjoys them a lot. You could add a lot of hands on activities if you wanted, and there are worksheets that you can find on her webpage that would work well for an older student.
3.) Attention span: Is it boring? Is it engaging? Is it varied enough for ADHD? Does it last too long?
We don't find them boring at all! Mr. B loves them!
4.) Does it tie into other things we already have.
Yes, these are great supplemental books!
Please see what the rest of the Homeschool Review Crew has to say! Click the banner below!