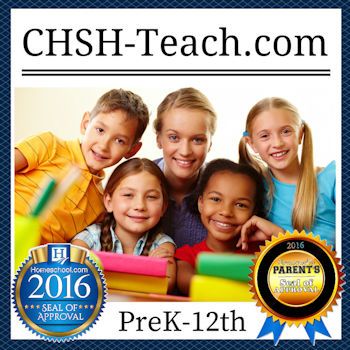 It's no secret that I happen to love printing worksheets, and Mr. B loves doing paper work. I get way too excited when I find great printable resources, and Christian HomeSchool Hub ranks up there with the best of the best! I am so very, very excited to bring you this review of CHSH-Teach.com and the CHSH Download Club.
Christian HomeSchool Hub (CHSH-Teach.com) is a wonderland of resources for all of your homeschooling needs. There are full courses, textbooks, and worksheets galore. I can't even begin to cover all of the goodies I've found in the last 6 weeks. I've yet to NOT find something I'm looking for, it's that comprehensive. Looking for American History? They have it. Need something extra for Astronomy? Guess what, it's there! Biology? Yes, yes, and more yes! Literature? Well, of course! I'm talking every subject is covered!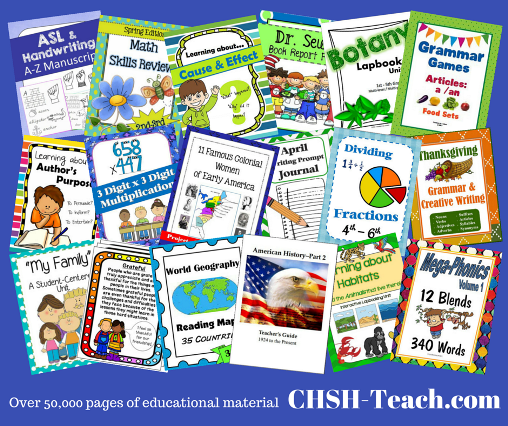 How we used this:
I took the first week to familiarize myself with the website and the club features. There are a few resources you can nab that are free, but by far the Download Club is the greatest thing about this site. You have a few different ways to search for what you are looking for. You can either do a specific search OR you can browse. I like doing both.
You can search for specific classes, grades, subjects, or key words. Or you can browse by subject, and it will funnel you through to what you want. This first image is the specific search feature.
Next, you can browse by subject. There are a LOT of topics included, and I can't fit them all in one screen grab.


This is just the top portion. Like I said, resources galore!
Once you choose a topic-like science, you can choose subtopics. Since there doesn't seem to be a lot of printables to be found most of the time for High School level, I wanted to showcase a high school level example for this review, before focusing on a couple of the things we did. So for this, I clicked on "High School" under the subject of Science.
From there, you can choose more specifics.
I picked Natural Science, just for fun, and it goes from grade 7-grade 9. Here's a screen snip of Grade 7.
I made this a little large so you can read the information there. As you can see, it includes everything you need. EVERYTHING!
So anyway, back to how we used this. I wanted to show a high school example since there doesn't seem to be a lot of resources like this available for the upper grades. I stuck with the 4th-7th grade range mostly for this review period. But to be honest, I didn't really pay that much attention to the grade level. I am more concerned with the material than the intended grade. I first set out to look into American History. There's a lot available! American Heritage, Abe Lincoln, Symbols and Landmarks, Civil War, Colonial, etc...etc...etc...This goes from elementary level to high school level. We are going to be working in the Wild West time period, so I narrowed my search down and found some GREAT Gold Rush resources! I also looked up language arts and found some great literature guides for books like Shiloh and Number the Stars, both of these are on our list this year. Yesterday, he did a "packet" on the solar system while he was at his dad's house. Here are some photos of his Gold Rush work and his Solar System Packet.
We have used something from CHSH-Teach.com just about every single day since we started the review. It has become my main go to for printed resources.
Overall:
I can't say enough great things about
CHSH-Teach.com
and the
CHSH Download Club
. I don't know how I homeschooled without it! It's a great resource we plan to continue using!
1.) Customization: Is it easily adaptable? Can we customize it to fit "us?" Can we modify or set our own schedule? Can we take breaks, jump ahead, or flat out skip?
With the CHSH Download Club, you have access to all content, so you can very easily adapt it to fit your specific needs. That's what I love about it!
2.) Value: Is it long lasting? Will it cover multiple grade ranges? Are you locked in to one specific grade level? Are there hidden fees?
Membership can be for a year at $25 or lifetime at $99, as of the date of this blog. It covers a wide range of grades, even into High School! You are not locked into a specific grade, and there are no hidden fees.
3.) Attention span: Is it boring? Is it engaging? Is it varied enough for ADHD? Does it last too long?
Mr. B found the activities I had him do enjoyable because they are topics he is interested in. You can make them longer or shorter depending on your preference as to what you print and plan for your child to do.
4.) Does it tie into other things we already have.
Oh mercy yes! There are so many topics covered, I've yet to find anything that didn't work!
Please check out the Review Crew for more CHSH-Teach.com reviews!

Social Media:
Facebook Group:
https://www.facebook.com/groups/TheChristianHomeSchoolHub/
Facebook Page:
https://www.facebook.com/ChristianHomeSchoolHubPage/
Twitter:
https://twitter.com/TeachWithCHSH
Pinterest:
https://www.pinterest.com/lyndaackert/chsh-teachcom-creations-by-lackert/
Google+ Group:
https://plus.google.com/b/117967118184286217472/communities/108322787218266183941
Google Business Page:
https://plus.google.com/u/0/b/117967118184286217472/117967118184286217472/posts
Linked-In:
https://www.linkedin.com/in/lyndaackert
Tumblr:
http://christianhomeschoolhub.tumblr.com/