Not long ago, we were blessed to do a review of Read, Write & Type for Talking Fingers Inc. and this time around, we were able to review Talking Shapes: A Supplemental Curriculum for Early Literacy. This link will lead you to the app page, and the app works on iPad devices. We were blessed with a 1 year membership to the online program. Talking Shapes is a great precursor to Read, Write & Type, and a really great, fun multi-sensory learning approach to literacy. Geared for pre-K to Kindergarten, children can play games and build words they can not only read, but see as well.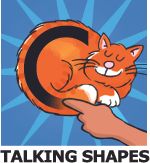 How does it work?
When Mr. B was in special needs Pre-K, I thought it was so clever that his teacher had made up little rhymes for each letter, to teach the kids how to "draw" the letters. When I was learning to write, I remember my teacher printed off worksheets that had the upper and lowercase letters on them, with pictures of objects that began with that letter. Then we would write our spelling words on the back of the worksheet each week. Talking Shapes: A Supplemental Curriculum for Early Literacy is very much like both of these methods, combined in a fun, online game format. This features two little girls who are learning to write. They are writing stories, and learning all about letters and phonics as they go. They start with the above screen, and each book is a different level.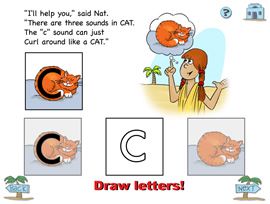 Your child listens to the story, then they "draw" the letters as the program teaches them. Not only does this benefit them in an academic way, but it also helps with fine motor skills using the computer mouse or touch pad.
Following the story is a series of games they can play. With this game, a narrator reads a selection and there is a work missing. Your child has to fill in the blank with the correct word. I will say, I wish the choices were randomized more.
This game helped review the object with the letters. And you have to determine what the picture is. Once you drag the correct the letters, you have to join them together. That was a little hard to do, actually. And even I kept "dropping" the squares. You have to wait until they flash, and I'm not very patient haha.
Here is another game where your child must read and choose the correct word.
At the end of each game, the little animal on the bottom right corner "lays eggs" and then when you finish a story, those eggs hatch.
Our Thoughts:
Mr. B is much older than the intended age range for this, but he loved the last product we reviewed for Talking Fingers, so I figured he'd enjoy playing with this one. I wanted to review this from a special needs mom point of view to see how it would work for others, as well as my own. I knew it would be a great way for him to work on his fine motor skills, and using a computer mouse, and I was right. Plus, he can always use a little review for phonics since he transposes letters and sounds, sometimes. By the end of the review period, he'd nearly finished the program while working on it 2-3 times a week. I could see this lasting a good bit longer for the Pre-K to 1st or 2nd age group. The lessons aren't that long, but you do have to be patient and wait for the game to be ready for you to answer. And you can't jump ahead any at all.
This is a really great way to supplement and work on phonics and letter shapes. It's multi-sensory approach is fun and entertaining. It is possible to "cheat" by just wildly moving the mouse to "color" in the letters instead of draw them, but you could easily overcome this by having a pencil and paper on stand by for additional practice. This is also a great tool for fine motor skills, and even speech/communication since your child must look at various pictures and determine what is going on in the picture. Overall, this is a very good product to use for typical students as well as special needs learners!
Does Talking Fingers Talking Shapes Pass My 4 Ingredient Test?
1.) Customization: Is it easily adaptable? Can we customize it to fit "us?" Can we modify or set our own schedule? Can we take breaks, jump ahead, or flat out skip?
We were given a 1 year membership. The program runs in its own order, and you can't jump ahead. You can take breaks, but it will restart instead of saving exactly where you left off. I think it would be FANTASTIC if it would save your place where you left off so you don't have to start an activity over from the start.
2.) Value: Is it long lasting? Will it cover multiple grade ranges? Are you loc
ked in to one specific grade level? Are there hidden fees?
There are no hidden fees, and it covers early elementary levels who are just getting into phonics and literacy. I would say pre-k to around 1st or 2nd.
3.) Attention span: Is it boring? Is it engaging? Is it varied enough for ADHD? Does it last too long?
It is very fun and interactive. It is varied, and it doesn't last terribly long, but you do have to be patient and wait on the game to be ready for your answer. I also found that if Mr. B stopped in the middle of an activity, he would have to restart from the beginning.
4.) Does it tie into other things we already have.

No, this is just a literacy and phonics supplemental program.
I'm only 1 of more than 40 reviewers to review this product. Please click the banner below to check out their reviews!

Facebook:
https://www.facebook.com/TalkingFingers/
YouTube:
https://www.youtube.com/user/talkingfingersvideo
Twitter:
https://twitter.com/ReadWriteType/with_replies