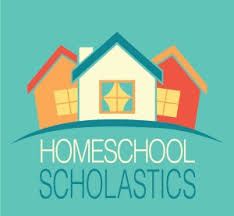 So, a few weeks ago there was a knock on my door and it was Mr. Mailman. He had a HUGE box for me, and I thought "What in the world is this?!" It was a box full of awesome is what it was! It was a box from HomeSchool Scholastics, an i4 Learning Company, and they sent us their WAY Comes Home Kit to review.
I can't even begin to list everything that is included in this kit. There's "Nerf-like" balls, a real stethoscope, scale balance, fingerprint bad, workbooks, DVD, teacher/parent book...basically, everything you need to implement the program is included! I said the box was huge, right?!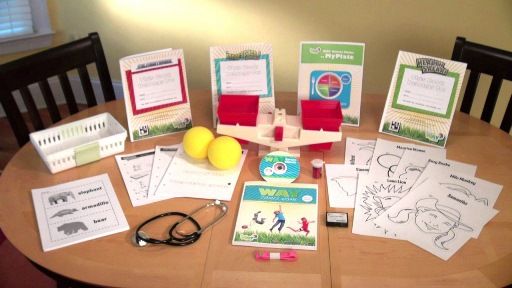 How did we use this:
Ok, first I need mention the journals. These are consumable, and it is intended for 1 student/journal. I received all 3 grade levels to review. They are aged for K-1, 2-3, and 4-5. The included vocabulary cards are also consumable, and correlate with the grade levels of the workbook journals.
Now, you can do a lesson each week, but you know me! I like to get my money's worth....or my review time's worth as the case may be. So, we utilized everything. That means we aren't close to be finished with the program yet!

Typically, we stretched each lesson over 2ish weeks. I say "ish", because to be honest, he just liked repeating some of them, so I let him. This means we have a lot still to work through, and I think that is fantastic!
So anyway, back to how we use this. Wow, I don't even know where to start!
First: The parent book provides a lot of tips and suggestions for use. There is a section that tells you exactly what you are going to need for each section. This is soooooo handy for scatter brained people like myself!

Next: Lesson components. This is where you have some flexibility. You can opt out of activities and finish quickly, or you can do it all and move slower. I chose the latter. There a vocabulary list for each lesson. I used this for him to do definition work. He LOVES definition work. I also did some informal spelling quizzes with these words. There are suggested activities to do with each lesson ("Include Me Too" ) that aren't part of the main lesson. These activities are provided for kids not working on that lesson. We did this too, for fun. There are art activities in "Art Attack" and this usually led to lost focus since he'd get all wrapped up in creating a "masterpiece." There are also suggested activities to do outside the home, family friendly internet links and additional study suggestions, book lists, and more. Mr. B's favorite part is the fun facts section called, " WAY more fun.) So as you can see, each lesson packs a big punch.

Mr. B really likes the DVD and the get up and move around activities on there. We would probably progress much faster, but we have to repeat these so often that it slows down the other lesson work! But I'm not going to complain, he really likes it a lot and it's great for his sensor and energy. I like doing these with him, and they really do give you a workout! Mr. B tires easily, and he's not very coordinated, so we can sometimes do it for 10 minutes, sometimes less. I just go by his reactions on the timing.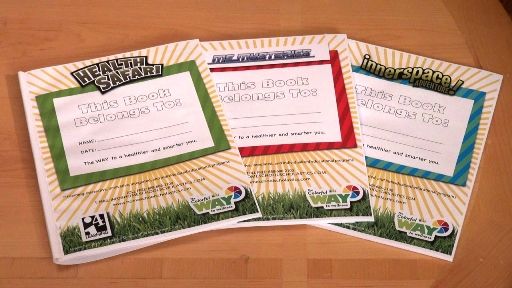 Our thoughts:
This is a FANTASTIC program that truly does include everything you need to make it work. The only thing I had to add was library books if he chose to use one from the reading list that we didn't already have on hand. I love the overall message of taking care of your WHOLE self, inside and out. I love the Biblical messages included, too. I like that I can choose what to do and when, even though I do love having pre-planned things at times. I found the unplanned to be nice in this case. Honestly, there's so much to this kit that I can't even do it justice with this review. I love how everything is just there. I don't have to go buy additional components, or anything. It's just there. I like that I can modify it to fit our needs easily, and if we need to skip a day or two we can. The workouts are great, and provide us with an activity we can all do together. And the weekend activity suggestions have really given us a lot to think about, and has caused us to get out together more when we wouldn't have before. Just the other night we went to a community day with a hot air balloon and Mr. B. started Bowling AND swim class to "get healthy inside and out!" Definitely recommend this!
Does HomeSchool Scholastics, an i4 Learning Company Pass My 4 Ingredient Test?
1.) Customization: Is it easily adaptable? Can we customize it to fit "us?" Can we modify or set our own schedule? Can we take breaks, jump ahead, or flat out skip?
This is a physical product that includes EVERYTHING you need! You can totally customize it by doing all of the optional activies, some of them, or none of them. There's no set schedule, and you are free to take breaks as needed.
2.) Value: Is it long lasting? Will it cover multiple grade ranges? Are you locked in to one specific grade level? Are there hidden fees?
This covers K-5, but I would say younger or slightly older students would still benefit some. Especially with the workout DVD part! As far as hidden fees, it's not a hidden fee exactly, but shipping is rather expensive. It is a HUGE box FULL of stuff, so you can imagine that shipping is going to cost a bit. BUT the kit itself is super affordable and on sale for $39.95 right now, which counteracts the cost of shipping. Is it worth it? To me it is!
Also, they have graciously given me a discount code to share with you that will give you $15 off!
Just enter the
Coupon Code: GC0737011!!!!
3.) Attention span: Is it boring? Is it engaging? Is it varied enough for ADHD? Does it last too long?
NOT boring, DEFINITELY Engaging, and totally varied. It is PERFECT for ADHD because it gives them an outlet for that energy! Uncoordinated kiddos with autism may have a little difficulty following the moves on the DVD, but you can help with those.
4.) Does it tie into other things we already have.
It actually does. There's Vocabulary words, science, math, etc. that's all sort of incorporated into the overall program. It's not like a big unit study or anything, but there are certain aspects that do require the use of other subjects.
Please check out the Review Crew for more reviews!