Art is often overlooked in both traditional school and homeschools. But art can be used to teach so many critical topics, that I feel it is as important as math or reading. But what if you could find an art program that not only taught art, but also included suggested learning activities for other subjects such as reading and science? Well, to me that would be a gold mine, and that gold mine is found with ArtAchieve. We have really been enjoying our review of ArtAchieve and the Entire Level III.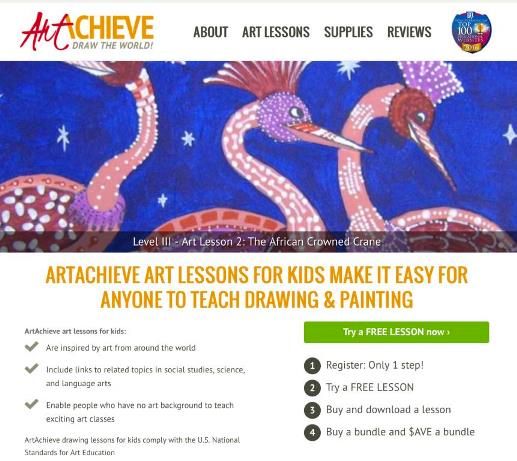 ArtAchieve isn't your average art program. Each art lesson can be used like a unit study. There's a section for each lesson that details what supplies you'll need, which are all easy to find, inexpensive supplies you may already have on had, and suggestions for more learning. For this review, I focused on the Hawaiian Frog drawing. I wish I had the ability to screen snip all of the additional material that is included with this lesson. There's activities for history, science, and even reading!
I very much appreciate all of the additional learning opportunities, and the easy to find supplies. My only wish would be for a little more user friendly set up. Currently, this page is located on a separate page from the lessons. I wish it was all combined together. It's definitely not something that would prevent me from purchasing this art program.
How we used this:
First, I want to say that I have enjoyed this as much as Mr. B! The levels are not based on age, but based on your experience with art. Level I would be for any age with little to no art experience, level III more experience, etc. I took a great deal of art classes in school, and we both have a natural talent for drawing. So I chose to go with Level III. There are additional levels beyond Level III.
Once you choose your lesson, you have a few different options to choose from.
The warm up is a printed sheet to help get you in the drawing mood, and lesson any stress you may have. It's the picture you are to draw, broken up and scrambled so you are only drawing portions of it.
The PowerPoint is exactly what it sounds like, it's a powerpoint version of the overall lesson. I prefer to watch the video version, then move the PowerPoint as needed while I'm drawing since I can control the pace of the PowerPoint myself.
The video portion is very nice. His voice is calming and gently, and he doesn't through things. He thoroughly explains, and reinforces that it doesn't have to be perfect.
Each lesson starts out with a history lesson on the inspiration to the art piece you are about to draw. This is a frog statue from a fountain in Hawaii.
The print out is just a lined drawing of the picture you are to draw to use as your reference. I like that it is just a simple line, without any other frills.
Our Results:
Mr. B really enjoyed watching the videos and learning about the inspirations. Each lesson teaches more than just art, and I truly loved the added learning suggestions and ideas. It's really easy to use this as a unit study if you want. I liked the concepts that are introduced, and I found I learned quite a bit myself. I like that it is easily adaptable, and the supplies are things I keep on hand. We did do "our own thing" with our frog since I did not want Mr. B to use my oil pastels (stingy mom!) so we used crayons instead, but I think it worked out nicely anyway.
Does ArtAchieve Entire Level III Pass My 4 Ingredient Test?
1.) Customization: Is it easily adaptable? Can we customize it to fit "us?" Can we modify or set our own schedule? Can we take breaks, jump ahead, or flat out skip?
You do not have to do the lessons in order, but we have been. You can customize in terms of materials used, but your artwork will differ from the instructors. You can set your own schedule.
2.) Value: Is it long lasting? Will it cover multiple grade ranges? Are you locked in to one specific grade level? Are there hidden fees?
.
Subscriptions last for 1 calendar year, and you can use this with multiple children. Your purchase only covers the lesson level you choose though, but there is an option to get all of them for 1 year. You are locked into the level you choose. There are no hidden fees.
3.) Attention span: Is it boring? Is it engaging? Is it varied enough for ADHD? Does it last too long?
Definitely not boring, though some with ADHD may find the need to take more breaks since each lesson can last up to an hour or even more if you choose to do the additional activities that are suggested for more learning. We did not find it boring in the least.
4.) Does it tie into other things we already have.
It most certainly can! There are a lot of extended learning suggestions that allow you to really turn this into a great unit studies project!
We have truly loved working on this review! I highly recommend it! But please, don't take my word for it! Check out the crew to read more reviews on the Entire Level III and the other levels offered to us for review!