We love a good book in our house, so I was super excited when Shiloh Run Press gave us the opportunity to review The Glass Castle by Trisha White Priebe and Jerry B. Jenkins. This hardcover book is 250 pages broken into 41 short chapters. For this review, we received one hardback copy of this book, which I read aloud to Mr. B, age 10 (for just a bit longer!)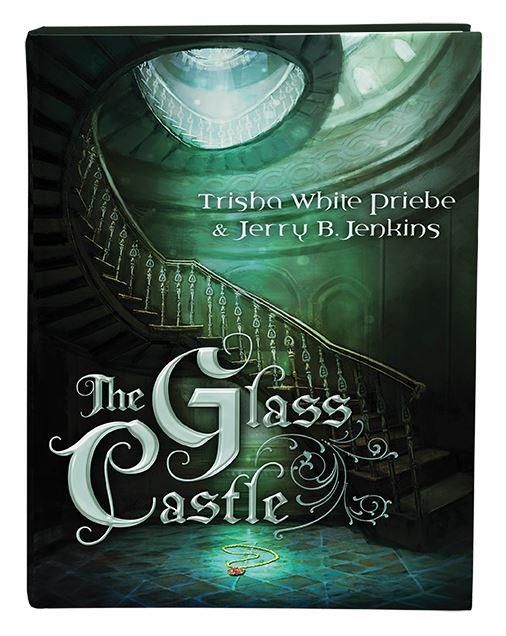 About the book:
This book is 250 pages broken into 41 chapters. It is written by Jerry B. Jenkins, author of the Left Behind Series, as well as his assistant, author Trisha White Priebe. It is written for the 10-14 year old age group.
Avery is celebrating her 13th birthday. She takes her little brother out into the woods to play, while wearing her pretty white birthday dress. Something spooks her, and she and Henry take off! Her pretty dress is now dirty and bloody, but she doesn't care. All she cares about is getting Henry back home to their father safely. She hears her pursuers chasing them. In the heat of the moment, she decides to make a run for her tree house, to hide there until it is safe to return home. With Henry in tow, she makes a dash and is almost there when she realizes it was merely a dog chasing them. She relaxes a bit, until she hears the twigs snapping, and the obvious signs of being watched. She makes a dash once more for the tree house, but it is too late! Henry, being just a tiny little boy, breaks free and runs off playing hide and seek. They are both captured! But why?!
The land is ruled by a king who had a child from his first marriage. He was told the child had died, but the new woman wants to be sure. She wants to provide the heir, due to the king's declining health. The new queen wishes for her child to take the throne at the appropriate time, so she is rounding up all of the 13 yr old children in the hopes of killing them so that her child may become the ruler.
Our Thoughts:
I wanted to read this book as much as Mr. B so I decided to make this a read aloud. Well, that read aloud soon turned into me reading it to him, then reading it to myself while he read to himself. I couldn't wait a whole night between chapters! The storyline starts off with a bang. Avery and her little brother are running. Not like a leisurely run, but a heart pounding, "need to save my life," type running. So you are on the edge of your seat while they are running through the woods, only to find out it's a dog they are running from. Suddenly you breathe this big sigh of relief, only to have that relief snatched away from you when there was someone after them all along! They are KIDNAPPED!
The old woman mentions she's being taken the castle. She recall's stories her mother told her of an evil king, and tunnels under his castle. Her mother called this the Underworld. How did her mother know of all this? Was this just fairytales made up to entertain her curious daughter? Or did her mother know something she wasn't sharing? Just as curious, how does the old woman know Avery's name, and age? How does she know Henry's name? Is it just luck that they are able to detect the 13yr olds from the others? Hmmmm.....? And just why did Avery's mother tell her to wear her necklace every day? It's questions like that keep this story interesting. Nothing is revealed all at once.
She's taken to the castle, with a bunch of other 13 yr old kids, and separated from her brother. She's determined to find her brother and find out why they have all been taken. With her new found friends, Tuck, Kendrick, and Kate, will they discover the secretes behind the first wife and the Forbidden City? (Wait? What? A Forbidden City?! HAHA! You'll just have to read!!!!!) Again, the story is given in bits so that you are kept entertained and longing for more.
The use of vivid imagery detail is fantastic. I could see, hear, and feel the forest around me while reading. I could distinctly picture avery in a wooden wagon being hauled off to an unknown fate. I could picture the glass castle, with its rooms filled with confused, scared, and frightened 13 yr old students. I had a genuine dislike for the new wife due to her desire to want to get rid of these children! The writing style is easy to read, easy to follow, but not a bit dull or dumbed down at all. The characters are well developed and believable. You can really sense Avery's emotion and angst over her brother. When a book leaves me saying, "I watched a movie the other night....no wait, that was a book...." you know it's a good one!
I personally can't wait to read the next book in the series, and I know Mr. B is chomping at the bit to read it, too. We NEED to know where Henry is! We NEED to know about Avery's mother! Even though it's intended for 10-14 year old kids, I find this book an appropriate read aloud for younger children who would not become frightened over the subject matter, or as a stand alone read for older students. It is a clean book with no questionable content, and for us that is very important. Overall, I highly recommend this book!
If you'd like to sample it for yourself, Shiloh Run Press has the first couple of chapters for you to preview.
I was only 1 of 90 reviewers for this book. Please click below to see what the others have to say!

Facebook:
https://www.facebook.com/BarbourPublishing
Twitter:
http://www.twitter.com/barbourbuzz
@BarbourBuzz