**This post may contain affiliate links**
Recently, The Schoolhouse Review Crew was given the chance to review a Notebooking Pages Lifetime Membership from NotebookingPages.com. How amazing is that?! NotebookingPages.com is a fantastic resource site that offers a multitude of notebooking pages for you to browse and print. Their Notebooking Pages Lifetime Membership gives you access to every page, for LIFE! For this review, members of the crew were greatly blessed with a full lifetime membership.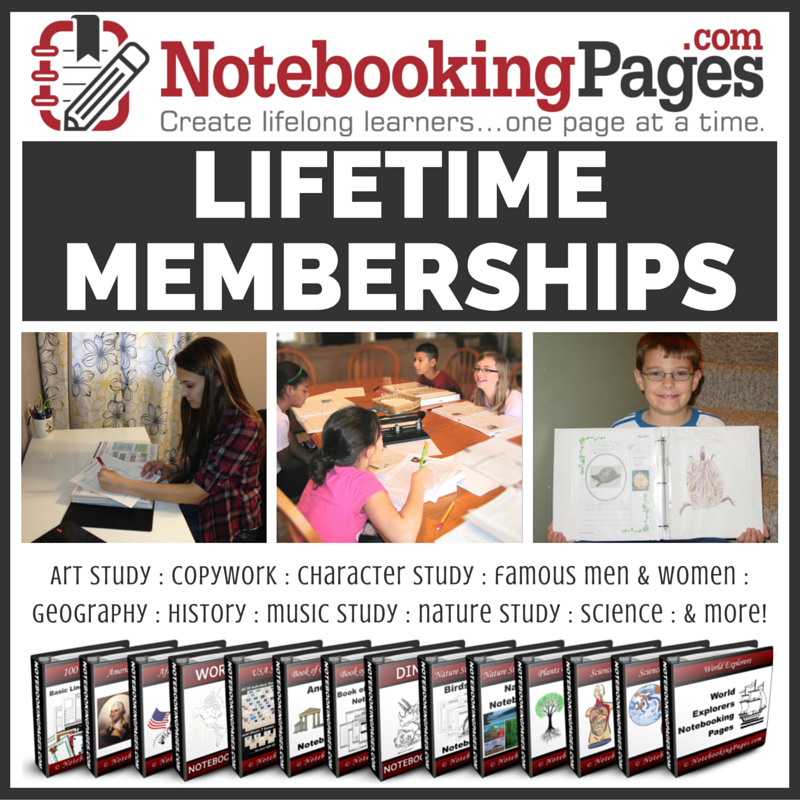 I had seen so many who raved over NotebookingPages.com, but I had never had a chance to experience it myself until around the 1st of the year. Did you know they offer a really awesome Sample Pack?! I had no idea, but they do! If you haven't, you should totally check it out! I had seen so many of my friends talking about how much they loved NotebookingPages.com that I simply couldn't wait to try it for myself.
As I mentioned before, NotebookingPages.com is a great online resource for homeschooling families (or any family) to print a variety of worksheets/notebooking pages for their use. The site offers thousands of pages for you to browse, all separated by subject and category. For this review, I've chosen to showcase one of their Geography finds. Mr. B chose to study Nepal after watching the movie Everest. With over 124 pages in this particular study, it is safe to say these study packs aren't exactly small! Most every topic we have clicked on has included a PDF download with pages that number into the dozens. Sometimes they are less than 10, but most frequently there are well more than that. For Nepal, your child will study the map and general world location, all of the pertinent facts such as political and geographical details, as well as science and technology, tourism, and more.
The way these pages are designed, YOU are in control of your child's education. There is a great how to video to show you how to implement NotebookingPages.com in your family, but I have mostly done my own thing.
These are all of the main topics at
NotebookingPages.com
. The best feature? A SEARCH feature so that you can search for pages based off your chosen topic!
This is so handy! I just looked up pages to study the Olympics since we were going to do a unit study on the Olympics soon! I found some for the ancient games, which will also tie in with our upcoming Ancient History work! WOOHOO!
How did we use this?
I spent the better part of a week or more just getting acquainted with the site, and looking around to see all that is available. There's pretty much a page for everything! I was a little (ok...a lot!) mindblown! It seems for every subject and every topic we chose, I was able to find pages to fit that theme! The only page I couldn't find was a set on Paganini, but that's ok because they have every other composer!
I download the PDFs, then I go through and mark the pages I want Mr. B to do. After that, I print only the pages I want. Sometimes I plan to use the others later, so I save them to a special folder on my desktop for future use. For Nepal, I printed off pages 5-8 since I wanted Mr. B to work on specific internet reseach.
With most other pages, I either had him read books we already had then use the Notebooking Pages for journaling or narration, or I had him research a topic he wanted, and then do a summary report as he chose to let me know what he learned. For others, like Nepal, I give him specific information that I am looking for and have him find it and use the pages to record his findings.
Overall:
Overall, I can't say enough wonderful things about NotebookingPages.com. There's a notebooking pack on nearly every subject, topic, etc. that I can possible think of. If there isn't a directly specific set there is at least one that is very similar or works good enough for what we need. And to have access for life is beyond fantastic. Mr. B is going into 6th grade, and I can see us using this for years and years to come! It is certainly a huge bang for your buck!
Does NotebookingPages.com Pass My 4 Ingredient Test?
1.) Customization: Is it easily adaptable? Can we customize it to fit "us?" Can we modify or set our own schedule? Can we take breaks, jump ahead, or flat out skip?
You can work at your own pace, taking breaks as needed. These are digital download pages so you can use them as you see fit. They are 100% adaptable and customized to your needs. You can pick and choose, and move about the site as you see fit.
2.) Value: Is it long lasting? Will it cover multiple grade ranges? Are you locked in to one specific grade level? Are there hidden fees?
.
3.) Attention span: Is it boring? Is it engaging? Is it varied enough for ADHD? Does it last too long?
You get out of this what you put into it. some activities I had Mr. B do he didn't want to do (haha) but the ones he DID want to do he would work for long periods of time, hyper-focused on the topic. You can print 1 sheet for a quick lesson or multisheets for a longer study. All up to you, and perfect for ADHD/Autism!
4.) Does it tie into other things we already have.
Oh mercy
YES!
There are pages for nearly every subject and topic!!!!
Please check out my Crew-mates on the Review Crew to read more reviews!