Math is a scary subject for a lot of people. I can remember sitting in my college statistics class and the professor, who is a tenured sociology professor, yelled out in class, "It's only numbers! There's nothing to fear here!" It's like anything beyond 1+1 scares the bajeebies about parents and children alike. I have a friend who is starting her homeschool journey with her kids, and her only concern was math. LearnBop is here to help save your math day with their LearnBop for Families.
There's so much to LearnBop and their LearnBop for Families math program, that I don't think I can even come close to doing it justice. The gist of LearnBop is pretty cool. It is designed to be a personalized math program that adapts to your child's needs, tailoring the education to the child. LearnBop is an online subscription based program. For this review, we received 12 months access as a single student. As of the date of this post, a single student account is $14.95, and a family is $19.95 for up to 4 students. LearnBop started out as a program for schools, and now, with LearnBop for Families, families can take advantage and offer even more educational assistance to their kids.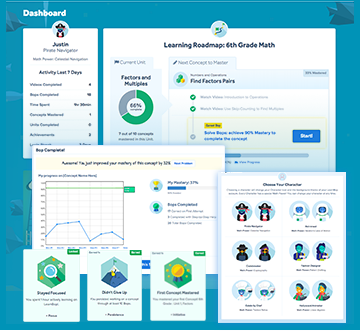 How it Works:
First, login is easy as pie!
Easy, right in your face, Log in right here. Once you log in, you create an account for your child. That's also easy, and of course I didn't think to take screen shots of that. So I guess that will just be a surprise for you! Anyway, you create an account and the first exercise is a warm up. This warm up is to help the program decide what level your child should be on.
How great is this? Instead of bringing your child down, this really boosts confidence. Mr. B did not feel as if he had failed. Instead, he felt as if he just needed a refresher of sorts. Not a big deal at all, in his mind. That's a big deal for me.
I also really like these little motivational quotes!
One question. WHERE WAS THIS WHEN I WAS IN SCHOOL?! Sorry, I just had to scream for a minute. I fully admit to finding this lesson in particular VERY helpful. Yes....Yes I did. Each lesson has videos, and after the videos your child can solve their Bops-which are math problems.
LearnBop has made it VERY easy to change the grade level of your chosen Roadmap. Your Roadmap is your math plan. If your child changes their Roadmap, you will receive an email letting you know. You can choose a grade level Roadmap, or a topic Roadmap.
Here's what it looks like when you first start. That warm up is very important, so make sure your child doesn't just skim over it.
As your child works his way through his Roadmap, he unlocks achievements with his progress. I think Mr. B was quite taken with this aspect.
Our Thoughts:
One of my issues growing up with math was never knowing where I went wrong. LearnBop is designed to target the area you have issue with, so that you can overcome the problem. Mastery isn't the point of the program. Effectively learning how to work the problems is. This is a fun program to use, and Mr. B quite enjoys it. My hard drive failed during the review. You do need a working device and internet, and Mr. B was pretty bummed for the few days he couldn't "play" with his math. We could have used an iPad, but of course I didn't think of that at the time! HAHA! That's the beauty of a program like this! We're going to take a break for a bit, and then start back with this program again because he really liked the overall concept of it all. I like how it targets the gaps, and works to teach those so that he doesn't struggle forever with the same issues. I really, REALLY like this! Like...a lot. And so does Mr. B!
Does LearnBop LearnBop for Families Pass My 4 Ingredient Test?
1.) Customization: Is it easily adaptable? Can we customize it to fit "us?" Can we modify or set our own schedule? Can we take breaks, jump ahead, or flat out skip?
The program itself customizes to fit your individual student needs. You can set your own schedule and take breaks, but this is a subscription based product so there are time constraints. I do not suggest skipping or anything like that since the entire point is to bridge learning gaps.
2.) Value: Is it long lasting? Will it cover multiple grade ranges? Are you locked in to one specific grade level? Are there hidden fees?
Again, this is tailored to each individual child. There are family plans offered for up to 4 children, and each child would have his or her own account. You can change your Roadmap as needed, and there are no hidden fees. You can choose monthly or an annual subscription. You can also choose to cancel at any time, so if you are doing a monthly plan, you aren't under a contract to stay for a set limit. This is really great for those months where there are extra expenses. With that said, I have no idea if progress is saved during down times. So that is something that would need to be investigated further.
3.) Attention span: Is it boring? Is it engaging? Is it varied enough for ADHD? Does it last too long?
Mr. B did not find this boring at all. I would highly recommend this for ADHD and Autism. With progress easily accessible and clearly visible, it is super easy for kids to stay on track, and no where they are. It's great for autism/Asperger's because of this. Mr. B isn't left wondering where he is. He knows exactly how much is left before he's finished. And the periodic achievements are great reinforcers!
4.) Does it tie into other things we already have.
It's just math.
Click below to see what others have to say!

Facebook:
https://www.facebook.com/LearnBop
Twitter:
https://twitter.com/LearnBop
@LearnBop