Music calms the beast they say, and that holds true for our brand of Autism. Music is grounding, calming, soothing, and relaxing. We use music to calm anxiety, boost mood, improve focus, and thwart self stimming behavior. With that said, we've never actually used a music appreciation program until we were blessed with Music Appreciation: Book 1 for the Elementary Grades by Zeezok Publishing LLC.
For this review, we were given a Music Appreciation Book 1 Collection and focused our study on Paganini, and afterwards we started on Mozart. This collection consists of a student work book, that I truly hate to call a workbook because it is so much more, and composer biography books that read more like storybooks than a biography. This collection also includes a CD full of lapbooking printables, as well as CDs that include music composed by all of the composers in the study.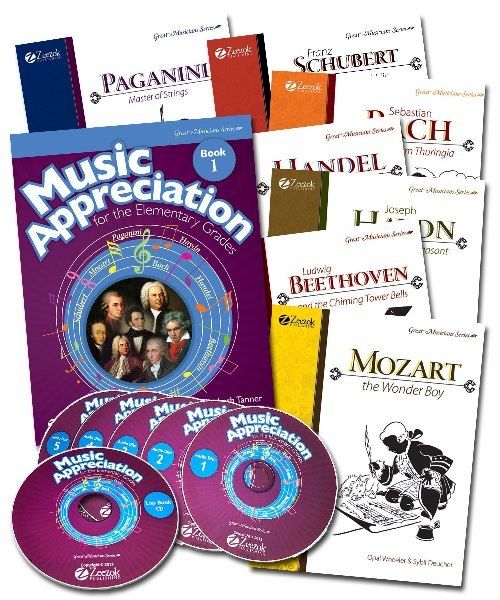 Who was Paganini?
I admit, I had never heard of Paganini before this study! I had no idea who he was, where he was from, or anything else for that matter. to be perfectly honest, I had to use Google to find out how to say his name! So we were very excited to dive in and learn all we could about this very interesting figure in music history.
Paganini was just a young boy growing up in Italy when he listened to his father playing the guitar with friends one evening. He covered his ears and complained of a "sick note" indicating that his father had played the wrong note. Paganini was blessed with the gift of "perfect pitch." This means he could detect if a note was off key without the need for special tuning equipment. As an interesting little side note, several people with autism also have the gift of "perfect pitch."
It amazed me to read how his father said he was old enough to go into the city and work, and he was just a tiny little boy! He was on the street playing the violin for coins, and went inside and played for food. He was blessed that the local orchestra director heard him playing and offered to take him under his wing for professional training. Could you imagine sending your small, tiny little 5 or 6 year old son to live with someone you hardly know for musical training?!

Paganini went on to be one of the worlds finest composers, focusing his work on the string family of instruments. He even had ties to Napoleon when Napoleon's sister hired him! We would have never known any of this if not for Zeezok Publishing LLC and their fantastic Music Appreciation: Book 1 for the Elementary Grades.
Who was Mozart?
We are still doing our study on Mozart, but I can tell you, he was also a musical genius. Born as the youngest of 7 children, he grew up with his sister Maria Anna-Nannerl, since 5 others had died as babies. Maria Anna was the music student when toddler Wolfgang would just tinker around with the piano. By age 5 he was composing little pieces on his own that his dad would write down in Nannerl's notebook.
How did we use this?
The student book has a general guide line that breaks the studies into 4 week segments, giving you 28 weeks of music appreciation course work. Seeing as we love history in this house, we sort of deviated from this schedule. We not only studied the work in the course work, but I had Mr. B also spend a day or so looking into the history of the time period each week. So we spent a little more time than only 4 weeks on Paganini, which means we are just now starting into Mozart.
The chapters are quite long, so we spent 2-3 days reading one chapter. Each day we would do a page in the student workbook. This work book is NICE! It's rather large, and it is color coordinated by composer. It's colorful, and packed with information. There are activities for your child to do, recipes, and my favorite "tidbits" of information! We also put together a lapbook that I accidentally destroyed, so we tried to put together another one real fast for this review, but I didn't have the needed paper brads or ribbon handy. So I let Mr. B put it together as he wanted. It also printed in black and white instead of color, so ours pictured is nothing like what you can make yourself.The lapbook PDFs are easy to follow and open best in Adobe. Each composer has his own lapbook, too, so you can make one for each!
As you can see, the pages in the student workbook are very colorful! And I had no idea there were different kinds of violins!
The lapbook activities are a great resource to have. They really work to tie in everything from the reading and the workbook. Some pages of the workbook are used in the lapbook, so it really works well together.
Overall:
This is the most comprehensive music appreciation study I've ever seen. It is truly one of the best academic curriculum sets we own. The intended schedule of one composer every 4 weeks will give you a full year's worth of work, or you could work slower or faster depending on your student. I plan to personally go a little slower to fully explore everything included and stretch this to last through his 6th grade year. We love the accompanying music disks, and use them throughout our daily work. I do with the disks were labeled on the outside with the composers that are included on each disk. There's only 2 songs from Paganini included with many more songs for other composers. Other than that, the program is pretty much perfect!
Does Zeezok Publishing LLC Music Appreciation: Book 1 for the Elementary Grades Pass My 4 Ingredient Test?
1.) Customization: Is it easily adaptable? Can we customize it to fit "us?" Can we modify or set our own schedule? Can we take breaks, jump ahead, or flat out skip?
The composer studies are independent of one another, so you can go in any order you wish. Since this is a physical product there is no time constraint so you can work at your own leisure. You can work faster and finish it all sooner, or your can take your time and go slower. There is a suggested schedule in the student workbook that will break the entire program down to 28 weeks.
2.) Value: Is it long lasting? Will it cover multiple grade ranges? Are you locked in to one specific grade level? Are there hidden fees?
This is for a full year's worth of music appreciation, and it covers a wide range of ages. It's intended for the elementary aged student, but older students would benefit, as well.
3.) Attention span: Is it boring? Is it engaging? Is it varied enough for ADHD? Does it last too long?
It's not boring! The activities are hands on, fun, and the workbook pages are colorful. The actual activities are pretty fast.
4.) Does it tie into other things we already have.
You could easily tie this into history and geography, maybe even science if you focus on how the sounds are made with the instruments, how the instruments are made, etc.