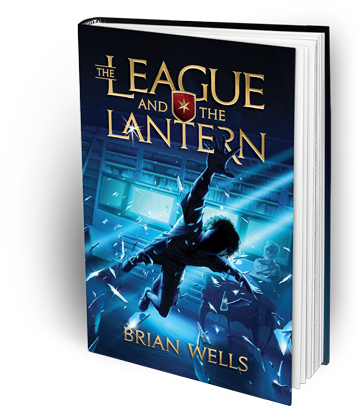 I am THRILLED to bring you this review of
The League and the Lantern.
Penned by Brian Wells, The League and the Lantern is geared toward middle grade students. This fantastic novel will give them a thrilling and exciting adventure while also covertly including 140 top vocabulary words to help your middle grade student succeed! The book's website includes bonus features, including the first 6 chapters AND a study guide to go along with the book. The best part? For every book purchased, a second book will be given to a child in need!
About the book (From the back cover)
AFTER A DISASTROUS SIXTH GRADE, Jake Herndon is anxiously awaiting his Big Do-Over, starting with his new school's notorious seventh grade sleepover. Awkward team-building games and forced fun quickly become the least of his problems, however, when a dangerous organization invades and the night takes a shocking turn. Jake and two new classmates, Lucy and TJ, barely escape, only to find themselves in a fight for survival on the streets of Chicago. Over the next 48 hours they unravel a mystery dating back to the Civil War and an incredible secret about Jake s family.
Full of unforgettable characters and unexpected twists, The League and the Lantern is a jaw-dropping ride of mind-bending revelations and laugh-out-loud humor. If Jake and his new friends can make it through this weekend, they just might have a shot at seventh grade.
In this debut novel, family television executive producer and dad Brian Wells has created an epic, rip-roaring comedy adventure that s also about courage, family and friendship. The result is an engaging mix of great characters, crackling wit and unexpected twists that 9- to 14-year-olds, entertainment executives and family groups are applauding.
Wells works from the belief that great entertainment is driven by memorable characters and imaginative writing, and it shows. The League and The Lantern delivers all of this and more without objectionable language or inappropriate themes. Throw in a plot that traces back to real historical figures and you ve got what some are calling Percy Jackson meets National Treasure.
As an extra bonus, the book also invisibly weaves in 140 of the top vocabulary words for middle school success. A free downloadable study guide is available on the book's website.
My thoughts:
This is a really great read for kids roughly 10-15 or so. It builds a lot, and it may be unclear as to the "why" everything is happening, but it's all explained in the end. There's no foul language or uncomfortable subjects, so you can feel secure in allowing your child to read this. It's perfect for a quite reading day. I loved it and Mr. B is enjoying it!
Now, it's GIVEAWAY TIME! I've graciously been given an extra copy to use as a giveaway! So please enter below for your chance to win!
a Rafflecopter giveaway
"Disclosure (in accordance with the FTC's 16 CFR, Part 255: "Guides Concerning the Use of Endorsements

and

Testimonials in Advertising"): Many thanks to Propeller Consulting, LLC for providing this prize for the giveaway. Choice of winners

and

opinions are 100% my own

and

NOT influenced by monetary compensation. I did receive a sample of the product in exchange for this review

and

post.
Only one entrant per mailing address, per giveaway.
If you have won a prize from our sponsor Propeller / FlyBy Promotions in the last 30 days, you are not eligible to win. Or if you have won the same prize on another blog, you are not eligible to win it again. Winner is subject to eligibility verification."
**I was given a copy of this free from Propeller Consulting in exchange for my honest opinion. I was not required to write a positive review, nor was I compensated in any other way. All opinions expressed are my own or those of my family. I am disclosing this in accordance with the FTC regulations.**