Science was always my favorite subject in school, and as it turns out it's Mr. B's favorite as well. That's why we were both really excited to have the chance to review
Introductory Science (Level B
) by
Science Shepherd.
Science Shepherd is a unique program where your child watches a video lesson online, then they complete a physical workbook. Topics covered include creation, biology, oceanography, geology, and my personal favorite-Meteorology! Videos can be done daily, or more than one in a day if you wish. There are also optional hands on activities to further your child's learning.
For this review, we received one
Level B Introductory Science
set that includes access to the videos, a large student workbook, and a teacher's guide with the answers provided. It is intended for your student to complete one video and subsequent activity daily, 5 days a week, for 35 weeks.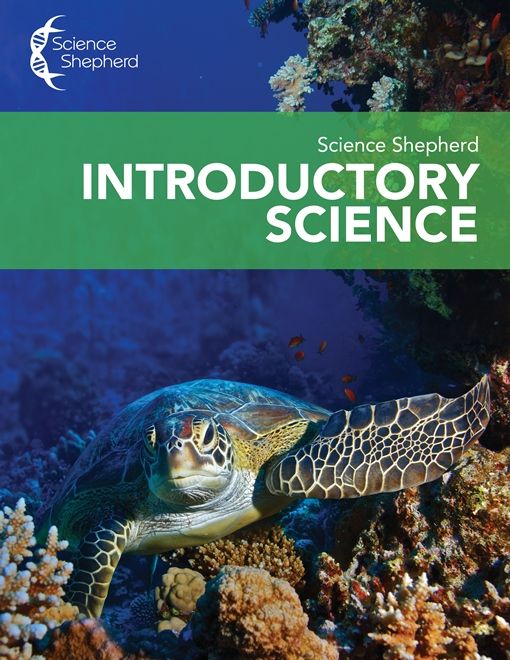 How We Used This:
The program is designed to be used daily, one lesson each day, for 35 weeks. With that schedule, we should have completed four weeks of study. I found Mr. B enjoyed this so much that he would complete multiple days at once! So we actually completed slightly more than 6 weeks of study before he became sick recently. I would ask him to complete lesson 1 for the week, and before I knew it he was on lesson 4 and I'd have to ask him to stop for the day. He watched the videos, usually all at once, then he'd eagerly complete the student workbook. The work, for him, was quite easy. Though it does seem to have increased some in difficulty has he's moved through the program. He did spend an extended period of time on the meteorology week, watching those videos over and over.
After watching the videos, he would do the corresponding workbook activity. We did a few of the hands on activities through science kits we have, and when we went to a science center during an out of town visit to the specialist. We also used one of the hands on activities on a larger scale during a co-op class. I posted a picture of the activity below. We used a fish aquarium filled with water, then used blue and red food coloring to indicate the air masses. We then we beyond that and used a variety of colors to get into a discussion of density (cold air is more dense than warm, which is why it sinks.) It was great to put to practice the lessons he was learning through Introductory Science.
Our Thoughts:
Mr. B LOVES this! He does this on his own, for fun. He will log on and watch the videos, then get out the workbook to work the "games" as he calls them. He prefers the crosswork puzzles over anything else. The lessons are short, so if you'd prefer to do them daily it would only take a few miniutes of your class day. Each topic is broken up in such a way that 15 minutes or so a day is sufficient to cover each topic fully so that your child is given a good understanding of the lessons.
Does Science Shepherd Introductory Science Pass My 4 Ingredient Test?
1.) Customization: Is it easily adaptable? Can we customize it to fit "us?" Can we modify or set our own schedule? Can we take breaks, jump ahead, or flat out skip?
You can definitely work at your own pace. As I mentioned above, Mr. B worked ahead in some cases. I wouldn't suggest skipping.
2.) Value: Is it long lasting? Will it cover multiple grade ranges? Are you locked in to one specific grade level? Are there hidden fees?
We received Book B which is intended for upper elementary. It seems quite easy so far, so I would say younger grades could benefit form this as well.
It does cover a grade range. There are no hidden fees. The workbook is consumable, and for only 1 student.
3.) Attention span: Is it boring? Is it engaging? Is it varied enough for ADHD? Does it last too long?
The lessons aren't very long, and they are fun and entertaining. Mr. B LOVES the videos. He also enjoys the workbook assignments. The hands on activities are fun, and use easily obtainable materials-some you may already have.
4.) Does it tie into other things we already have.
This is a great, well rounded science product. It doesn't cover any other subject.
I am only 1 of 100 reviewers for Science Shepherd! Please click on the banner below to read what other Schoolhouse Review Crew members had to say about Introductory Science, Biology, and Life Science by Science Shepherd!

Social Corner
Facebook
Twitter
Pinterest