Mr. B LOVES to paint, but he also loves to fling the paint brush all over to make paint splatters everywhere. When I heard about the Kwik Stix 12 pk by The Pencil Grip, Inc. I was very excited for us to review this. I knew the Kiwk Stix 12 pk would be a hit, but I underestimated just how big of a hit these would be!
For this review we received 1 Kwik Stix 12 pk and one pencil grip to try out.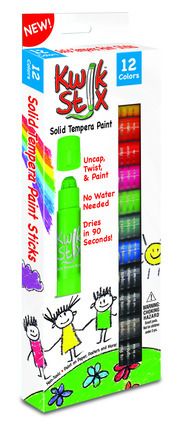 Now you may be asking, "What in the world is a Kwik Stix 12 pk?!" Kwik Stix are solid paint sticks. They remind me of glue sticks in look and feel, but instead of glue they are filled with a solid tempra paint that colors on similar to a crayon or oil pastel, then after a little over a minute it's dry and ready to display. There's no need for a brush, water, or anything. You only need paper and an imagination.
How we used this:
I had the intentions of using these with some other review items, like a Greek Myths study we are working on. My idea was to have Mr. B draw pictures and such that correspond with what we are working on. That idea flew out the window when he saw the Kwik Stix box! As you can see, Mr. B had ideas all his own!
Tornado Overtaking Log Cabin
Radar
Temperature Map
Severe Storm with Tornado
Here he is being all artsy with an abstract piece
The pencil grip
they sent is fantastic! Mr. B has a wonky pencil grip, and this handy dandy little gadget is helping him to learn a proper grip. I plan to take it with us to OT appointments so that he can work on it more there, too. I would love to get a few more of these to try out some time. I think these could be a huge OT help!
Overall:
Mr. B loved these so much that he used them all up in the first couple of days! They are long lasting, he just used them THAT much! I had to buy a second set because he enjoyed the first so much. I can't say they are 100% mess free because they aren't. The paint does take a little over minute to dry, so it can be smudged or transferred from paper to carpet or clothing during that time. Mr. B went off the edges of his paper and got some on the carpet, too. It was easy to clean up, so I wasn't too upset about that. This is a really great product for special needs. Mr B. has a habit of stimming if you give him a paint brush and paint. He slings the paint brush watching the paint fling off in splatters. Kwik Stix eliminates that problem, allowing him to create artwork without the desire to sling paint all over. I can confidently leave him alone to be creative on his own while I do some needed housework or writing, and I can rest easy knowing there will not be a huge mess to clean up afterwards.
Does The Pencil Grip, Inc. Kwik Stix 12 pk Pass My 4 Ingredient Test?
1.) Customization: Is it easily adaptable? Can we customize it to fit "us?" Can we modify or set our own schedule? Can we take breaks, jump ahead, or flat out skip?
The Kwik Stix 12 pk is very "glue stick" like in feel. If you have adaptations in place for markers or glue sticks then I would imagine they would work nicely with the Kwik Stix.
2.) Value: Is it long lasting? Will it cover multiple grade ranges? Are you locked in to one specific grade level? Are there hidden fees?
These are long lasting. They do not run out quickly, unless your child is like mine and decides to use them non stop for 4 days! HAHA! I can see people of all ages enjoying these!
3.) Attention span: Is it boring? Is it engaging? Is it varied enough for ADHD? Does it last too long?
Refer back to #2! After 6 weeks my son is STILL having so much fun with these! He loves them! I plan to get him more next month for his birthday.
4.) Does it tie into other things we already have.
Art always ties in with other things! Mr. B has even used these to do his math work!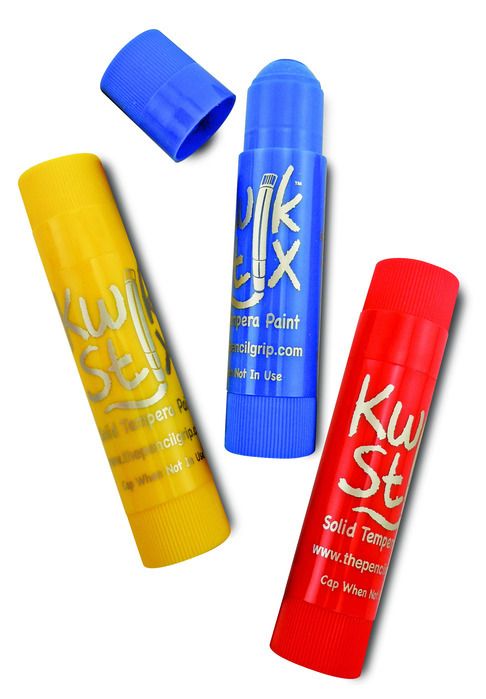 But wait! There's MORE! (Sorry, I had to! HAHA!)
The Pencil Grip, Inc. has graciously offered to host a giveaway to go along with this review! They will ship the prize of one assorted colors Kwik Stix 12 pk to a lucky winner! Just enter below!
a Rafflecopter giveaway
The Pencil Grip, Inc. has other varieties of Kwik Stix, including neon colors! Others reviewed the same Kwik Stix 12 pk I reviewed as well as other colors. Please click on the banner below to see their art work and hear what they have to say!