Memoria Press is one of our favorite vendors, so we were delighted to be chosen to review D'Aulaires' Greek Myths. I've not done much in the way with mythology in our homeschool yet, so this came at a perfect time. I had a mythology class in high school and I loved learning about all of the myths. Then in college I was fortunate enough to take 3 classical courses, all of which covered a variety of mythology including Greek. This review has surely been one of our favorites this year!
Memoria Press is a company that caters to classical education methods. We do not subscribe to one method over another, preferring a more eclectic style that individualizes each subject. We love Memoria Press, and each product we have had the blessing to use. Last year we reviewed their handwriting program and earlier this year we were blessed with their Grade 6 Literature Set, which we still use!
For this review we were graciously given 1 complete D'Aulaires' Greek Myths set, geared for grades 3-6. In this set you will find:

1 D'Aulaires' Book of Greek Myths
1 D'Aulaires' Book of Greek Myths Student Guide
1 D'Aulaires' Book of Greek Myths Teacher's Guide
1 D'Aulaires' Book of Greek Myths Flash Cards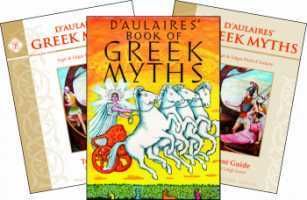 How we used this:
D'Aulaires' Book of Greek Myths is a larger sized glossy paperback book. It is super colorful, both inside and out. It is suitable for older elementary to read alone, and is also a great read aloud to read together. We did both methods. I really enjoy mythology, so I enjoyed reading this just as much as Mr. B.! I would often find him reading it on his own, just for fun, looking at all of the pictures.
By far his favorite part of the study guide is the vocabulary. He is a true vocabulary buff!
He often looks these up in the dictionary, and adds them as he can to his own personal arsenal of words.
At the end of each unit you will find a Unit Review. This is really great to go over everything from the unit to test knowledge.
At the back of the Student Guide is a list of greek myths as well as a map. I found the list of myths to be particularly helpful, and Mr. B found the map helpful to visual the locations. And the fact he just loves maps in general made that a favorite for him, too.
The Teacher's Guide includes the answers. Always nice to have in the event you are stumped yourself, or have a question.
The flash cards are great for memorization, which is a corner stone of a classical education. We do not do memorization like that, so instead we played games with them. The one who could answer the most correct would win skittles HAHA! We just had fun with the flash cards!
I want to add we used our Kwik Stix from a previous review to draw pictures of the various myths, in addition to the beautiful artwork in the D'Aulaires' Book of Greek Myths, but they were accidentally mixed up in random papers as I was cleaning and found themselves in file 13 with the trash. I was going to have Mr. B redo a few of my favorites since I didn't get the chance to take a picture, but he's been very sick the last few days and unable to do any schoolwork at all this week. This is what happens when I wait to take photos until the last minute of the super cool art my child has done! Lesson learned for sure!
Our Thoughts:
Memoria Press as yet another fantastic product with D'Aulaires' Greek Myths. It doesn't matter if you are classically minded or not, you will find this a beneficial way to teach your child the lessons Greek mythology offer. Greek myths are a great way to teach character concepts by showcasing the best or worst in us. Mythology can be a history lesson, literature lesson, even a sociology lesson! It is so multifaceted that you can't really categorize the topic into just one. Similar to the moral lessons of fables, Greek myths can be a great way to teach consequences and life lessons. We love D'Aulaires' Greek Myths. The Student Guide asks questions that made Mr. B stop and think, while reinforcing vocabulary. Geography and history are also included, and since this is a Christian based program there are also Biblical components added in. I loved the "Facts to Know" section that summarizes the main mythological characters and myth components. I also appreciate the more critical thinking activities included in the "Activities" subsection.
Does Memoria Press D'Aulaires' Greek Myths Pass My 4 Ingredient Test?
1.) Customization: Is it easily adaptable? Can we customize it to fit "us?" Can we modify or set our own schedule? Can we take breaks, jump ahead, or flat out skip?
I found it easier to do the lessons in order. I wouldn't jump around much so you can get the full experience using the unit reviews, etc. We took a couple of days to read the myths and do each lesson, and we have done 1-2 lessons each week.
2.) Value: Is it long lasting? Will it cover multiple grade ranges? Are you locked in to one specific grade level? Are there hidden fees?
These are physical products, and the set includes everything you need. It is intended for grades 3-6, but I could see older students getting use out of this as well. I would have enjoyed it even as a high schooler!
3.) Attention span: Is it boring? Is it engaging? Is it varied enough for ADHD? Does it last too long?
The lessons aren't too long at all, and the colorful pages and interesting stories in the book make it fun and entertaining. I think this is very Autism and ADHD friendly for that aspect alone. The pages in the study guide are black and white, so there's no distractions or anything like that. There is some writing to be done with the questions.
4.) Does it tie into other things we already have.
You could use this with literature, or especially ancient history studies!
Memoria Press generously allowed 100 Review Crew Members to review this, and 2 other products! Please click the banner below to check out the other reviews!

Social Media
Facebook
Twitter (@MemoriaPress)
Instagram (@memoriapress)
LinkedIn
Pinterest
Google+