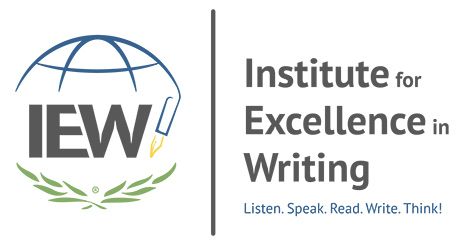 Here in our homeschool, we really love products from the Institute for Excellence in Writing. So you can imagine my delight when I found out we were chosen to review Linguistic Development through Poetry Memorization. This is a really great set that includes an eBook student workbook, DVD, Teacher's book, and CDs. This set includes 96 poems and speeches, that vary in difficulty, and it also features everything read on CD for more reinforcement. It's a great way to learn timing and rhythm in poetry, as well as improving overall communication skills. For this review, we received one complete set, AND IEW was super generous and gracious and even sent us a spiral bound physical copy of the student book!
For clarification purposes, the set includes the following:

1 physical Teacher's Manual. This is spiral bound and contains all of the same poems and speeches as the student book. It also contains some great reading text pages in the front to help you help your child. I highly recommend taking a day or two to really go over these pages in depth.
1 digital eBook download of the Student Book. You can make all the copies you need for your family!
A set of 5 CDs in a beautiful leather case. Seriously, IEW packages their products in an amazing way! On these CD's you will hear Mr. Pudewa reading each of the poems. This not only helps with memorization, but it also helps to teach your child the proper timing and flow of the poems and speeches. It can also help to clear up any pronunciation issues. If you have used any of the writing intensives, then your child will be familiar with his voice.
7 Mp3 file downloads. These include an mp3 verson of Andrew Pudewa's Nurturing Competent Communicators
Mastery Learning, Ability Development, and Individualized Education
Ten Thousand Times and Then Understanding (Pretty sure this was made just for us!)
On Writing
On Speaking
On Listening
On Reading
You will also receive a DVD of Mr. Pudewa's Nurturing Competent Communicators. This is a lecture/speech given by Andrew Pudewa where he explains and teaches us how to foster proper communication in our children. As he states in the very beginning, this is the foundation of communication. But more on this in a bit.
How we used this:
Back to that DVD. Children learn communication through memory and repittion. "You can't get something out of a brain that isn't in there begin with" is a quote from the first couple of minutes. I must say, it was a light bulb moment for me. Kids with special needs don't always have it "in there" in the same way as NT's. Especially with autism, you have to really put it in there yourself. So what are you putting in your child's brain? This is huge for me! He is getting the Weather Channel a lot. And music a lot. Thankfully, I've raised him right so he gets a lot of 80's music...sigh. I never thought of it this way before. He reads quality texts.I mean college texts. Everyone comments on his spoken communication skills and the "big" words he uses. Well, I understand now where it all comes from! After hearing this, I soaked up the rest of the DVD. I mean, he's spot on! If you put a group of 9 year olds together in a traditional classroom you are creating a linguistic nightmare! Of course! they aren't being exposed to the variety they need! Mind=BLOWN!
Our brand of autism includes a unique ability to remember phrases and repeated words such as lines in songs, from TV commercials which makes the revelation I mentioned early even more important. With that said, I knew Mr. B would do very well with this program, and it would be a program that could grow with him. If you follow the schedule it will take 2-3 years to complete. This is a very unique product in that it truly covers all ages. The poems and speeches are so varied in their ability level that you can use this with students K-adult! We started at the beginning with "Ooey Gooey." It took about 5 minutes before Mr. B was reciting the cute little poem, even calling extended family to tell them what he'd just learned. It is advised to start at the beginning no matter the age and ability since that sets the stage for the rest of the program. The program is split into 5 units, and there is a certificate at the end of each. It's also suggested to setup a reward system. We moved pretty quickly through the first three poems, but then life started to happen. We have had to make so many trips to the children's hospital in the last 2 months that it kind of threw him for a loop. It was hard for him to stay focused with all of the back and forth and overnight trips. But the way this program is designed, he suffered no set backs. The beauty of the CD's meant that I could play the CD and let him HEAR the poem, even if I didn't take the book with us (for fear of accidentally leaving it!) So even though we had a bunch of unexpected trips out of town we were still able to stay on track mostly and get caught up pretty easily. He likes reading the poems, so he knows 1, 2, 3, 4, 6, and 5 and 7 are the ones he's actually working on. The longer poems trip him up. That's NOT the method of the program. You are to learn one, then move on, and keep doing the first one you've memorized, then move on and do 2 and 3, and so on, piggy backing each one. BUT he went behind my back and decided to skip HAHA!

What is a benefit for visual kids is the addition of a check list chart so that they can mark off when they have memorized one. Also, at the end of each unit is a lovely certificate that is, according to Mr. B., quite "fancy."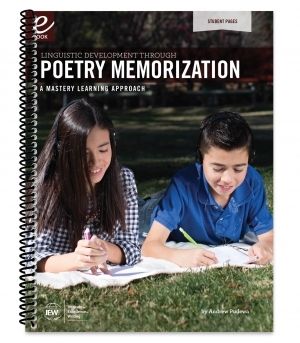 Overall, Linguistic Development through Poetry Memorization is fantastic. The student pages offer cute little photos that your child can color, just to spice it up a bit. And it starts off with easy work, with easy work interspersed throughout, so your child is not set up for failure, but rather success. I would recommend this to all of my friends!
Does Institute for Excellence in Writing Linguistic Development through Poetry Memorization Pass My 4 Ingredient Test?
1.) Customization: Is it easily adaptable? Can we customize it to fit "us?" Can we modify or set our own schedule? Can we take breaks, jump ahead, or flat out skip?
This needs to be done the way it is written for it to work best. So I would not jump ahead or skip. You could set our own schedule, but you risk it being more difficult than it needs to be. Depending on your circumstances, I could see this being adapted to fit your needs in a lot of cases.
2.) Value: Is it long lasting? Will it cover multiple grade ranges? Are you locked in to one specific grade level? Are there hidden fees?
NO hidden fees, and VERY long lasting! At least 2 years! And this is truly a K-12 program.
3.) Attention span: Is it boring? Is it engaging? Is it varied enough for ADHD? Does it last too long?
Mr. B loved it. It's not too time consuming and he's enjoying the content.
4.) Does it tie into other things we already have.
This is not a unit study type product, but there are a variety of selections. You could do additional projects surrounding each poem and speech if you wanted. Mr. B REALLY loved Ooey Gooey. So much so he rewrote the poem in a host of different ways using himself or others as the worm. You could really be creative and do a lot with this!
I was only 1 of 100 to review this product. Please check out the others by clicking the banner below.