Mr. B knew all of his times tables until he got sick a couple years ago. We still aren't sure what happened, but what ever it was zapped his multiplication memory stores and had made it quite difficult for him to catch on to them again. When the chance to review Times Tales by The Trigger Memory Co. came up I was thrilled!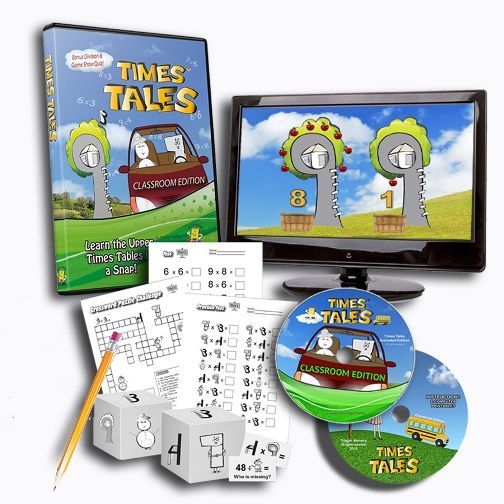 I had never heard of Times Tales before, but I was eager to try anything that could help him regain these skills. Times Tales is a very unique program that teaches kids their upper multiplication tables (and in turn, their lower ones as well) using a very unique memory story telling style with fun characters that uses mnemonic tools to help kids remember. It's not until about half way through the program that your child figures out they are actually learning multiplication tables! Times Tales comes in two formats, physical and digital, and for this review we received the Digital Download. The digital download comes with everything the physical set comes with, but you watch it on your computer instead of the TV like you would the DVD.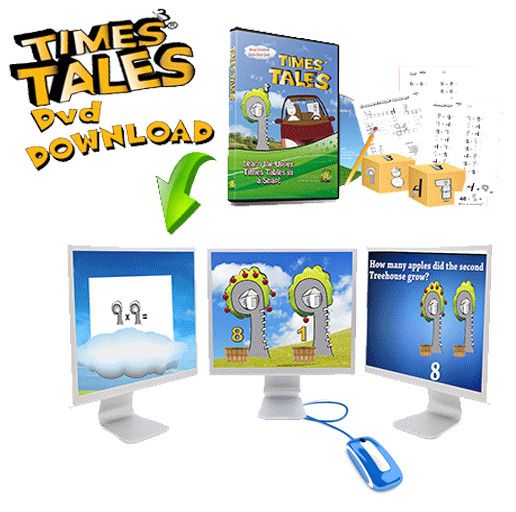 How we used this:
Mr. B really enjoyed the little stories. He watched intently, and giggled with delight over the fun little characters. He paused when instructed to do so, and recited when prompted. At one point your child is asked to repeat, on their own, each story thus far. this tripped him up a bit so we had to replay several times until he got it. We followed the program advice to wait week or so between parts and work on the printable worksheets and games. The worksheets are fun, game like, printables that aren't just math drills. There's crossword puzzles, a cube game, and fun character based math problems that Mr. B really enjoyed. I allowed him to use colored pencils or markers to do both his work and color the pictures as well. This added to his fun. Overall, we spent around 6 weeks total going back and forth. Mr. B now knows his multiplication tables as if nothing ever happened.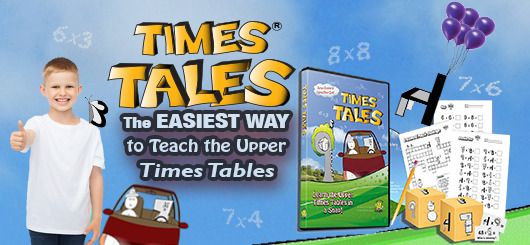 My thoughts:
I wish this was in a digital streaming format, and I would love to see the company develop something like this. It would be great to see this in a digital streaming membership style format with interactive "worksheets" that could be used via tablet or even smartphone. That would have really benefited us since I downloaded the files to my PC so that I could print, and as a result he needed mine to watch the videos. Having the ability to stream online would allow us to take this with us to keep reinforcing the concepts anywhere. The downloads are large and time consuming as well, so a digital streaming feature would be FANTASTIC! With that being said, this is a very effective program that truly does work. It is fun to see the lightbulb go off when you child makes the connection. the program tells your child to not even try to figure out HOW it works, until prompted to do so. This allows them to relax and learn.
A few Screen Snips
Does The Trigger Memory Co. Times Tales Pass My 4 Ingredient Test?
1.) Customization: Is it easily adaptable? Can we customize it to fit "us?" Can we modify or set our own schedule? Can we take breaks, jump ahead, or flat out skip?
There's no schedule to follow or anything like that. It is suggested to wait a couple weeks between parts 1 and 2. I wouldn't do this sporadically since it wouldn't work as well in that case. I also would not skip. If you do, you won't get the same benefits.
2.) Value: Is it long lasting? Will it cover multiple grade ranges? Are you loc
ked in to one specific grade level? Are there hidden fees?
There are no hidden fees. This only covers the upper levels of the multiplication tables. We received the digital download, so there is no membership that will expire or anything like that. You can use it for anyone who needs help memorizing their times tables, but older children may feel the little stories are a bit young for them.
3.) Attention span: Is it boring? Is it engaging? Is it varied enough for ADHD? Does it last too long?
This is NOT boring, and it certainly doesn't last too long. Mr. B usually would work on one or two tales at a time. The color and cartoon like nature is attention grabbing and keeps Mr. B's attention.
4.) Does it tie into other things we already have.
Not really. This is just math related. With that said, I did have Mr. B use the stories to work on writing skills.