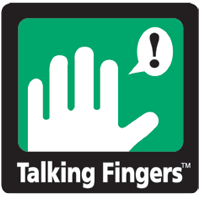 Mr. B has been having a ton of fun with our review of Read, Write & Type by Talking Fingers Inc. Read, Write & Type is a fun online digital product that helps to reinforce phonics and letter recognition, and typing. Read, Write & Type is intended for students K-2, or for children or adults for whom English is a second language. For this review, we received a 1 year membership.
What is Talking Fingers Inc Read, Write & Type?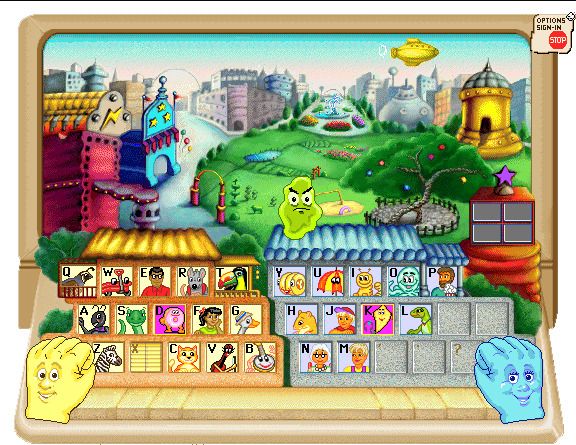 Read, Write & Type is a fun, digital program that streams online. The user is tasked with rescuing letters from the evil Vexor, a virus! (He's the green blob in the image above.) The program uses letter sounds and blends, and the user must differentiate between these through a variety of games to rescue the kidnapped letters. After each 4 letter level, your student can print out a certificate of achievement to showcase their hardwork.
How we used this:
Mr. B is 10 and considered 5th grade. He has no issues with phonics or reading, but fine motor skills and some letter sounds/blends still give him fits at times. His brand of autism leads itself to mixing letter sounds occasionally and he will omit letters in his spelling. Given that, I felt this product, even though it is geared for younger students or older ESL students, would be a good fit for him. And I really wanted to review it from a special needs point of view since, after researching it, I felt this would be a terrific product for special education learners.
Mr. B LOVES this. At first, he didn't. But it was because he is used to concrete programs that have a definite breaking point between levels or lessons. Read, Write & Type does not split into sections to complete, so he thought he had to rescue all letters and letter blends before he had completed a lesson. Once he realized he could pace himself to at least 1 letter, and as many as he felt like doing, he loved it. The ability to print a certificate after each set of 4 really motivates him, and gives him the stopping point he needs for structure.
Mr. B uses this daily. With his own login and password, he is able to login on his own with no help from me. He will rescue 1-2 letters and play mini games to earn additional points. He is thrilled that the bonus points show up on his certificates, so he really works hard on these.
The yellow space blimp is where you click for the bonus games. If you click on the house windows, the characters do special little things, and if you click on Vexor you are taken to the game to rescue the letters. On the right there is a the square box with the letters in it. This starts out empty and fills as you rescue letters. Once you have 4 you can print your certificate.
This is what happens when the blue building is clicked.
This is the certificate page. He's just earned his 4th. He prefers playing the mini games, so he rescues letters more slowly.
For all the good this program brings, it is not without its flaws. For example, if your student clicks on a building or game option and changes his/her mind they can't easily go back. If you click the back button you have to sign in all over again. I would like to see an in program back button put in place at some time in the future. It is not that big of a deal, but on days when the autism monster is really roaring, this bit of time can seem like a big deal.
Also, the parent interface isn't as user friendly as I would like to see. I wish I could easily print his certificates myself, since I don't like him having access to the printer. Because I can't, I have to log into his account, go through all of the start up motions, print his certificate, then let him continue. It would be a much easier process if I could access things like that from my account. With that said, I can access a graph that shows his progress and passing percentage. I can also assign a percentage pass threshold, which I have found to be particularly helpful in eliminating careless work just to play the rescue or bonus games. So while there are a couple of flaws, the good definitely outweighs these making this program one we both really enjoy.
I love the smiles and giggles I get to see from him. He asks to rescue letters each day, and his typing skills have improved so much! He even said the other day he was shocked at how much he has benefited from this program. He said he thought it was just a fun game, but realized he was really learning. He said the skills he's learned has helped him in all aspects from school work to game play! You can't get a better review than that!
Does Read, Write & Type by Talking Fingers Pass My 4 Ingredient Test?
1.) Customization: Is it easily adaptable? Can we customize it to fit "us?" Can we modify or set our own schedule? Can we take breaks, jump ahead, or flat out skip?
We were given a 1 year membership. The program runs in its own order. You can choose when to do other games, etc, but you can't choose what letters to rescue when you want, so you can't skip ahead or skip a letter. You can take breaks.
2.) Value: Is it long lasting? Will it cover multiple grade ranges? Are you loc
ked in to one specific grade level? Are there hidden fees?
There are no hidden fees. The content is a bit juvenile, but I found it to be fun when I played. So I can see how this would be helpful for older ESL students. The "grade level" says K-2, or older students and adults who are learning English as a second language.
3.) Attention span: Is it boring? Is it engaging? Is it varied enough for ADHD? Does it last too long?
It is very fun and engaging. Mr. B loves it and can stay on the program for a long duration. It is definitely NOT boring and it is varied enough for ADHD!
4.) Does it tie into other things we already have.
Not really. This only covers phonics and typing in a game like way. It is a good supplement, fun learning game, that really does do a good job teaching what it says-reading, writing, and typing. You won't find any double hit subjects here like history passages or anything like that.
Please click the banner below to read more great reviews on Talking Fingers Inc. Read, Write & Type!