We are always on the hunt to improve our writing skills and add to our language arts, so we were very excited to find out we were chosen to review Writers in Residence by Apologia Educational Ministries.
Writers in Residence , written by Debra Bell, incorporates high-interest student writing and language arts, such as parts of speech and structure, into one fantastic product. The student book is huge. It's not a little workbook at all. The student book is 576 pages and 2" thick!



Here you can see the side of the student book with my mouse as a point of reference.

The set up is very unique. Several authors are interviewed and asked about their love for writing, etc. We were excited to find some of our favorite writers are featured! The works of many authors are used to reinforce the learning objectives in each unit, to show the process unfold in a way that make sense. For example, the first author interviewed details how he didn't really care for writing much as a kid. This was great for Mr. B, who is also a child who isn't thrilled with writing that much. The first unit, "When I Was Young" uses Cynthia Rylant's book "When I Was Young in the Mountains" as the inspiration to show students how authors will "dig for gold" in their memories to get ideas for their writing. It also tells students that it is ok to go to others for help with remembering or ideas, since authors talk to a lot of people to work on their ideas.
Each section focuses on a language art lesson, and teaches students the importance of proper grammar, etc, in their writing to get their point across to their readers. In the first unit we have learned chronological sequencing vs. topical sequencing, how to use specific nouns and vigorous verbs to make our writing more complex and interesting, and the use of proper punctuation-which is something Mr. B still needs to work on with more practice!
For this review, we received the complete set that includes the student book and the answer key.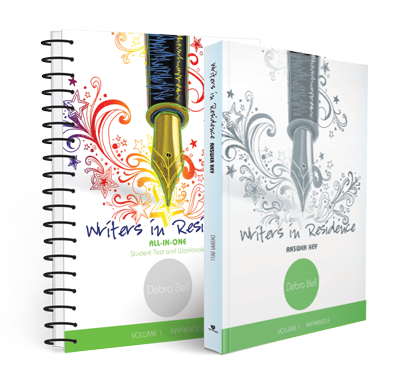 How we used this:
We followed the schedule provided in the book for the most part. Sometimes we did a little more or a little less. During the process of this review, Mr. B worked his way through the first unit. The layout is such that a student can work solo, but I chose to work with Mr. B. This helped to keep him on task, and it helped him to not feel overwhelmed with the size of the book. While I thoroughly appreciate all of the wonderful learning in the book, I do wish it was broken up into smaller workbooks. This would definitely help those kiddos on the spectrum who see a really large book and feel they are expected to finish the entire thing in one setting.

Brady and I would read the text together, and I would help coach him along as needed, or answer questions when needed. I would help him to remember details of his memories to aid in his writing, help him choose better words, or assist with spelling.
Please over look icky fingernails. He'd been playing in the dirt HAHA!
Our Thoughts:
I love the concept here. I really like the author interviews, and using popular authors and their writing to reinforce the lessons being taught. The book is not boring or bland. Instead it is colorful and really fun to read. It is nice to read a popular, and successful, author who didn't enjoy writing early on to grow up and make writing a career. It's stories such as that that have really helped Mr. B to develop a desire to want to read and write more! All during the first unit, digging up memories and such, Mr. B made up his own activities to compliment what he was learning in Writers in Residence. For example, after the very first couple of assignments he decided to make a timeline of his life detailing some of his favorite memories, such as meeting M, to his not so favorite memories like getting sick and being in the hospital a couple of years ago. He is also planning his own book of memories! All of this from a kid who hates to write. I can't recommend Apologia Writers in Residence enough! It has certainly been a blessing to our family.
Does Apologia Writers in Residence Pass My 4 Ingredient Test?
1.) Customization: Is it easily adaptable? Can we customize it to fit "us?" Can we modify or set our own schedule? Can we take breaks, jump ahead, or flat out skip?
There is a great schedule included, but you can adapt as needed. At times we worked a little slower, and then at times we sailed through a little quicker. I wouldn't skip as you will miss needed building blocks. This is a physical product, so there's no time limit or anything like that.
2.) Value: Is it long lasting? Will it cover multiple grade ranges? Are you loc
ked in to one specific grade level? Are there hidden fees?
There are no hidden fees. This is intended for grade 4 and up. I could easily see older students using this with no problems.
3.) Attention span: Is it boring? Is it engaging? Is it varied enough for ADHD? Does it last too long?
It is NOT boring! Debra Bell's writing has a way of commanding attention and holding it. It is fun to read, and the assignments are fun to do. They do not require a lot of time. The book is colorful, but not in a distracting sort of way. For us, this is a good fit for ADHD and ASD. It's actually pretty great because it includes a rubric, then tells you precisely how to award points to the rubric. For anyone whose ASD'er likes concrete charts, this is PERFECT!
4.) Does it tie into other things we already have.
In the sense that it is Language Arts and writing, and these are vital topics for education-yes. In the sense that in covers additional subjects, no.

SOCIAL MEDIA
Facebook
Twitter:
@apologiaworld
Pinterest
Instagram