Hey everyone! I've been searching high and low for a really great science curriculum that covered a wide range of topics and was in a workbook form. I found everything I was looking for, and then some, with Surfing the Net: Science by The Critical Thinking Co. Surfing the Net: Science is a fantastic workbook that not only is a science workbook, but it also teaches your child how to conduct internet research! For this review, we received one physical workbook.
About the Book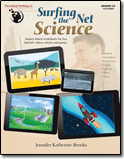 At 250 pages, Surfing the Net: Science covers a huge assortment of topics, while also providing the answers in the back. Each main topic is broken into several subtopics. Your child is expected to answer the questions using the internet to either research specific key words or go to specific sites to gather information. This not only teaches each topic in depth, but it also helps to reinforce your child's critical thinking skills while teaching proper internet research. Today's students literally have the world at their fingertips, and Surfing the Net: Science helps to showcase what an amazing resource the internet can be.
How We Used this
As I mentioned before, I've been searching for a workbook style science curriculum that was more than just reading and regurgitating information. I love science (I was a biology/pre-med major before Mr. B came into existence) so it only stands to reason that Mr. B would also love science. As a result, I found most texts to just be lackluster for our style. Surfing the Net: Science is more than just regurgitating information. It is taking a topic, researching that topic, then applying what you have learned. In one instance Mr. B was tasked with researching a specific type of frog, then a specific type of salamander, then creating his own new species that was a blend of each of those. Not only did he learn about the species he was researching, but he also learned about taxonomy (classification) as well as Venn Diagrams.
"Chubby Avolotl Froggamander"
Our Thoughts
Surfing the Net: Science is a well written, comprehensive science curriculum "workbook." It is not a small book at all. I really appreciate the topics that are covered, the amount of research students are introduced to, and the critical thinking/information gathering skills that are reinforced. Mr. B appreciates the variety of the topics, and the enjoyable links that are provided. There are videos, games, etc. that your child will be looking up and visiting to keep the learning challenging, but fun.
As you can see, the list of covered topics is quite long!
Overall
Overall, I REALLY like this science book! Surfing the Net: Science is packed with so much due to the assignments and research, you could really use this as a stand alone science curriculum!
Does The Critical Thinking Co. Surfing the Net: Science Pass My 4 Ingredient Test?
1.) Customization: Is it easily adaptable? Can we customize it to fit "us?" Can we modify or set our own schedule? Can we take breaks, jump ahead, or flat out skip?
There is no set schedule, and since this is a physical workbook, you have the freedom to move at your own pace. I would suggest following through with each subtopic.
2.) Value: Is it long lasting? Will it cover multiple grade ranges? Are you locked in to one specific grade level? Are there hidden fees?
It is a great value. The book is not a little, thin workbook, but rather it is a thick, and jam packed book. It will most definitely cover multiple grades with ease since the pages are reproducible. There are no hidden fees. The websites included are free, and child safe. When it comes to the internet, I always advocate safety. You can easily obtain a free internet safety for your children. There are a number of them available, so you can choose the best one for your family.
3.) Attention span: Is it boring? Is it engaging? Is it varied enough for ADHD? Does it last too long?
It is NOT boring, and it is very engaging. Mr. B really enjoys the variety, and the lessons are not very long. The way the subtopics are arranged, you can easily take breaks and pick up where you left off.
4.) Does it tie into other things we already have.
I can see how this could tie into things you may already have, but you don't really NEED to use anything else with it. If you have science kids/experiments, you can easily tie those in with no problem, but due to the nature of the links provided they aren't a necessity.
The Review Crew reviewed a number of products from The Critical Thinking Co. to read more reviews on Surfing the Net: Science, as well as the other products offered this time, please click the banner below!