My son LOVES all things geography and art, so when given the chance to do a review on a product that combines the both, he was ecstatic! Brookdale House brings your homeschool fun ways of learning geographic facts, while also teaching your student how to the countries of the world with their books, Drawing Around the World. For this review, we received one digital copy of Drawing Around the World: USA. This is a PDF book that teaches your student various facts about each state, while also teaching your child how to draw the state, then how to draw the state in relation to its location within the country.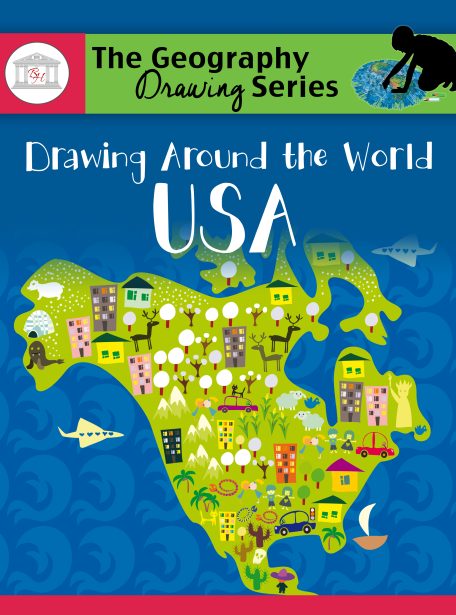 How We Used This:

Brayden likes to learn about geography for fun, so we used this as a fun activity during breaks, at the doctor's office, and on the go. As the site suggested, we used transparencies and dry erase markers to practice the drawing before doing the "real" drawing that we saved each time. The site also gives a great resource list that you can use to fill in the state facts page for each lesson. Our favorite is 50 States. If you click on the states you get a list of state facts, but if you just hover over it you get a quick glimpse of the state abbreviation and capital city. Brookdale House also suggests Sheppards Software, which has a lot of fun games. Both of these sites are fun and help make a fantastic product even better.

Overall:
Overall we really liked this product. It would be really great to incorporate it with a US History. You can do so much with the maps, beyond what is suggested. We plan to go back to them soon when we go deeper into our US History Studies. I plan to have him draw the states associated with Lewis and Clark, the Oregon Train, the Gold Rush, etc. The great thing about the system presented in Drawing Around the World: USA is that it systematically teaches your student how to draw each state independently, as well as together with its surrounding states, so your child can draw maps on their own! We are looking forward to all of the possibilities that have now been opened for us thanks to Brookdale House Drawing Around the World: USA!
Does Drawing Around the World: USA Pass My 4 Ingredient Test?
1.) Customization: Is it easily adaptable? Can we customize it to fit "us?" Can we modify or set our own schedule? Can we take breaks, jump ahead, or flat out skip?
You can adapt it in that you can choose how much to cover. There's not set schedule, but the lessons are broken up by days. You can take breaks, but I would not skip or jump ahead. It is a system of learning state facts along with learning how to draw each state. To skip any of that would defeat the purpose of the book.
2.) Value: Is it long lasting? Will it cover multiple grade ranges? Are you locked in to one specific grade level? Are there hidden fees?
This will cover multiple grades, and could be easily used as such. There are no hidden fees,and it is long lasting-especially if you just do one lesson each day.
3.) Attention span: Is it boring? Is it engaging? Is it varied enough for ADHD? Does it last too long?
The lessons are short. It is fun and you can vary it as you need. We preferred to do each state covered in a different color. It is great for the fact lovers out there, too!
4.) Does it tie into other things we already have?
You could very easily tie this in with other things! We plan to come back to this with a greater study of US History, mapmaking, etc. This will be a mainstay in our homeschool for a while to come!